As far as gaming consoles go, some people suggest you can't get any better than a good old-fashioned computer. A gaming PC is a prized possession and worth a pretty penny these days. Plenty of gamers spend time decking it out in accessories to make it more useful, improve the aesthetic, keep it organized, or just have more fun!
If you're searching for ways to improve your own desktop setup, you've come to the right place. This article lists some ideas that you may have already had but didn't know what to buy yet, some things that may surprise you, and some things that you never realized you always needed.
HyperX Cloud Stinger Core (Wireless +7.1)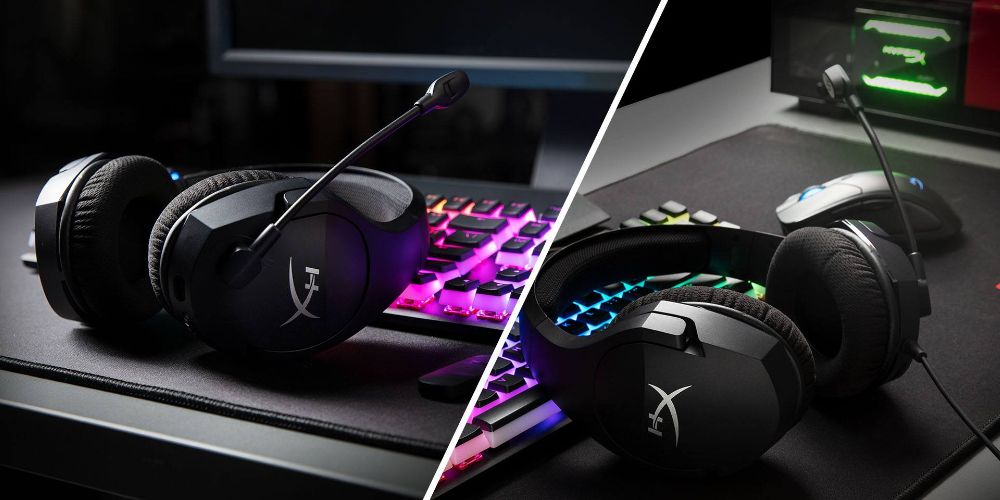 When you talk about PC accessories, starting with a reliable and comfortable headset is a no-brainer. The HyperX Cloud Stinger Core (Wireless +7.1) is one of the best options on the market today.
To start, the price tag falls under $80 USD, meaning you can impulse purchase it on a Tuesday night and wake up with no regrets on Wednesday. When you receive your purchase, you won't be disappointed by the headset's sound quality and noise-cancelling abilities. Few people have enough money to splurge on top-of-the-line equipment; this gets you very close for a much more reasonable price.
Get it on Amazon here!
Jaaytct Cell Phone Stand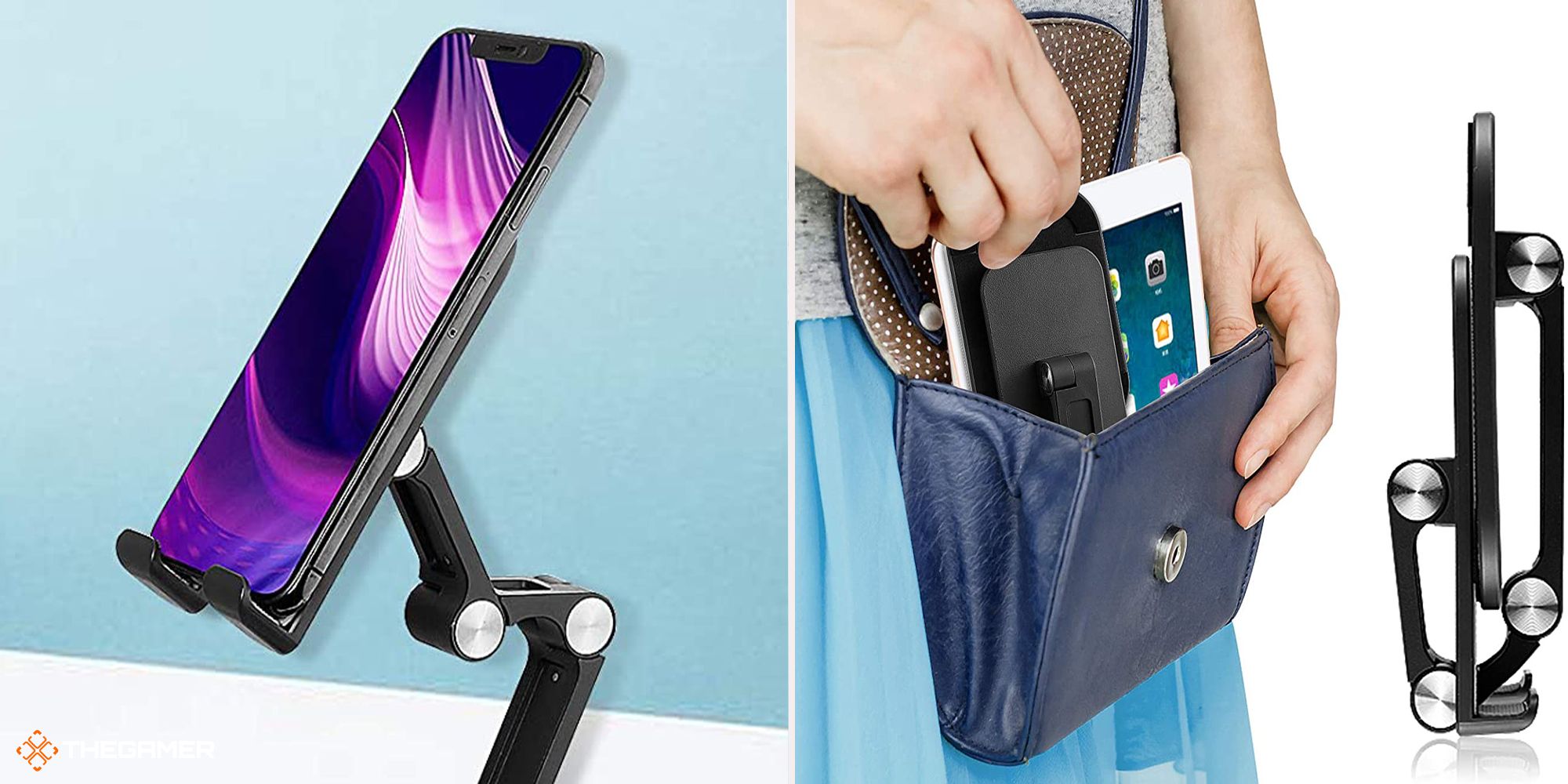 Just because you're at your computer doesn't mean that you won't want to keep an eye on your phone for texts, notifications, YouTube, etc. Enter: Jaaytct's Cell Phone Stand! No longer must you struggle to lean your phone against your monitor or the stack of books in the corner of your desk.
This puppy takes up very little room on your desktop while allowing you to keep scrolling all the while. As an added bonus, it's extremely compact and can easily be taken with you to school, work, or a friend's house. If you have one, it can also fit small tablets with ease.
Get it on Amazon here!
Kirigen Case Stand Cart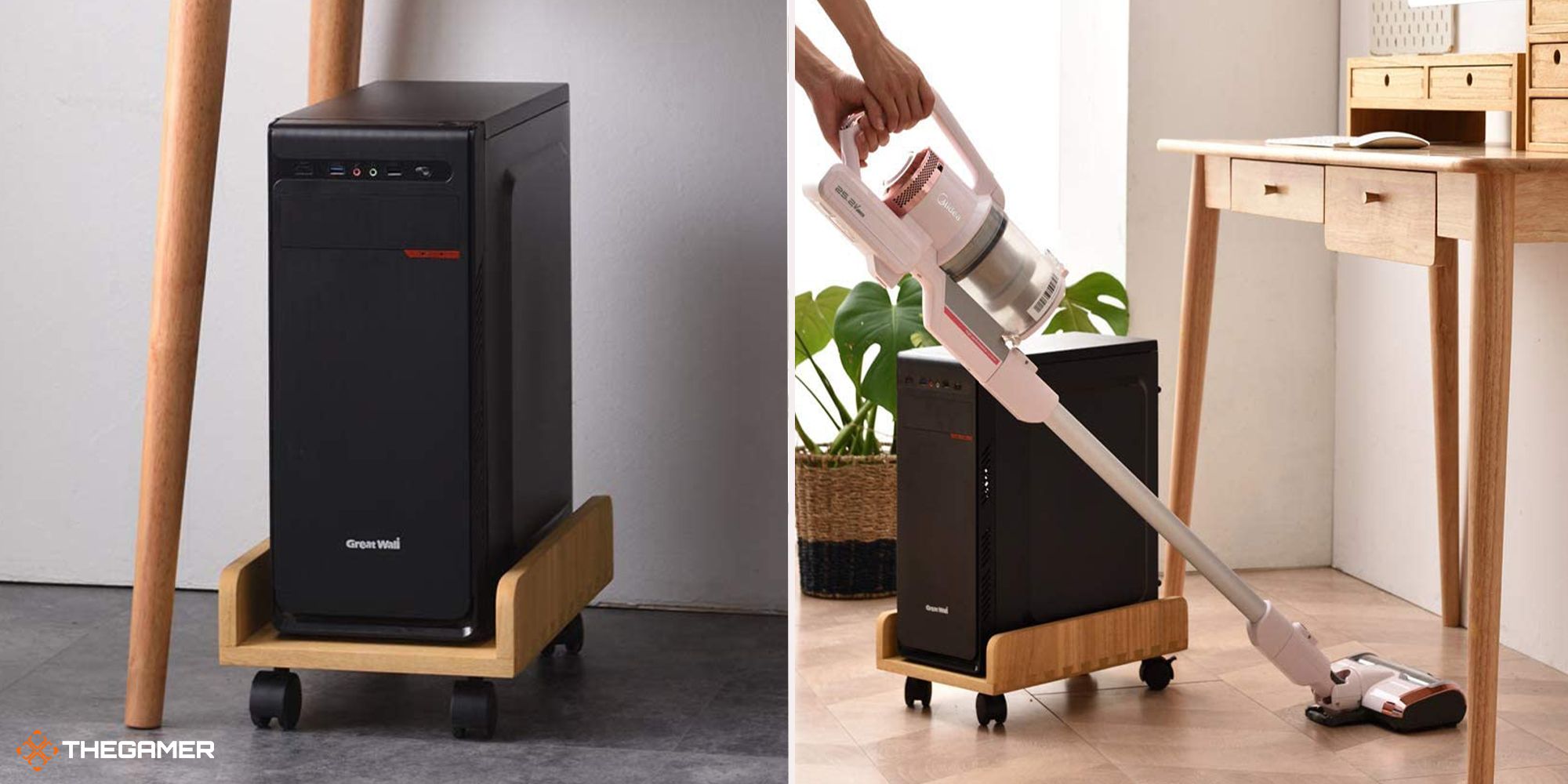 This is the kind of thing that you may never think of on your own, but seems so obvious in retrospect. Why do you just leave your PC lying on the ground, when that makes it so heavy to move and difficult to clean, modify, or adjust cables?
Old computer desks from the late '90s and early 2000s used to have a built-in cupboard where your chunky PC could sit, but they've become obsolete ever since most people switched to laptops. To keep your PC on the move, all you need is the Kirigen Case Stand Cart. It has a simple but sturdy design that isn't obtrusive in your space and fits most PC cases. The stand is easy to assemble, too; it just asks that you install a couple of wheels!
Get it on Amazon here!
GANA 3 Port 4K HDMI Switch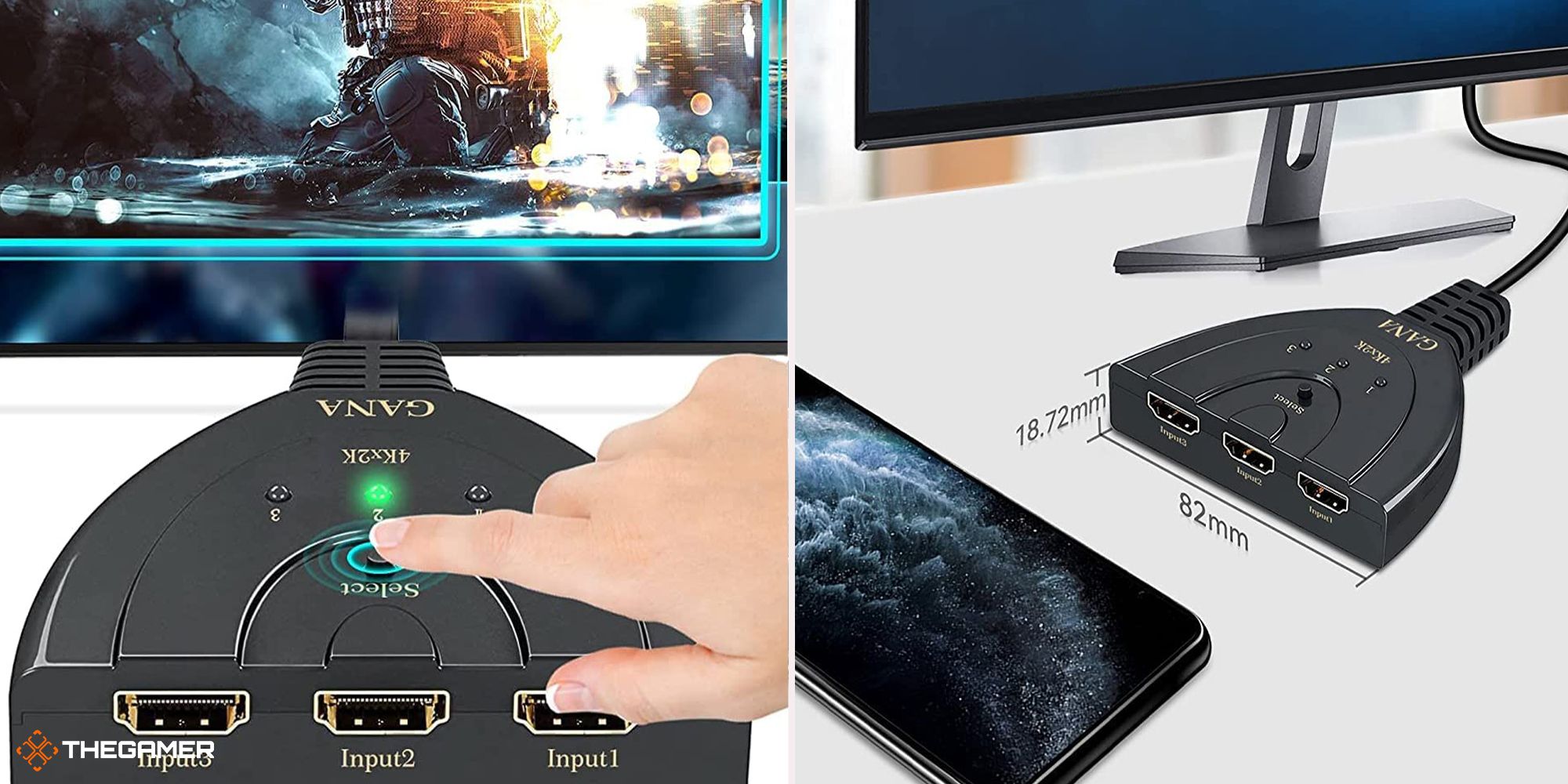 If you're the kind of gamer whose consoles are all consolidated at your desk, an HDMI Switch is an absolute must-have.
Basically, you plug the HDMIs for three things into this switch – let's say it's your PC, your Nintendo Switch, and your PlayStation 5. Then, when you want to see the feed for your Nintendo instead of your PC, you just need to hit the button on the HDMI switch to change the feed to your monitor, rather than groping around to alter which HDMI cable you have plugged in.
The GANA 3 Port HDMI Switch is a great option for novice gamers and experienced ones alike. It's very reliable despite having a really low price tag, and, while you can get ones with more than 3 ports, few people need to plug in more than 3 things to one monitor anyway.
Get it on Amazon here!
Ember Temperature Control Smart Mug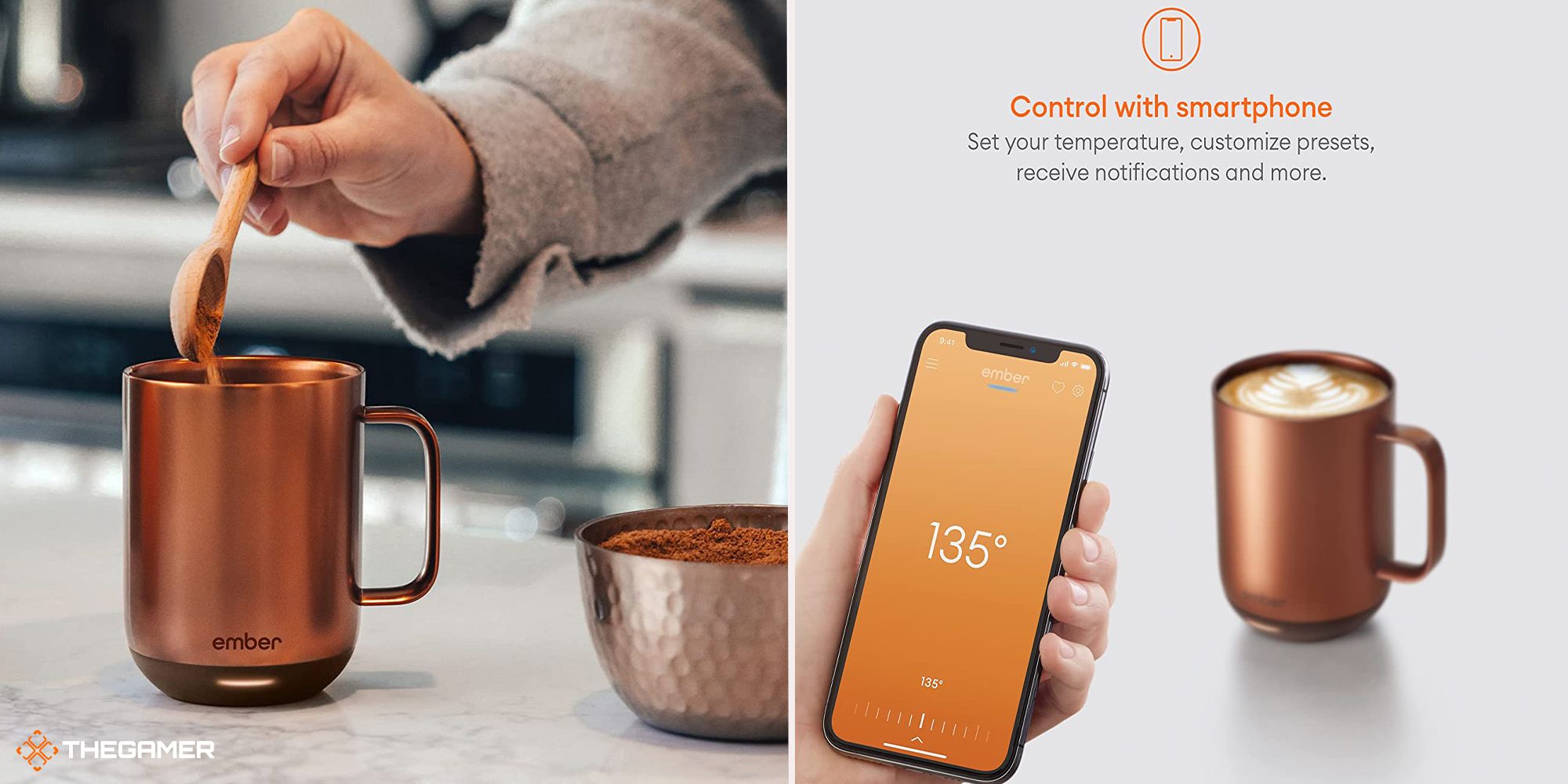 Now, a mug might not feel like the most obvious item on a list of PC accessories, but hear us out. If you're like us, you probably bring a cup of coffee, tea, or hot chocolate with you to your desk, but become so absorbed in your game that you forget to drink it. By the time you're halfway through, it's cold again!
This is the Ember Smart Mug, which can keep your drink warm to the exact temperature you prefer. The coaster is its battery, and the mug connects to your smartphone so that you can set its temperature with ease. It comes in four colours and two sizes so that everyone will find something that suits their needs. If you have just a bit of pocket change to splurge on yourself, the Ember Smart Mug is the way to go.
Get it on Amazon here!
Logitech StreamCam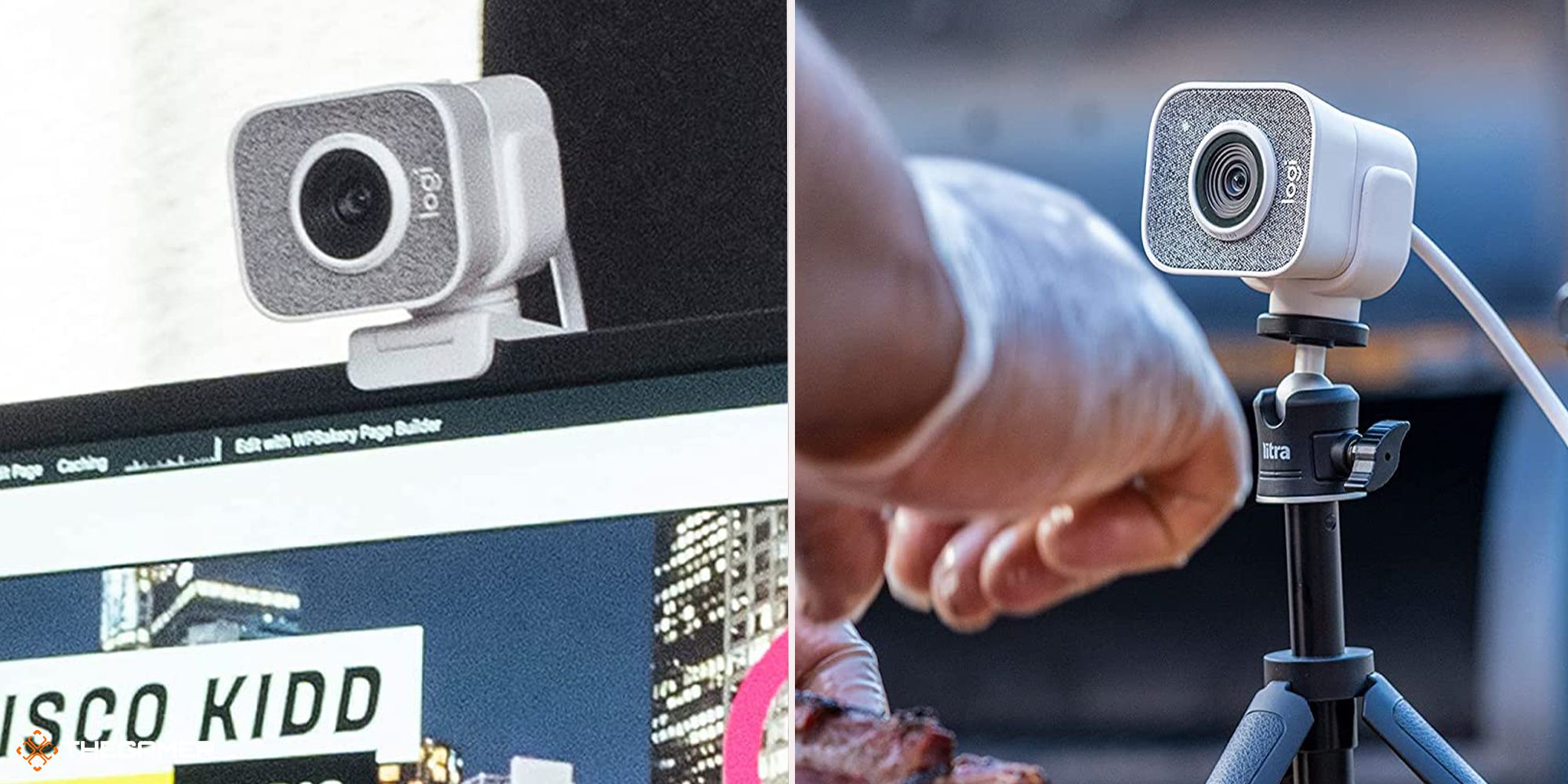 If you're working with a PC instead of a laptop for the first time in a while, you may have forgotten that monitors don't have built-in cameras like most laptops do. You'll need to purchase something online to substitute.
While it's a little pricey compared to other items on this list, we recommend the Logitech StreamCam because it's such an excellent investment. This webcam can stream at 60 FPS in full HD 1080P, meaning anyone you're on a Zoom call with will be able to see you crystal clear. The stand that attaches it to your monitor is highly versatile, too, so you can rotate it and adjust it to fit your setup.
Get it on Amazon here!
Controller Stand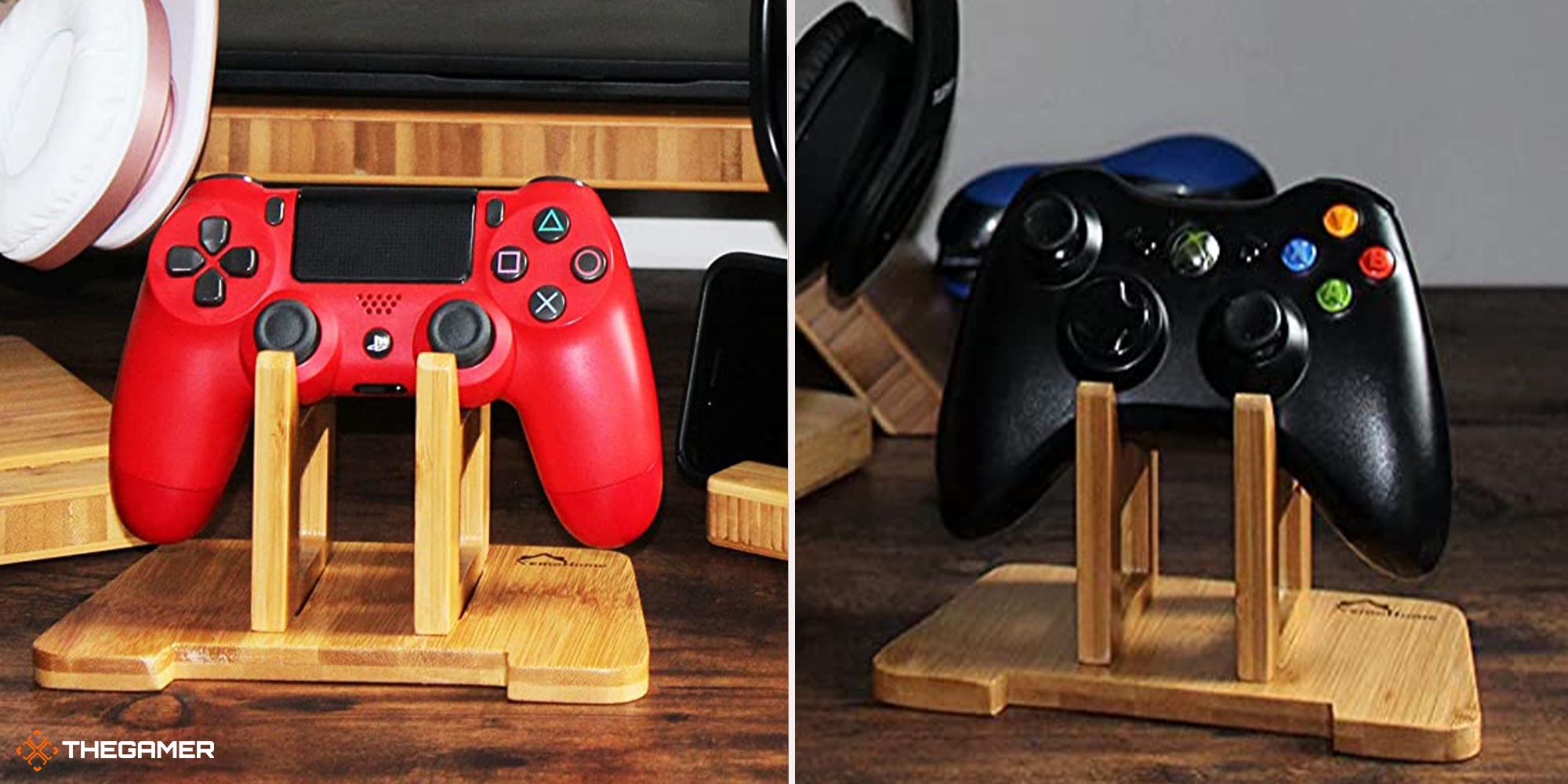 Just because you're on a PC doesn't mean you need to give up playing games with a controller. Some people prefer a controller over a keyboard in every game, while others will switch back and forth. Some titles, like Aperture Science Desk Job, may even require a controller.
To keep yours close at hand, pick up a controller stand! After all, the things on your desk don't count as clutter if they're prettily displayed, right? This stand from NemoHome will fit basically any controller you could want, and they even have matching ones to put your headset on!
Get it on Amazon here!
Frigidaire EFMIS129-WHITE 6 Can Beverage Cooler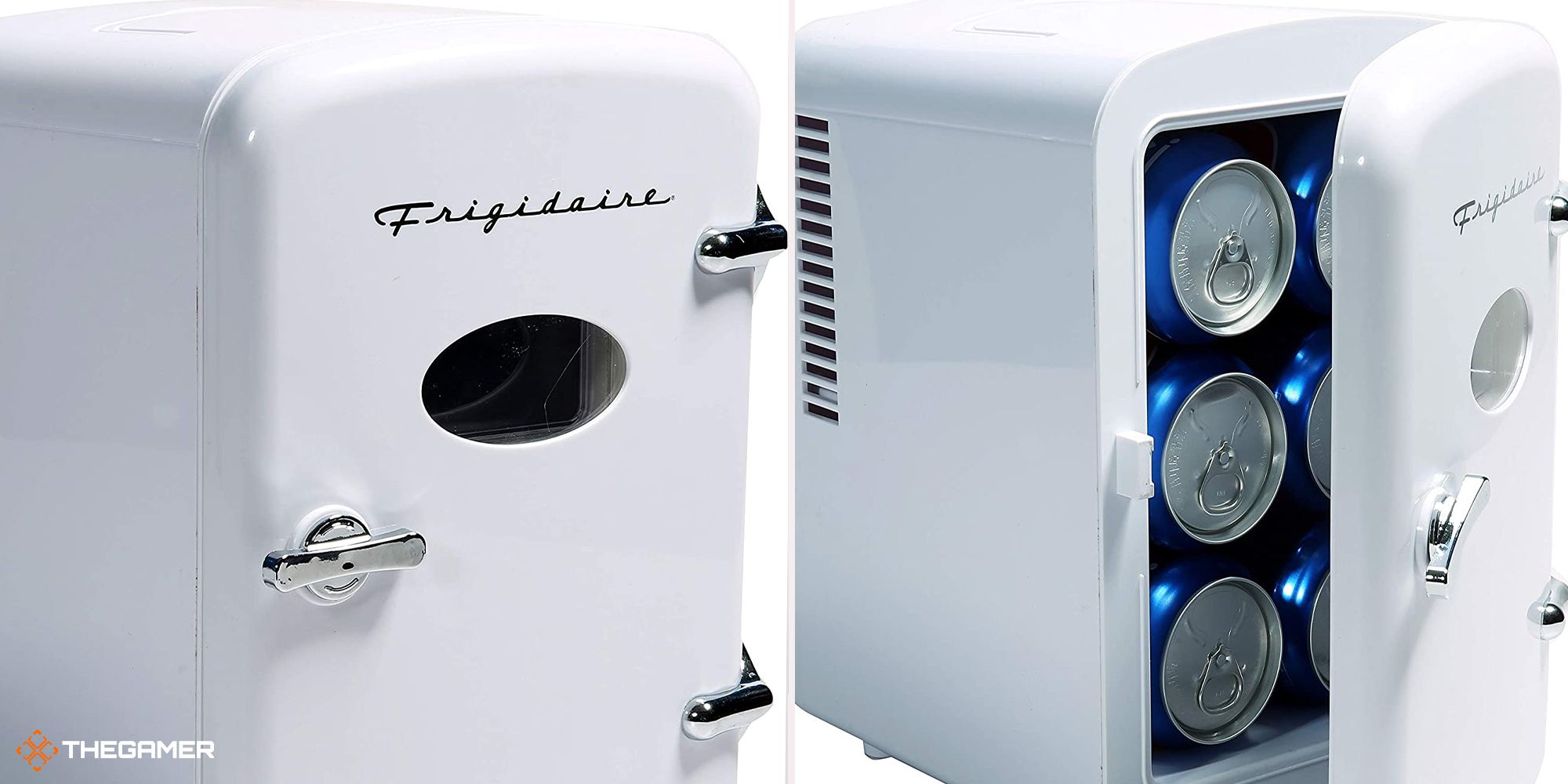 Now, a proper mini-fridge will cost you a couple of hundred bucks and take up a lot of space around your desktop that you might not want to waste. However, we can all agree that it's nice to have some cool drinks to grab easily when you're in the middle of a gaming session. That's why we recommend the Frigidaire Cooler instead!
This compact little cooler costs less than $50 USD and fits 6 standard-sized (12 ounce) pop cans. If pop isn't your thing, however, there is a little shelf and more than enough room to fit little yogurt cups, fruit, or whatever else might tickle your fancy. The cooler is fairly small and would fit on a generous shelf or in a corner with ease – but no need to keep it out of sight, since it's got a clean white design on the outside.
Get it on Amazon here!
Atolla 7-Port USB Data Hub Splitter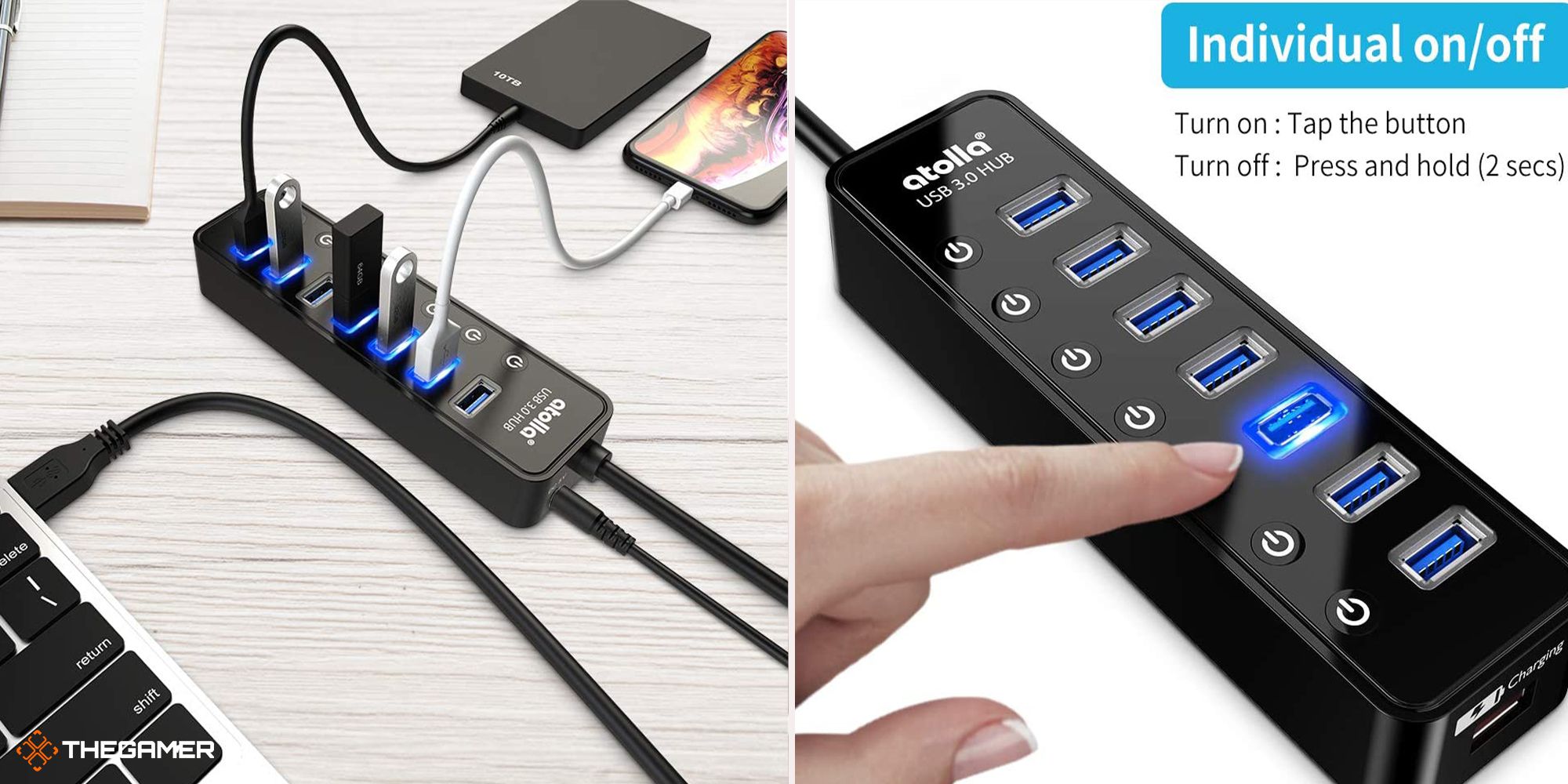 If we had to guess, we'd say you were running out of USB ports left, right, and centre. We know we are. There are a lot of things to plug into a desktop, like your mouse, your keyboard, your webcam… We haven't even gotten into how many things you need to charge, like a portable battery, smartwatch, phone, camera, and the list goes on! Is it any wonder we're left wanting more?
Let the Atolla 7-Port USB Splitter solve all these problems for you. Not only does it add to the number of USB ports coming out of your PC, but it also puts them all in one convenient location. No more rooting around behind your PC, feeling for that extra USB outlet you know is back there somewhere! You can even turn on and off any of the outlets on the hub individually.
Get it on Amazon here!
YUNZII KC84 Pro Hot Swappable Mechanical Keyboard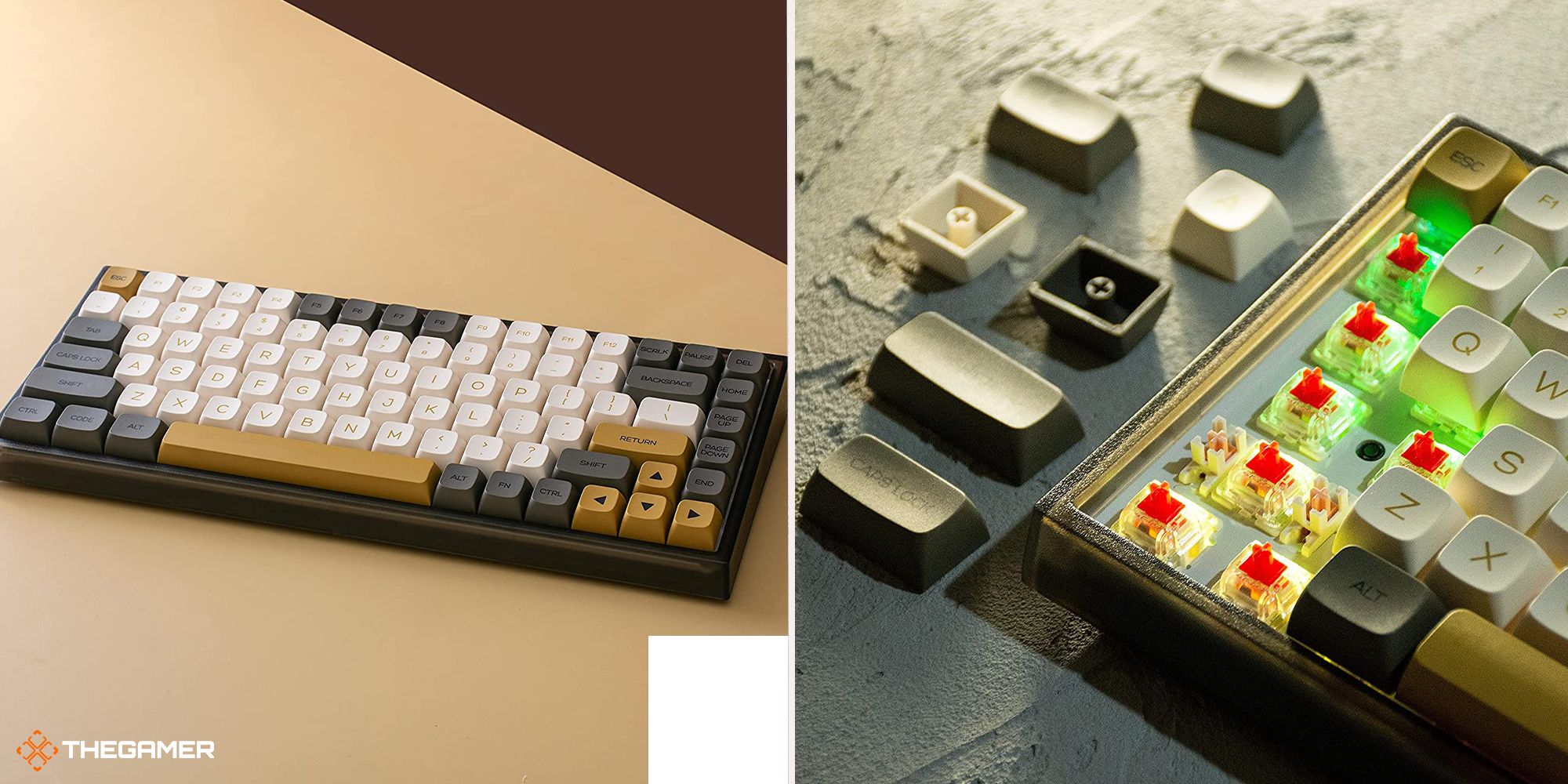 If you're looking to perfect the aesthetic of your desk set-up, your keyboard needs to match it. After all, it's one of the largest, eye-catching items on the desk!
To ensure you'll always be able to keep up with your changing aesthetic eye, we recommend something with swappable keys, like the YUNZII KC84 Keyboard. This keyboard has everything you could ever need! It's mechanical. It lights up. It comes in different colours and sizes. While it will require you to drop a little under $100 USD on it, we know it's worth it.
Get it on Amazon here!
We hope you like the items we recommend and discuss! TheGamer has affiliate and sponsored partnerships, so we receive a share of the revenue from some of your purchases. This won't affect the price you pay and helps us offer the best product recommendations.
Source: Read Full Article