Quick Links
When it comes to Fall Guys, it's all about getting Crowns; the sought-after reward given to victors of this unique battle royale. Previously, Crowns mainly served as an in-game currency, used to purchase different cosmetic items being offered in the shop, but this is no longer the case.
Now, the sole purpose of earning Crowns is to increase your Crown Rank; a ranking provided to players based on the number of Crowns they have earned throughout their career. Learn everything necessary to acquire Crowns and improve your Crown Rank, providing you with unique in-game cosmetics, varying in item type and rarity.
Crown Rank System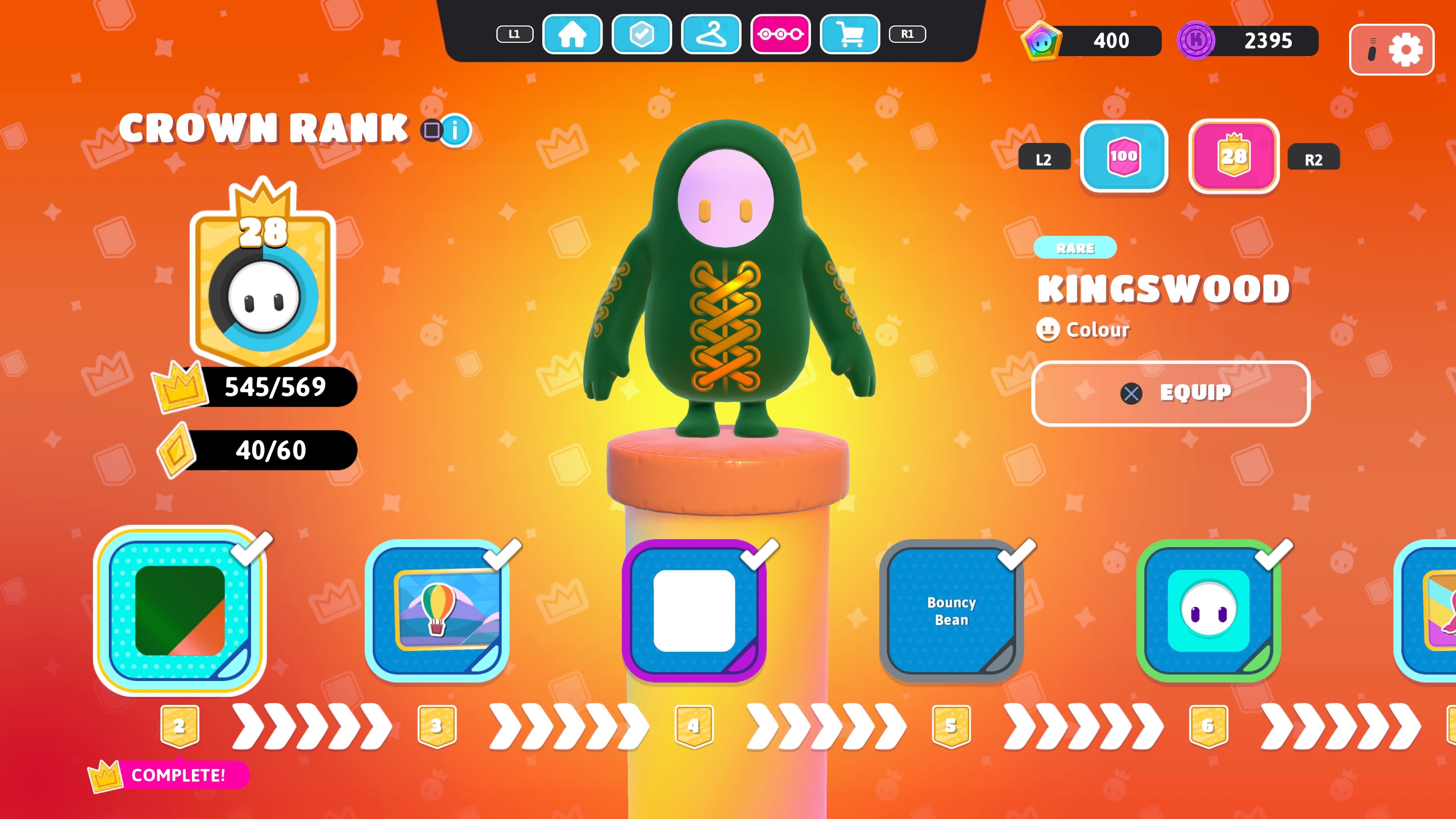 Your Crown Rank is determined based off of the number of Crowns earned throughout your entire Fall Guys career, meaning that this carries over from season to season. Players can earn Crowns through different methods; each adding toward your Crown Rank progression.
First, you can earn Crowns by winning shows that you compete in. If you are playing in a solo playlist, you will be given a Crown for each victory, but for Duo, Trio, and Squad shows, you will be given Crown Shards. You will receive 35 Crown Shards for winning a Duo show, 25 Crown Shards for Trio shows, and 20 Crown Shards for Squad shows. When players accumulate 60 Crown Shards, they will be exchanged for a Crown; adding toward their Crown Rank.
Additionally, players have challenges that are available to them; each requiring the completion of a task within the game. Some of these challenges will provide you with Crown Shards as a reward; combining to add to your Crown Rank. Use these methods to earn Crowns and Crown Shards, increasing your Crown Rank and earning you rewards.
Crowns that are obtained through promotions, like Prime Gaming, or purchased content will typically also count toward your Crown Rank.
Crown Ranks And Rewards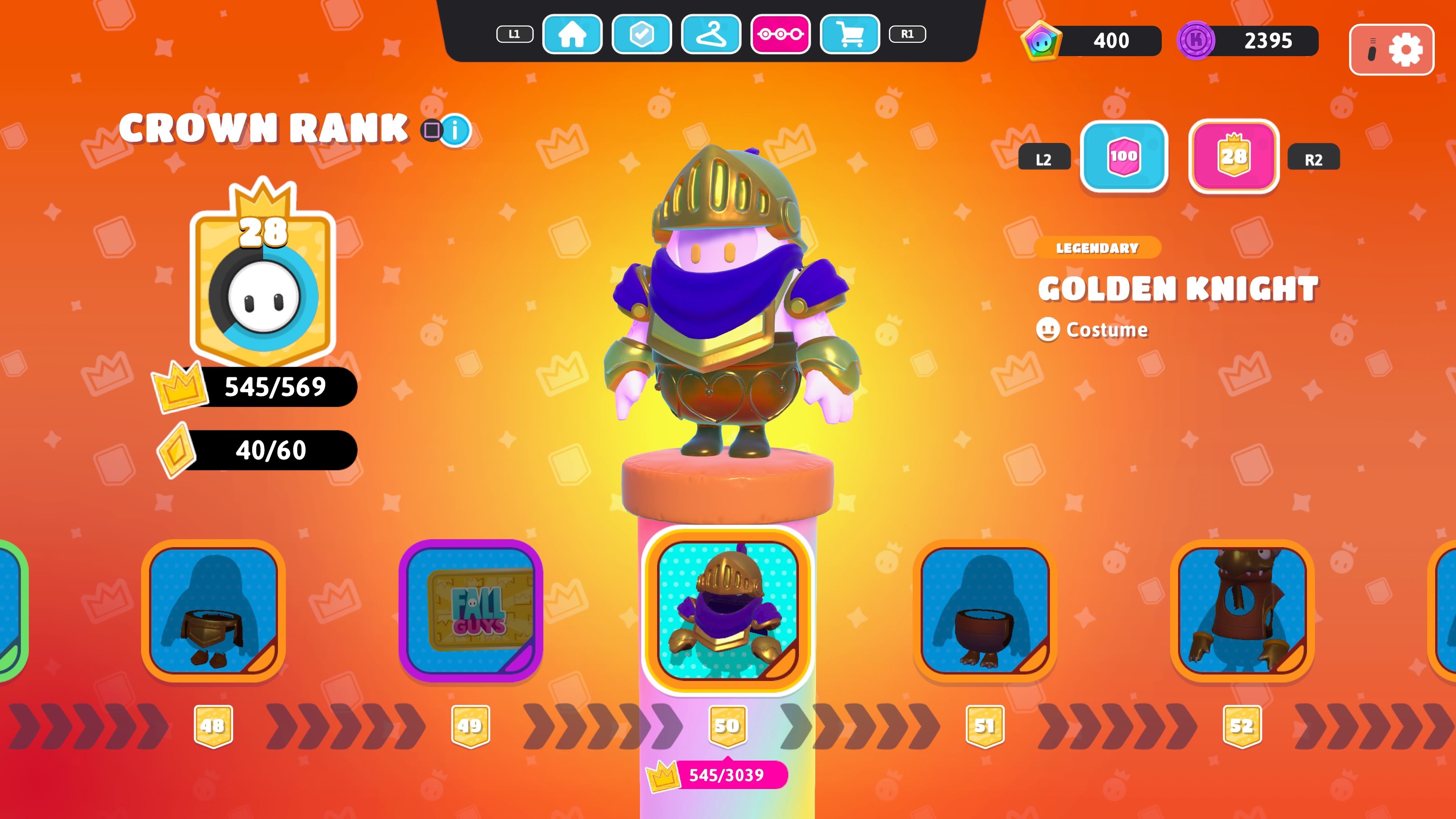 There are currently 54 Crown Ranks in the game; each requiring a set number of Crowns needed to reach it. This amount increases with each Crown Rank, requiring a total of 4,500 Crowns to reach the highest Rank. All 54 Crown Ranks provide different rewards; including cosmetic items like patterns, nameplates, and costumes. Each of these Crown Ranks are provided below, including both their Crown requirement and reward provided.
Crown Ranks
Rank
Reward
Career Crowns Required
1
No Reward
0
2
Kingswood (Color)
1
3
Balloon (Banner)
3
4
Rosette (Pattern)
5
5
Bouncy Bean (Nickname)
7
6
Purple Gaze (Faceplate)
13
7
Falling Rainbow (Banner)
17
8
Just Peachy (Nickname)
21
9
Coral (Pattern)
26
10
Crocodile (Costume Lower)
34
11
Shimmering Sea (Color)
41
12
Fall Face (Banner)
46
13
Crocodile (Costume Upper)
51
14
Ice Cream (Costume Lower)
56
15
Peak Performer (Nickname)
63
16
Ice Cream (Costume Upper)
77
17
Ice Cold Crown (Banner)
93
18
Beanbot (Costume Lower)
112
19
Starlight (Color)
134
20
Decorated (Pattern)
160
21
Beanbot (Costume Upper)
189
22
Dressed to Chill (Nickname)
219
23
Golden Witch (Costume Lower)
254
24
Tagged (Banner)
294
25
Pop Art (Pattern)
339
26
The Biggest Fan (Nickname)
389
27
Golden Witch (Costume Upper)
444
28
Qualified (Banner)
504
29
Freezy Dream (Color)
569
30
Golden Chicken (Costume Lower)
639
31
Arches (Pattern)
714
32
Jolly Bean (Nickname)
794
33
Crown Master (Color)
879
34
Golden Chicken (Costume Upper)
969
35
Hex-a-Gone King (Banner)
1,064
36
Royal Carpet (Color)
1,164
37
Golden Wolf (Costume Lower)
1,269
38
Number One (Nameplate)
1,379
39
Untouchable (Color)
1,494
40
Coral Fade (Pattern)
1,614
41
Golden Wolf (Costume Upper)
1,739
42
Regal (Pattern)
1,869
43
Regal Purple (Color)
2,004
44
Rosette (Nameplate)
2,144
45
Tiger Stripes (Pattern)
2,289
46
Barnstormer (Nickname)
2,439
47
Abstract (Pattern)
2,589
48
Golden Knight (Costume Lower)
2,739
49
Golden (Nameplate)
2,889
50
Golden Knight (Costume Upper)
3,039
51
Golden Dragon (Costume Lower)
3,289
52
Golden Dragon (Costume Upper)
3,589
53
Marblellous (Costume Lower)
3,939
54
Marblellous (Costume Upper)
4,500
Source: Read Full Article