Lisa is a playable four-star character in Genshin Impact. The Electro character acts as a Sub-DPS to deal high Elemental Damage to enemies upon coming to the field. Her primary weapon of choice is a catalyst. She is affiliated with the Knights of Favonius and is a powerful mage who graduated from Sumeru Academia.
Lisa was released on the 28th of September, 2020, and is one of the few free characters available in the game. Her kit mainly consists of Elemental Skills and Bursts that allow her to deal with multiple enemies in an area at once. She has abilities that will enable her to drop into the field and deal damage to all enemies, so choosing good artifacts and weapons can allow her to summon damage-dealing clouds, increase party members' stats, and much more.
Best Weapons for Lisa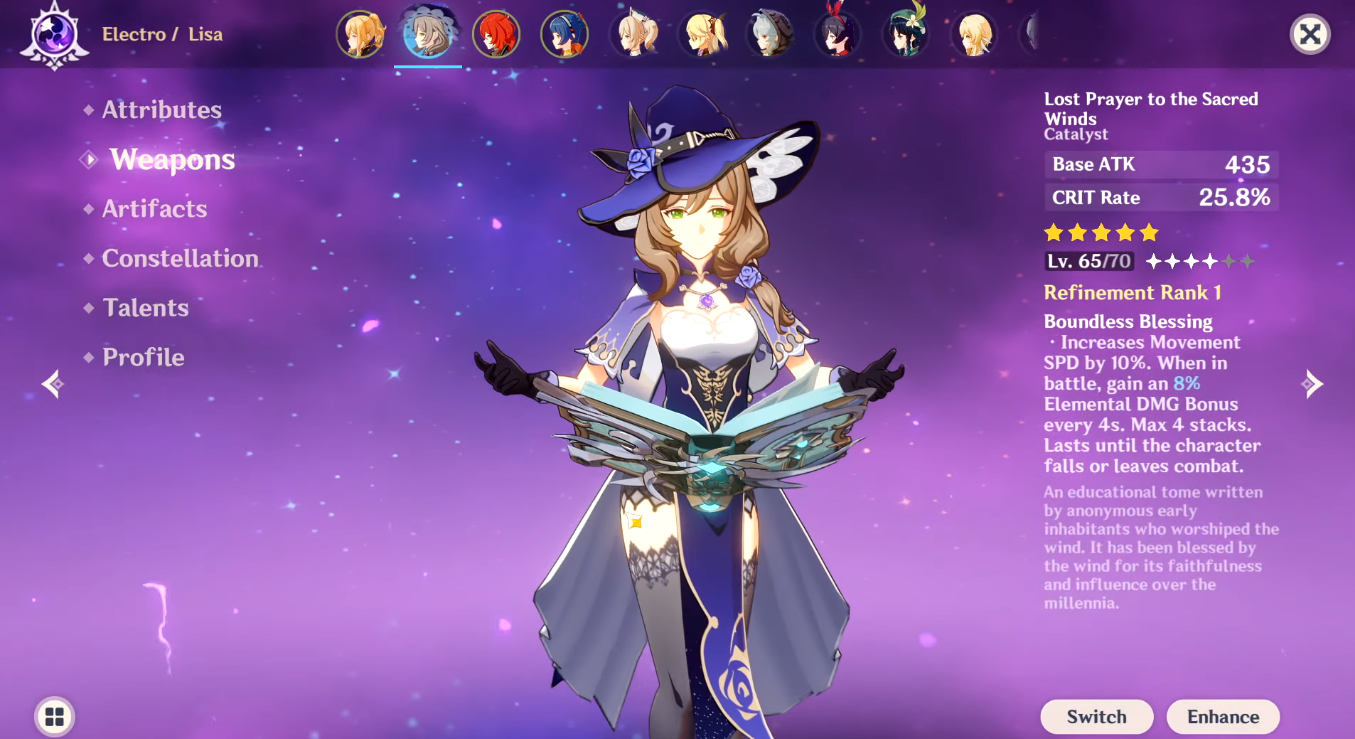 Lisa can be acquired by playing the main story and completing the quest "Sparks Amongst the Pages."
Below are three weapons that will work perfectly with Lisa:
Weapon Name
Base Attack
Secondary Attack
Passive Ability
Skyward Atlas
48
+7.2% Attack
Lisa's Elemental Damage increases by 12%. There is a 50% chance that a Normal Attack that hits an enemy can cause clouds to appear, which seek the enemies. The clouds attack them for 15 seconds dealing 160% Attack Damage. This can occur once every 30 seconds.
Lost Prayer to the Sacred Winds
46
+7.2% Critical Rate
Lisa's movement speed is increased by 10%. It also increases Elemental Damage by 4% every four seconds while in battle and can stack up to four times. Leaving combat or falling will remove the stacks.
The Widsith
42
+12% Critical Damage
This catalyst causes the character on the field to gain a random theme song for the next 10 seconds. This can occur once every 30 seconds. Here's what each song does:

Aria: Increases all Elemental Damage by 48%.
Interlude: Increases Elemental Mastery by 240.
Recitative: Increases Attack by 60%.
Skyward Atlas is the best choice for the weapon because of the high Elemental Damage increase. The second option is the Lost Prayer to the Sacred Winds. You can acquire both weapons by pulling on the Epitome Invocation Weapon Event Wish Banner and Wanderlust Invocation Standard Wish Banner at a normal rate.
The Widsith is the last option if you do not have the other weapons mentioned above. You can obtain it from any Wish banner in the game.
Best Artifacts for Lisa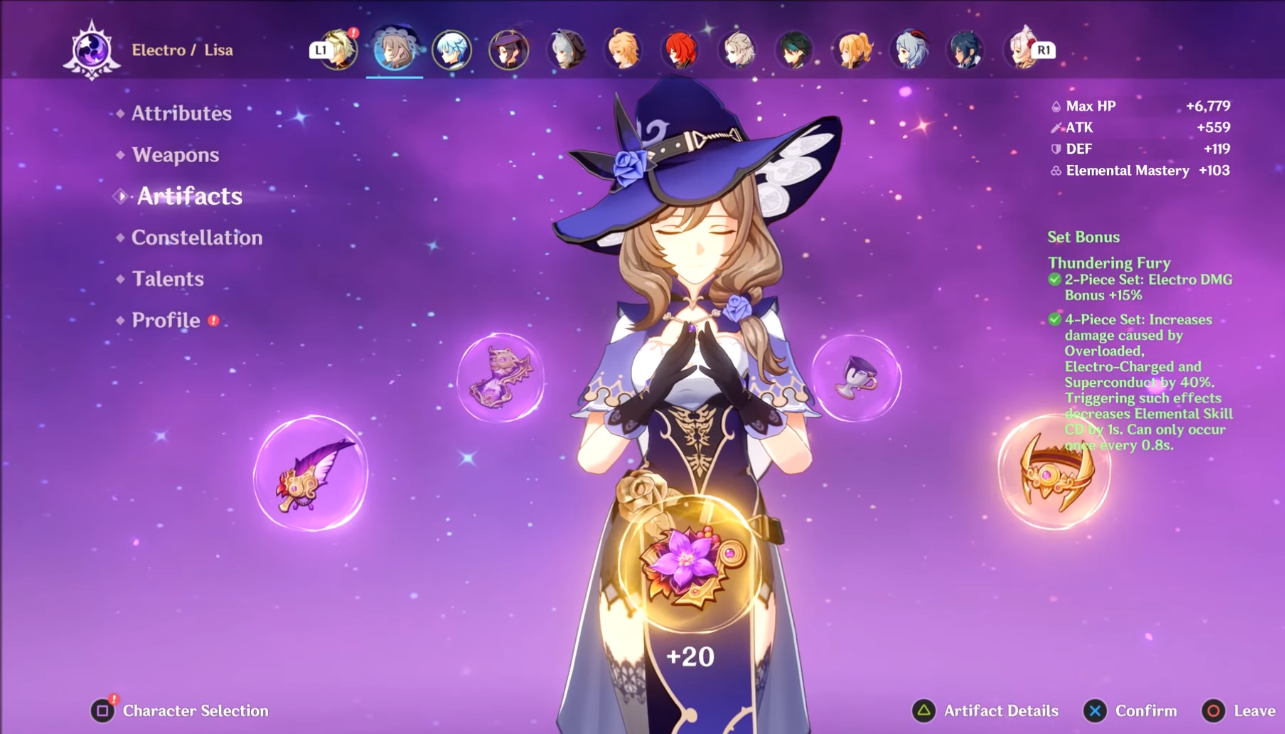 The following sets are best for Lisa:
| Artifact Name | Two-Piece Set | Four-Piece Set |
| --- | --- | --- |
| Thundering Fury | +15% Electro Damage | The artifact set increases the damage caused by Overloaded, Electro-Charged, and Superconduct by 40%. These effects can also decrease Lisa's Elemental Skill cooldown by 1%. This can occur once every 0.8 seconds. |
| Gladiator's Finale | +18% Attack | Lisa does not gain the four-piece bonus for this set as she does not use a sword, claymore, or polearm. |
| Noblesse Oblige | +20% Elemental Burst Damage | If Lisa uses an Elemental Burst while wearing the set, it will increase the Attack of all party members by 20% for 12 seconds. |
Thundering Fury is the best option for Lisa, and you can obtain it from the Midsummer Courtyard domain. Noblesse Oblige and Gladiator's Finale are the alternate options to go for. You can obtain Noblesse Oblige from Clear Pool and Mountain Cavern domain and the Artifact Strongbox: Noblesse Oblige at the crafting table. Gladiator's Finale is easy to find compared to other artifact sets. You can obtain it from many bosses, Artifact Strongbox: Gladiator's Finale and Domain Reliquaries from Spiral Abyss.
For artifacts, going full Gladiator's Finale set is not an option as the four-piece set does not give anything to Lisa. You can go two-pieces Gladiator's Finale and two-piece Thundering Fury.
Regarding artifact stats, Lisa prioritizes Elemental Mastery, Electro Damage, and Critical Rate. She also benefits from Attack percentage and Energy Recharge.
Source: Read Full Article