I've been playing Stray, much like the rest of the world, or so it seems. I love the cybercity platforming but could do without the atonal combat sections, and am thoroughly enjoying my journey through the game's weird and wonderful world. My favourite moments however have been sitting and listening to Morusque learn the guitar, but something else has been catching my eyes too: the robot fashion.
Stray has a retrofuturistic '90s aesthetic that makes us all feel incredibly old, but that's kinda the vibe in the fashion world right now. Look at Gen Z: it's all oversized flares and Matrix-style tiny sunglasses, or at least it was the last time I checked. I quickly found myself looking to Stray's robots for fashion inspiration, and wondering how to make it high fashion. Luckily, I've now done all the legwork for you, and while some robots are more fashionable than others, here are some of my favourite Straycore looks.
Razinput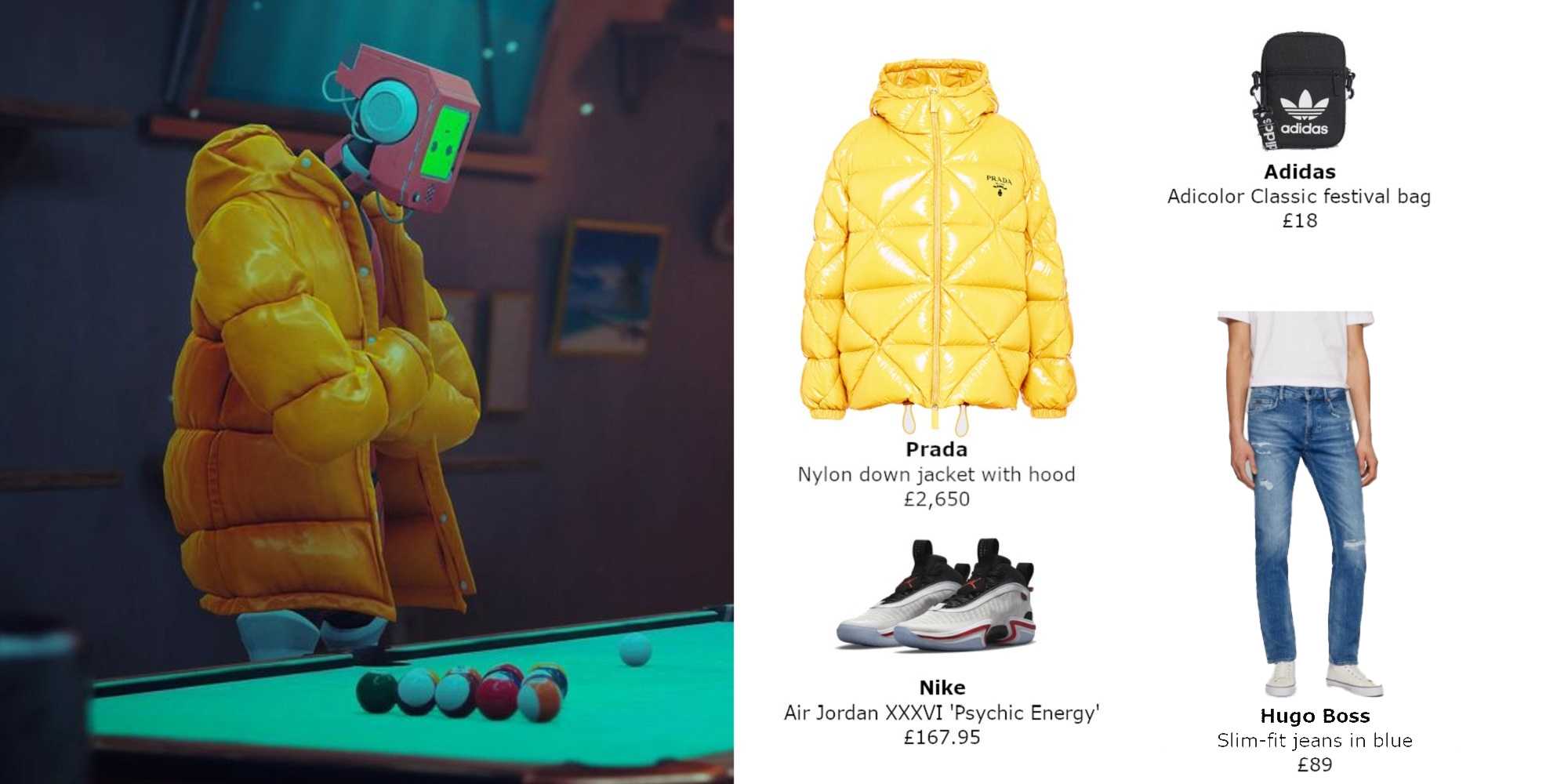 This robot has a sense of style, and is repping a perfect winter look. I don't know if robots can get cold, but if you're worried about your joints seizing up or motherboard freezing over, I'd advise you to follow Razinput's fashionable fit.
The core of this outfit is the puffer, obviously, and Prada has the perfect match. Pair this with a pair of classic jeans and a fashion focused crossbody for an urban aesthetic. For your feet, the hyper modern Air Jordan XXXVIs go well. I'd opt for the Psychic Energy colour, but regular white would work just as well.
This Nameless Cowboy Hat Robot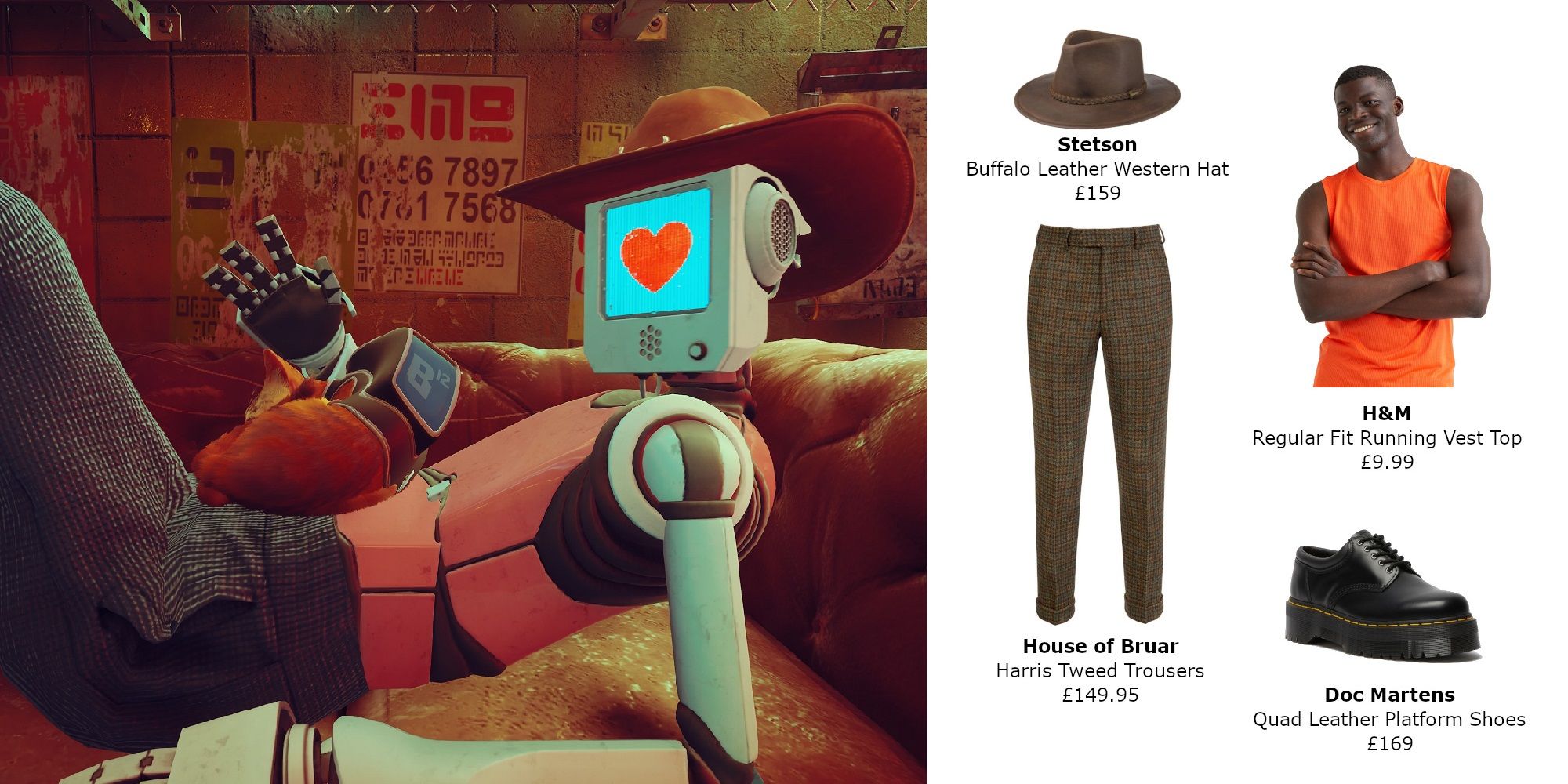 This is one cool customer. You have to have confidence to pull off the cowboy hat look, but if you back yourself and pair it with a strong look across the board, it can work. If you half-arse it, you might just look like Sam Elliott (which isn't necessarily a bad thing), but this dude keeps things fresh, bold, and modern with a vest and tweed trousers.
For your cowboy hat, you simply have to go Stetson. For the rest, though, a vibrant slice of luminescent sportswear will do your top – it's enabling the outfit rather than being the draw here – and some proper Harris Tweed will complete the look. I'd go for a pair of classic black Doc Martens, too.
Seamus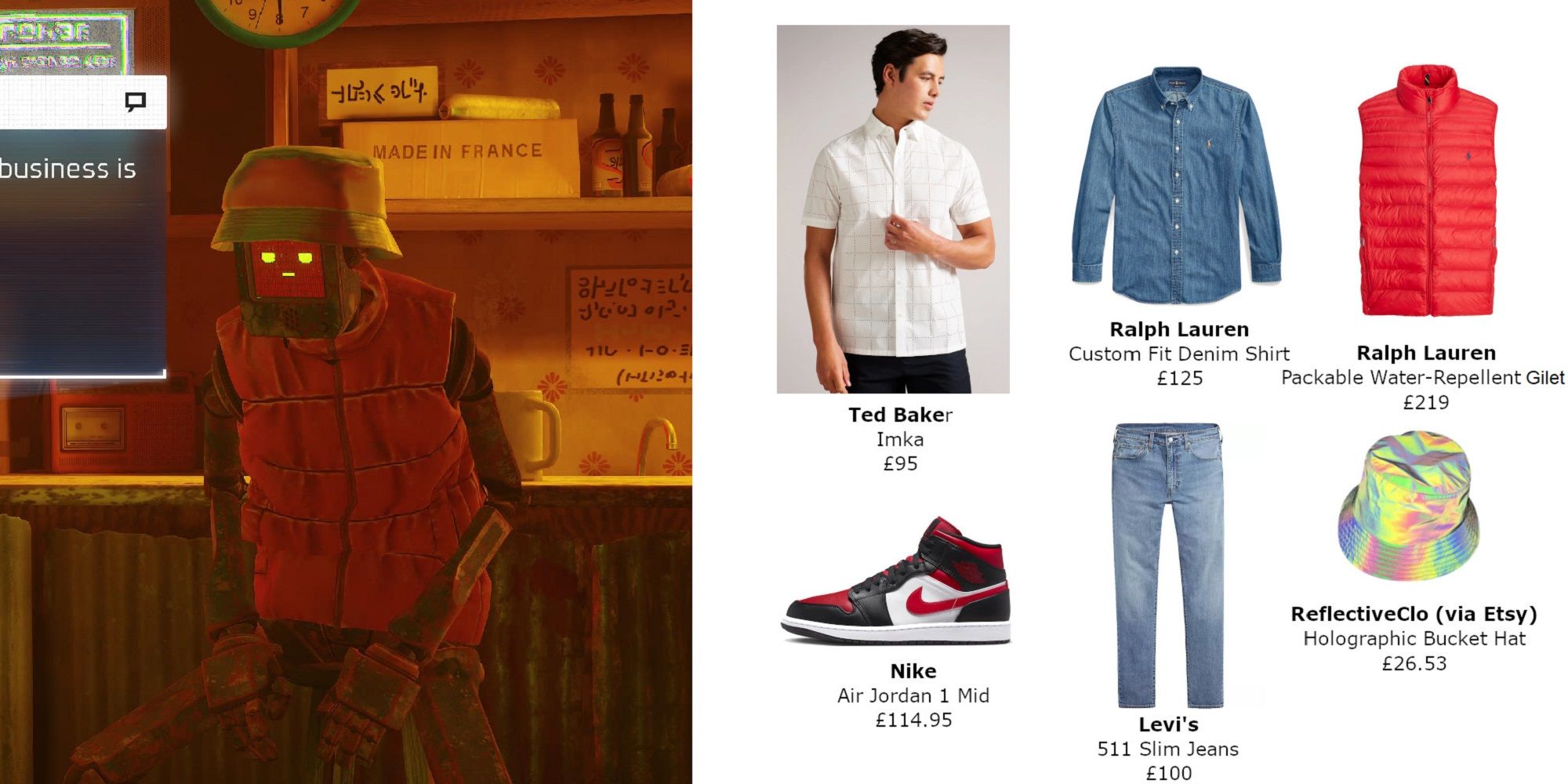 Seamus is doing his best Back to the Future cosplay in Stray, which may feel cheap, but it can be fashionable. Much like DisneyBounders wearing secret cosplays to Disneyworld, you can ape Marty McFly in a more subtle, fashionable sense.
McFly is a master of layering, even if Seamus isn't, so we'd opt for a base layer of this checked shirt from Ted Baker. It's not quite Back to the Future, but we're trying to be subtle here. Pair that with a pair of Levi's and then head to Ralph Lauren for the rest. Their denim shirt and gilet give Seamus that fashionable edge. You can finish the look with this iridescent bucket hat from Etsy. A pair of Nike Air Jordans complete the retrofuturistic fit.
Guardian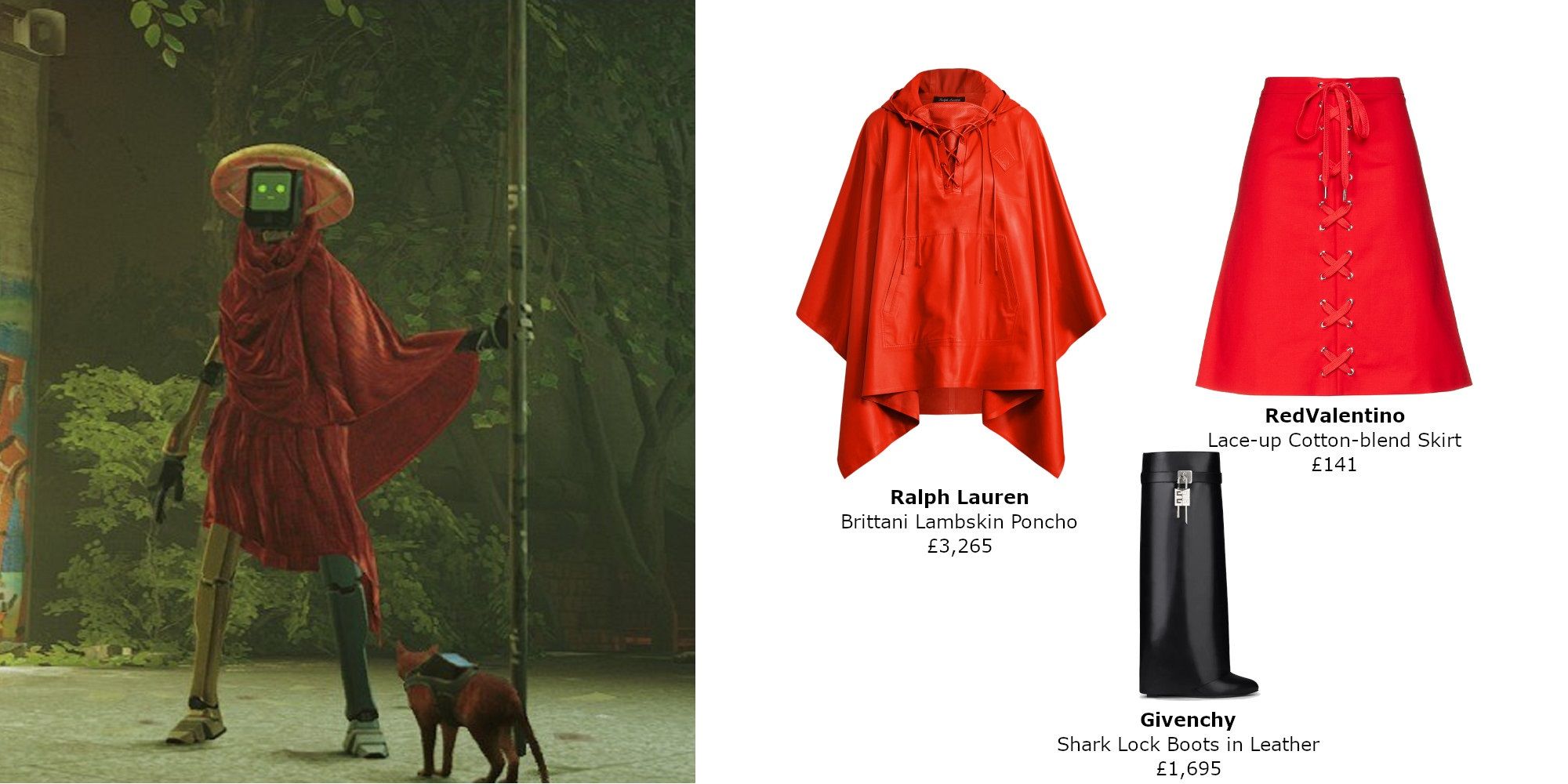 Bet you didn't expect to see a fashion guide to the Guardian's outfit when you clicked on this link, huh? Start with Ralph Lauren's Brittani Lambskin Poncho and this RedValentino skirt matches the lace-up vibes well. It's hard to feel cool in all-red, so some tall black boots will give the Guardian look a fashionable edge. I'd opt for Givenchy's Shark Lock boots, but if you want something less edgy, you can't go wrong with a pair of Jimmy Choos. To be honest, I'll live without the hat and staff.
Heptor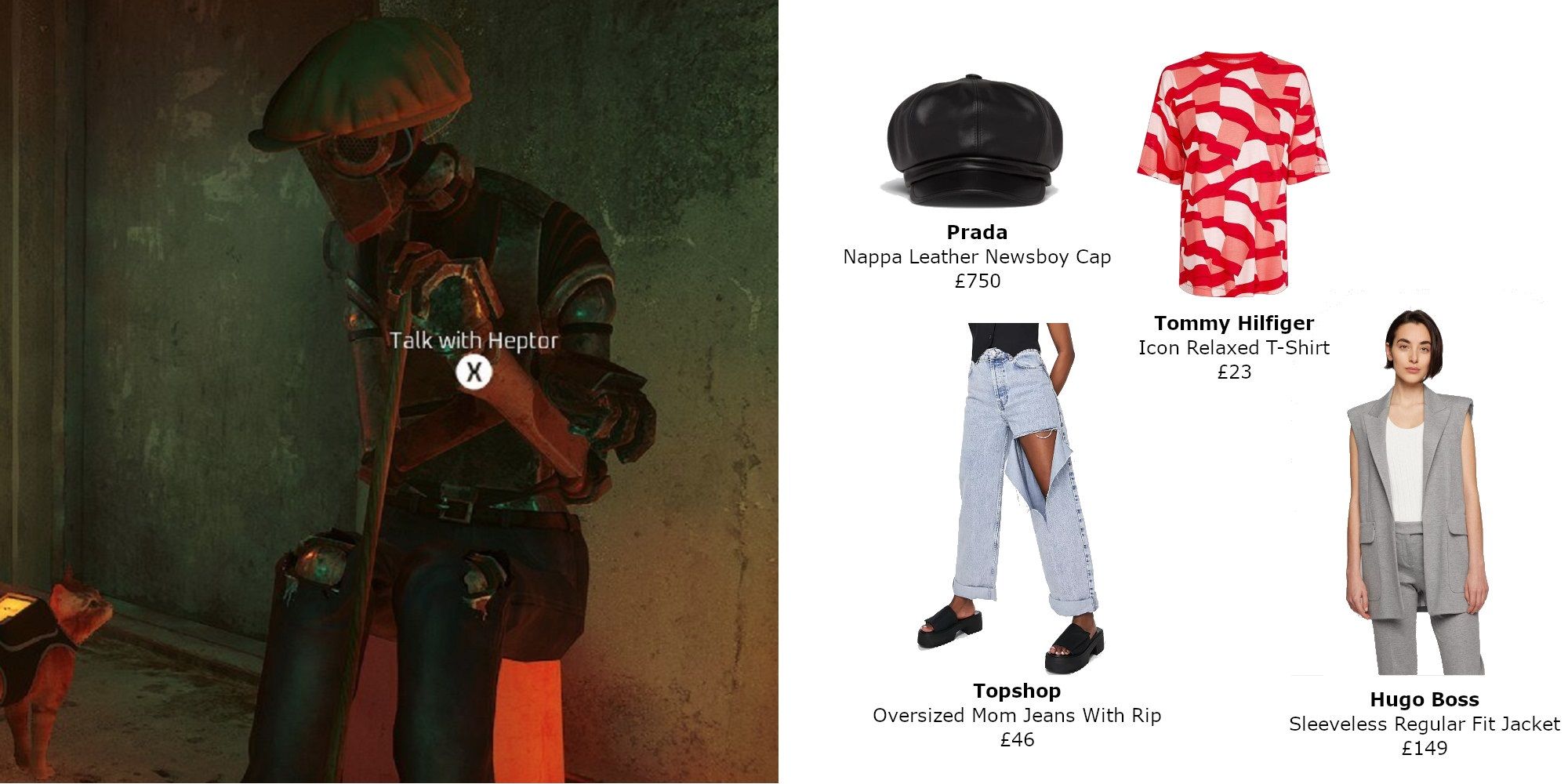 Heptor's just a chilled guy living his best life on the rooftops of The Slums. His look is a bit Peaky Blinders-obsessed dad as it stands, so we're going to spice it up. Exaggerate his ripped jeans with bigger holes – something like this Topshop pair would be perfect. We'll substitute Heptor's body paint for a red Tommy Hilfiger t-shirt and pop a Hugo Boss oversized waistcoat over the top, and then find an appropriate hat. A regular Peaky Blinders flat cap would work, but we're going to up the ante with this newsboy cap from Prada.
Momo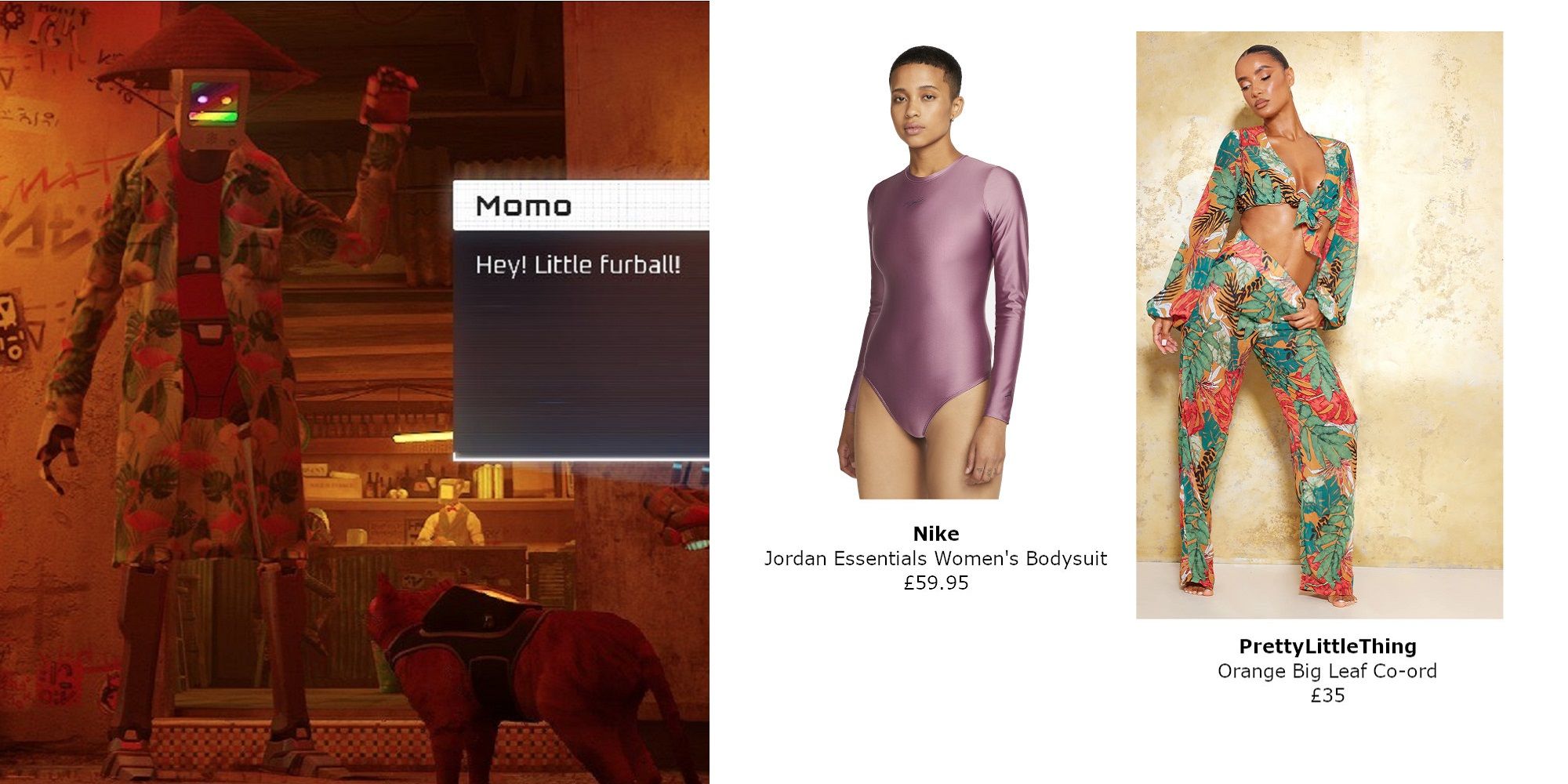 Momo, oh Momo. Is it possible to make a flamingo print trench coat fashionable? I'll try. First, grab yourself a Jordan bodysuit for your undergarments – Momo is really pushing the boundaries with this one – and then get to work on the coat. Flamingos aren't too common in fashion circles, but this floral co-ord set from Pretty Little Thing (trousers available here) matches Momo's vibes pretty well. If you're set on the hat, go to your local fancy dress shop or something, but I'd leave it well alone.
Jacob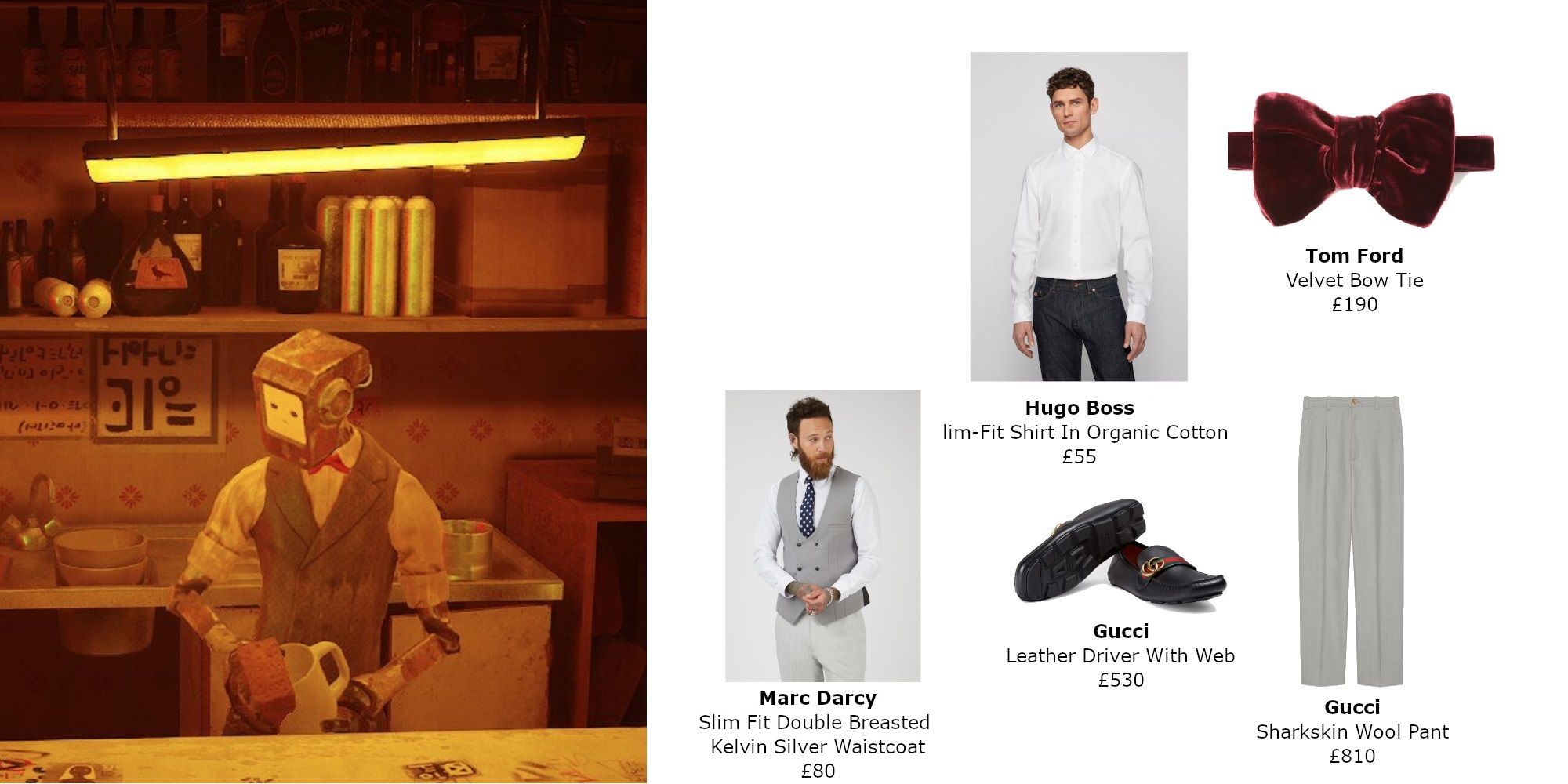 Jacob's wearing classic bartender attire, but suits are in these days, so we'll give it a shot. Make sure you look like you're headed to the runway rather than the Doctor Who convention with Gucci's Sharkskin suit (trousers here), paired with a white shirt from Hugo Boss and a Tom Ford bow tie. Smart shoes are a must here, so head back to Gucci for them. If you're set on the waistcoat, swap out the Gucci jacket for this Marc Darcy option.
May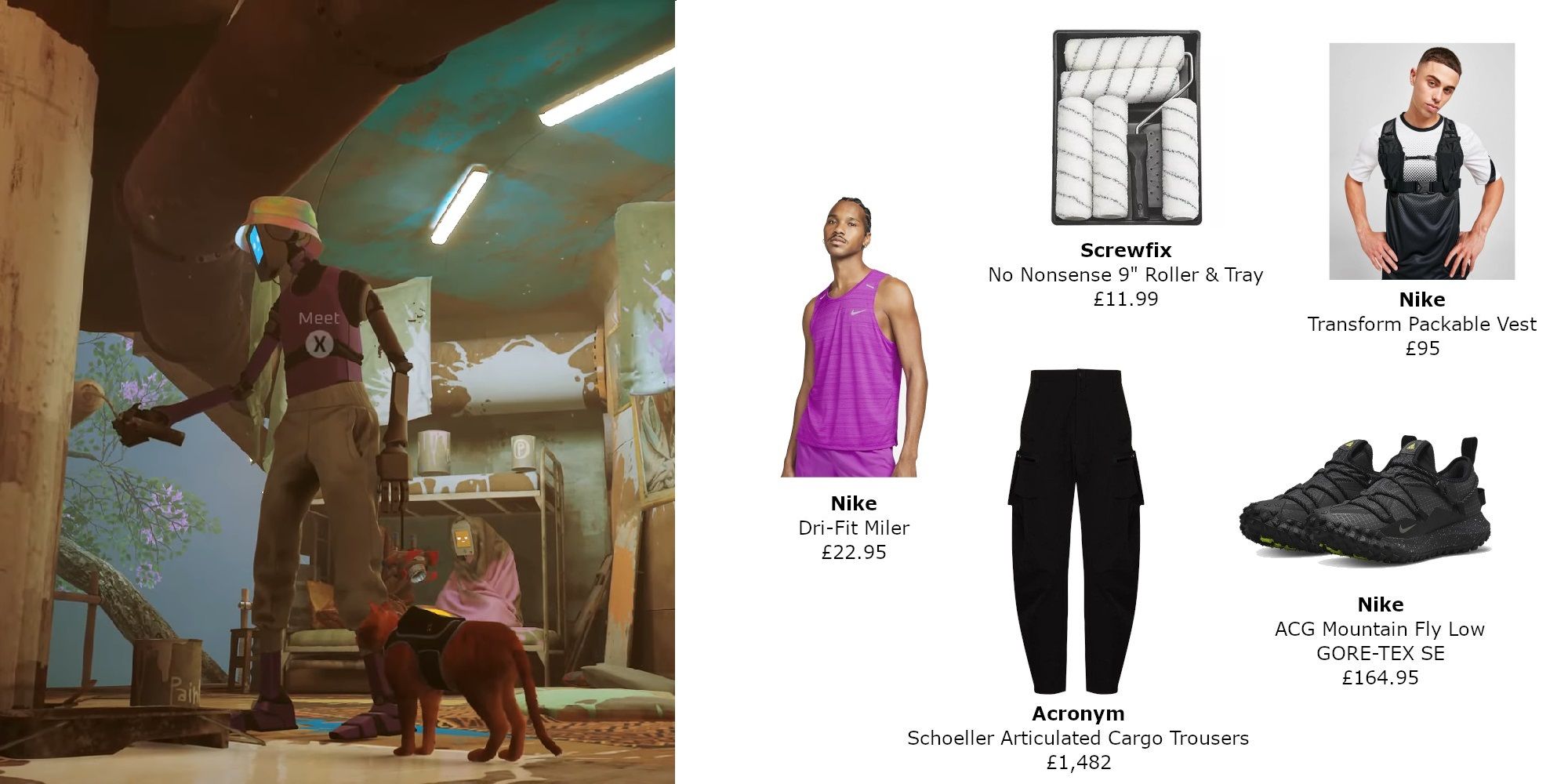 I really like May's look, as she opts for a techwear style as she paints and paints and paints. There's only one brand for techwear, and Acronym's cargo trousers fit the bill. A Nike vest and harness completes the look, and stick with both the techwear and Nike vibes on your feet by picking up the Nike x Gore Tex ACG Mountain Fly technical trainers. Paint rollers are available at your local Screwfix.
Source: Read Full Article