Quick Links
How Do You Earn Swap Cards?
How To Complete World Cup Content And Get World Cup Players
The FIFA 23 World Cup season has now started, and that means player swaps. These are cards that you can earn by completing various SBCs, milestones, and objectives, and you can earn a total of 60 Player Swaps over the course of the World Cup event – it lasts until January.
This guide covers all the available swaps in the game and how to earn them, including how to get your hands on the required World Cup cards needed to complete certain objectives and milestones.
What Are Swap Cards?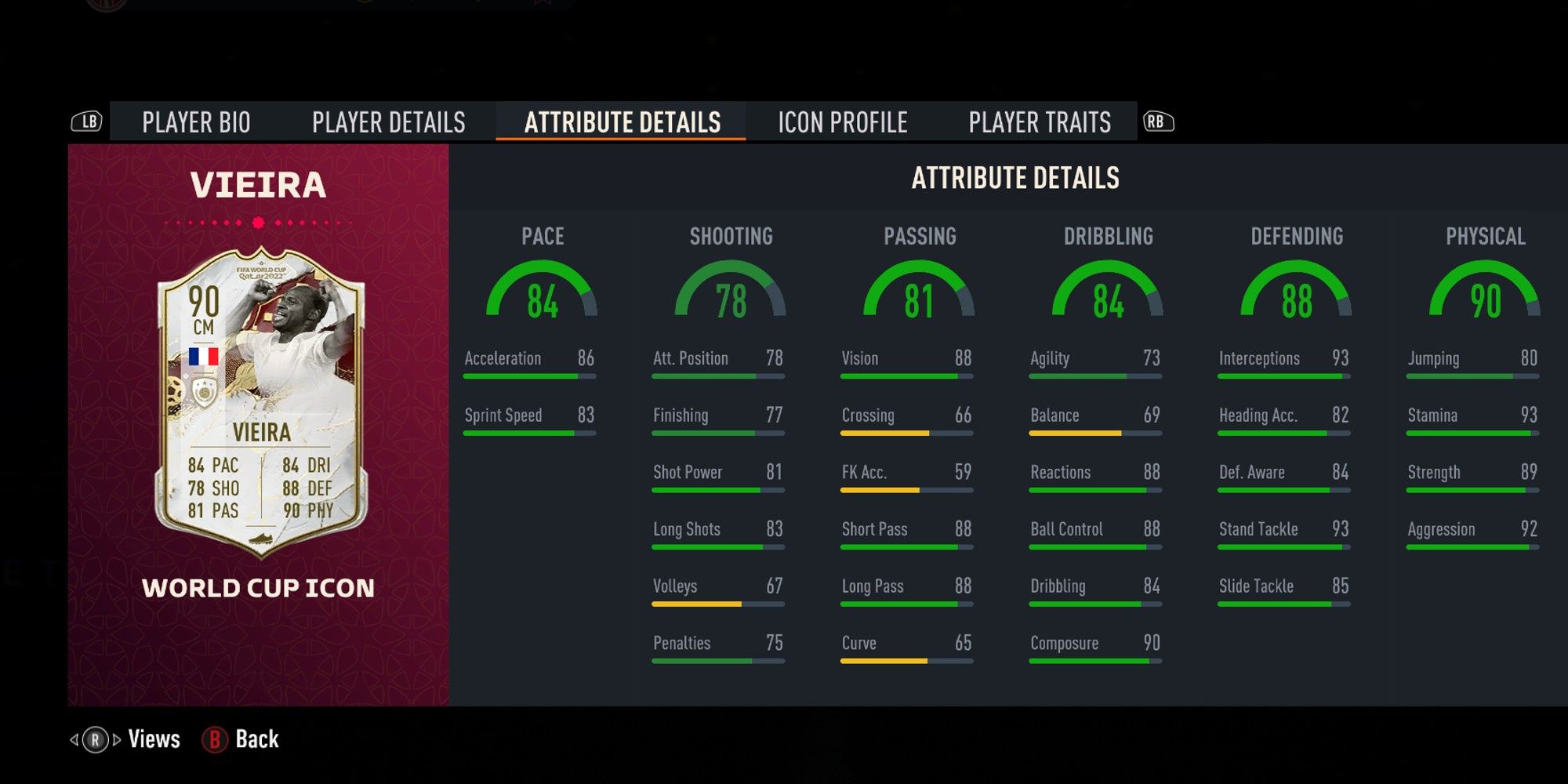 Swap cards are special cards that can be earned during the World Cup event in FIFA 23. They can be exchanged for a variety of rewards via SBCs, including 90 rated mid Icon Patrick Vieira at 40 total swaps. Other rewards include packs, player picks, and a few other World Cup players. Here's a look at some of the best rewards available:
90 rated mid Icon Patrick Vieira (40 Swaps)
FIFA World Cup Icon Player Pick (35 Swaps)
Cafu Icon (30 Swaps)
FIFA World Cup Hero Player Pick (25 Swaps)
3 x 84+ 20 player packs (20 Swaps)
Swap cards are time-gated by content releases, which means you can't just grind for Vieira from the start of the event. New objectives and milestones are released weekly and throughout the week so that you can earn more swaps cards.
How Do You Earn Swap Cards?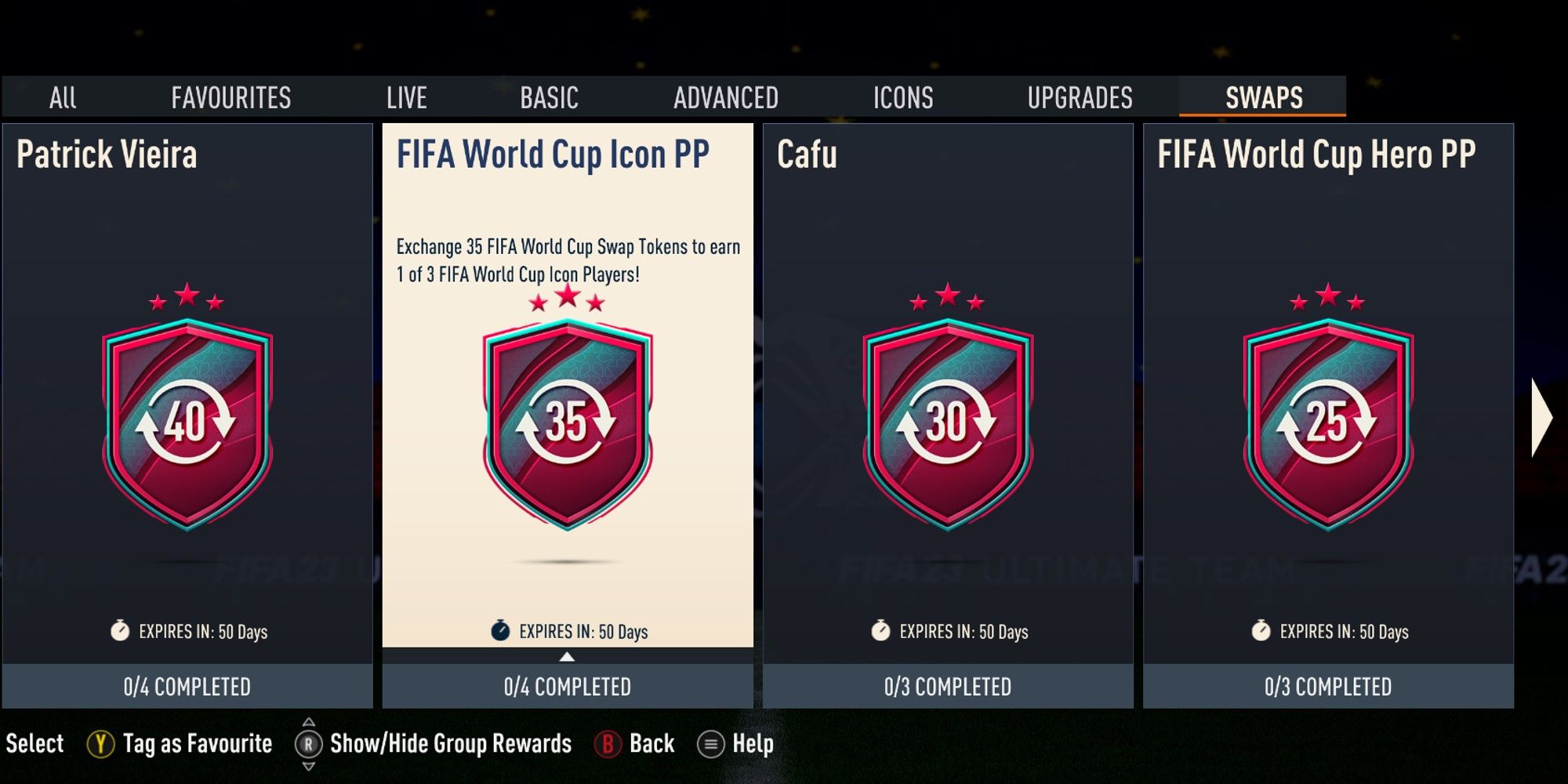 You can earn swap cards in lots of different ways, although the two main ways are via objectives and milestones.
FIFA World Cup Swaps Showcase 1

Play 8 Games With Spain – Play 8 matches in Squad Battles on minimum Semi-Pro difficulty with at least 6 Spanish World Cup Players in your starting squad (One Swap Card)
England's Winning Formula – Play 6 matches in Squad Battles on minimum Semi-Pro difficulty with at least 6 English World Cup Players in your starting squad (One Swap Card)
Through Japan – Assist 7 goals with Through Balls using any player from Japan in Squad Battles on minimum Semi-Pro difficulty

FIFA World Cup Swaps Week 1

​​​​​​​Win 6 matches in the Live FUT Friendly with players from:
Iran
Wales
Qatar
Ecuador
Senegal
Netherlands
England
USA

The Live Fut Friendly FIFA World Cup Swaps is Golden Goal which means you do not need to play the entire game. First team to score, wins. Each segment rewards one World Cup player. In total, you can earn 11 World Cup swaps from this first week's content, including the World Cup swap in the Season Progress tab.

How To Complete World Cup Content And Get World Cup Players

To complete these milestones, you need to have World Cup players in your starting squad. These are acquired through a variety of ways, and some are easier to get than others.

Opening packs – every pack during the World Cup event will have at least one player pick available
Completing objectives – to get your first World Cup players, make sure to complete the Through Japan objective, which will also reward you with the hard-to-get Qatari players if you are lucky
Complete the repeatable SBC to earn 5+ World Cup players – this is very cheap, and only costs a few bronze cards to complete

Tips For Live FUT Friendly: World Cup Swaps

To complete this milestone, you need to have at least 6 World Cup cards in your starting squad. This means you are a bit limited with what sort of players you can take into each match. Here are some tips to make it easier to complete.

Don't worry too much about chemistry – these games might only last five minutes, and scoring a goal is more important than worrying about how healthy your team is looking
Take good attackers with you – if you can, choose defensive World Cup players from the nation of your choice, as scoring a goal is more important than defending from one
Build a team using good players from your existing squad – following on from the chemistry point, don't spend any coins here, just use attackers from your club
Use High Press attacking tactics – the game will be over before your players are tired, so set a high depth in your tactics and constant pressure for attacking tactics

Source: Read Full Article