Insomniac Games has released a new art book celebrating the eye-catching designs of Spider-Man: Miles Morales. In these beautifully illustrated pages lies a lot of insight into the creative process behind building the game, highlighting the finer points that set the title apart from its predecessor.
Spider-Man: Miles Morales – The Art of the Game is a newly released, 192-paged hardback by author Matt Ralphs, and retails at $39.95 from Titan Books. Released for fans to discover the intricate process of game building, The Art of the Game showcases various excerpts of concept art and in-game renderings built by the team at Insomniac. In addition, the characters, gadgets, locations, and the all-important Spidey suits will also be on display within these pages, for fans to see how these designs became a reality.
With words by Fire Girl author Matt Ralphs, Insomniac has teamed up with Titan Books and Marvel to provide a glimpse behind the veil of this PS5 exclusive. The artists and developers from Spider-Man: Miles Morales will also be featured in these pages, providing their own, personal reflections towards the game and its designs. Ralphs has also worked on a host of publications, aiding in the creation of various educational books, comics, graphic novels, and short story compilations.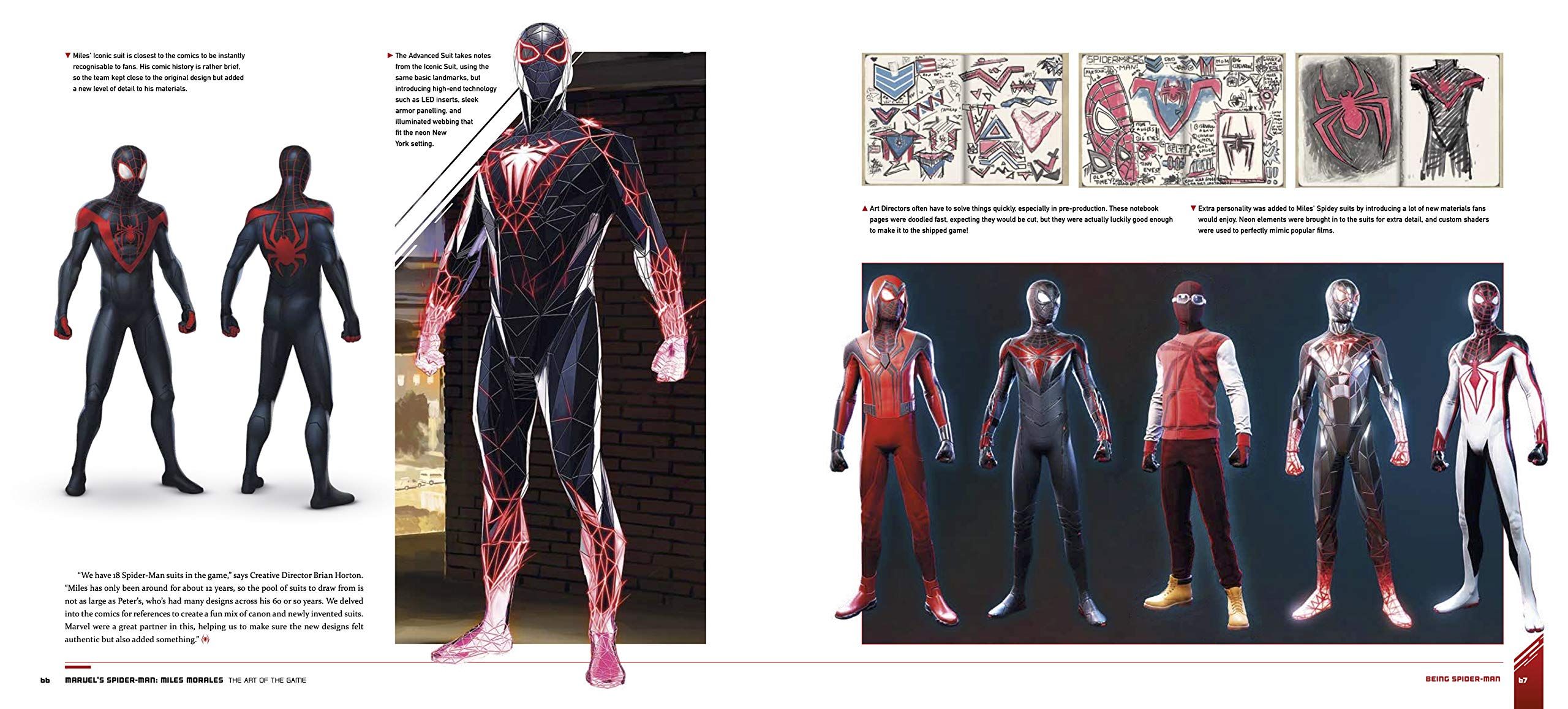 Back in October, the game artists behind Spider-Man: Miles Morales collaborated with Marvel Comics to design a series of comic book covers. Five of the artists' illustrations were used in the Amazing Spider-Man and Miles Morales: Spider-Man series, and all of them make great wallpapers too. All five covers were designed to reflect Morales' journey throughout his web-slinging days, which corresponded with key points in the PlayStation title. A colorful array of covers bursting with neons, battles, and iconic Spider-Man poses made each variant a true collector's item.
In addition to The Art of the Game book, the spin-off also got its very own vinyl soundtrack release from the fansite Mondo. 19 different tracks from the game were printed onto 180 gram vinyl discs held within a punchy, red cover featuring the titular character. The album features Jaden Smith's popular I'm Ready track from Spider-Man: Into the Spider-Verse, accompanying a range of other upbeat tracks to get you in the web-slinging frame of mind.
Source: Read Full Article