Wargaming has a history of weird crossovers, but the latest event to hit World of Warships is definitely one for the history books.
World of Warships (and World of Warships: Legends for consoles) will soon begin a limited-time event that ties in with Godzilla vs. Kong, which is out in theatres starting today. Legendary Pictures and Godzilla IP holder Toho Co. Ltd have actually teamed up with Wargaming to provide us all with these official Kong and Godzilla battleships, along with a bunch of Godzilla vs. Kong-themed cosmetics.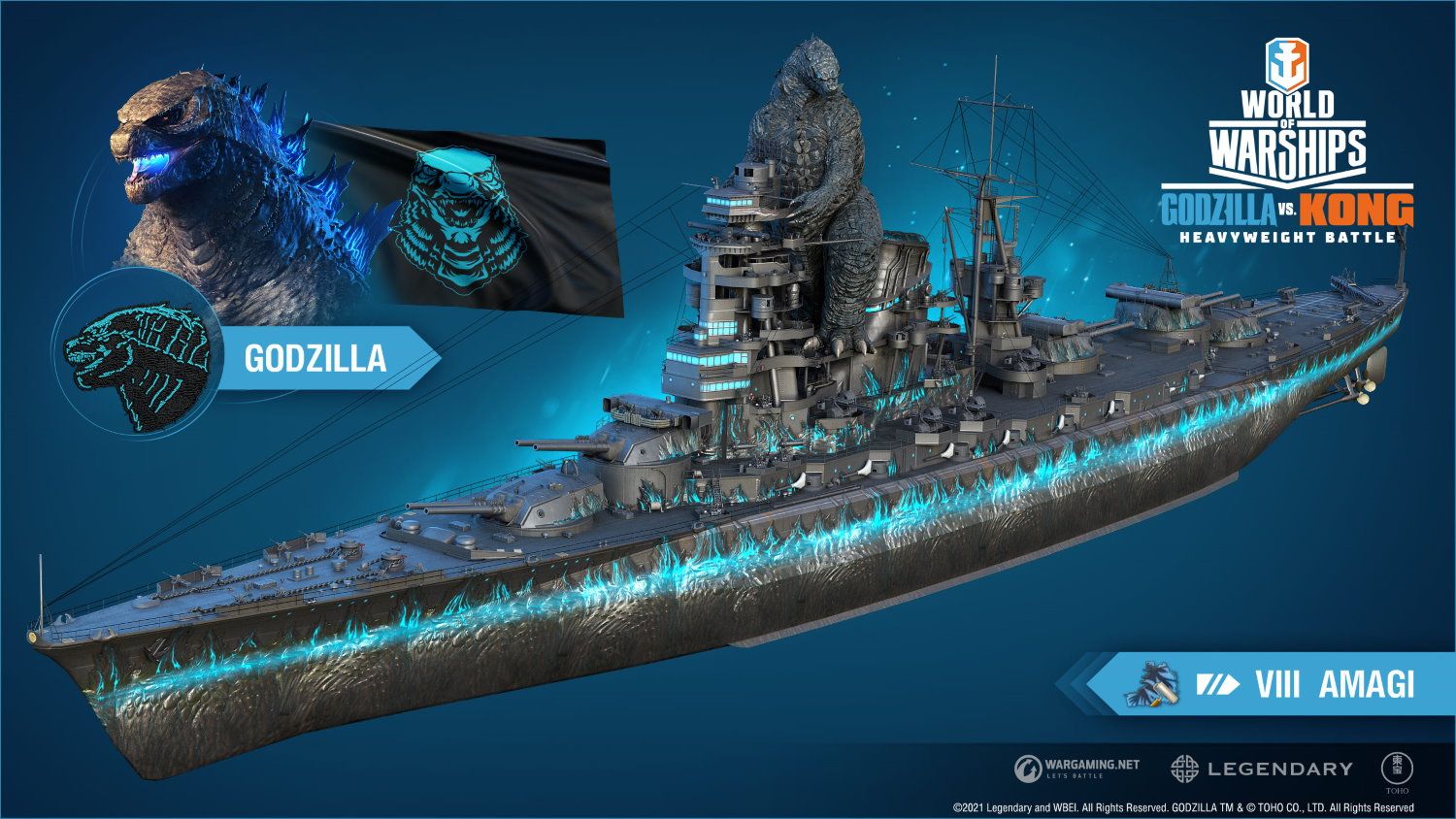 For Team Godzilla, we have the IJN Amagi, a 42,000-ton battlecruiser featuring ten 16-inch cannons across five turrets. Interestingly, only Amagi's sister ship Akagi was built, although it was converted into an aircraft carrier midway through construction. Amagi suffered hull damage during the 1923 Great Kanto earthquake and was scrapped before it could be completed.
For Team Kong, we have the USS North Carolina, a 37,000-ton fast battleship featuring nine 14-inch guns across three turrets. Unlike the Amagi, North Caroline served with distinction during World War 2 and supported operations in both the Battle of Iwo Jima and Okinawa. After being decommissioned in 1947, she was saved from the scrapyard and sent to her namesake state where she currently resides as a museum ship.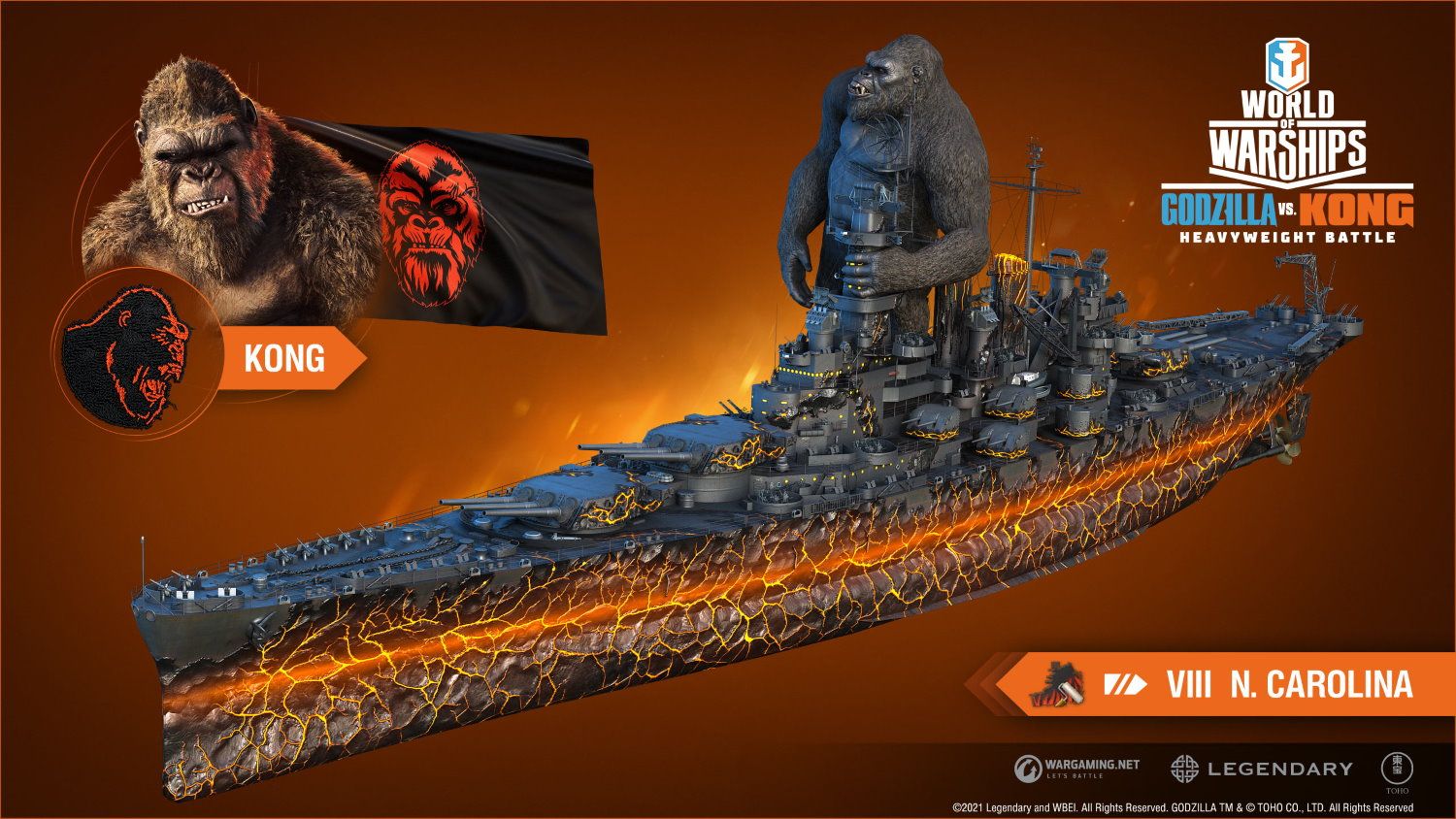 As you can see, these two lovely ships have extremely distinctive camouflage, along with patches, flags, and other movie-themed stuff.
Wargaming wasn't entirely forthcoming with the particulars surrounding this event. We're not sure if it's going to be a limited-time game mode or if you'll actually be able to take Amagi and North Carolina out for a spin with both Godzilla and King Kong swatting at passing aircraft while the ships themselves shoot ranging cannon shots.
We do know that Kong and Godzilla will for sure be on board their respective crafts and serve as playable commanders. At least, in World of Warships on PC. World of Warships Legends will get a permanent camouflage for IGN Fuso if they side with Godzilla, or a permanent camo for USS New Mexico if they side with Mr. Kong.
Stay tuned in-game for more details on how these two monsters will fight it out.
Next: Elder Scrolls Online Next-Gen Update Releases On June 8, Includes Graphical Enhancements And Improved Frame Rate
Game News
Godzilla Vs. Kong
Godzilla
World of Warships
Actually a collective of 6 hamsters piloting a human-shaped robot, Sean hails from Toronto, Canada. Passionate about gaming from a young age, those hamsters would probably have taken over the world by now if they didn't vastly prefer playing and writing about video games instead.
The hamsters are so far into their long-con that they've managed to acquire a bachelor's degree from the University of Waterloo and used that to convince the fine editors at TheGamer that they can write "gud werds," when in reality they just have a very sophisticated spellchecker program installed in the robot's central processing unit.
Source: Read Full Article