Calling Praey For The Gods a Shadow of the Colossus clone is selling the game short. Yes, you will definitely mount a giant, terrifying monster, scramble around frantically trying to find weak spots to stab with your sword, but you'll also need to keep yourself fed and rested in a frozen, unforgiving landscape.
Praey For The Gods combines survival and more typical third-person action gameplay with the sort of boss fights that became famous with Shadow of the Colossus. You play as a woman stranded on a frozen island with nothing but the clothes on her back. First, you must scavenge for food, resources, and weapons by exploring the island. Shelter and a campfire are two supremely necessary things to prevent your character from freezing to death in the cold.
After a little while, you'll find cave drawings that describe the "Gods"–massive beasts that roam the frozen wastes. In order to kill them, you'll need to study those drawings and the Gods themselves to determine their weaknesses. Make sure you're well-rested and fed too since hunger and fatigue will have negative consequences.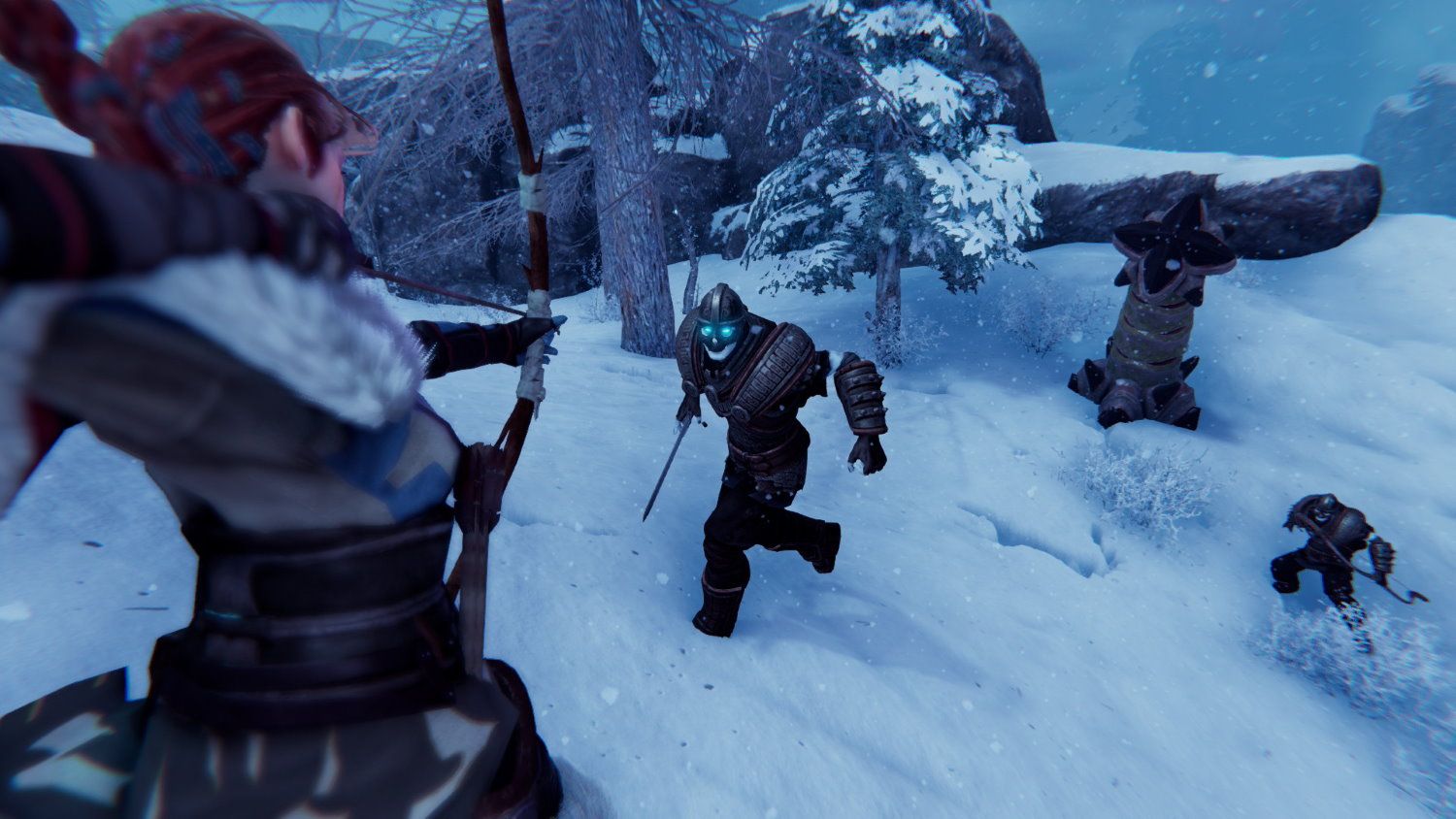 There's also a crafting system in Praey For The Gods where you find materials from wild animals and other enemies (although not the Gods themselves). Dynamic weather will also play a role and might convince you to delay an attack until it clears.
Praey For The Gods is currently in Early Access on Steam after securing half a million bucks in Kickstarter crowdfunding. The small team of three at No Matter Studios is hard at work getting the game ready for what was supposed to be a simultaneous PC, PS4, and Xbox One release, but now we've got another platform to add to the list: the PlayStation 5.
Sony announced today that Praey For The Gods will get an enhanced for PS5 version that takes advantage of all the sweet tech that the next-gen console has. That means better graphics, textures, loading times, and everything else you've come to expect from any game that's announcing it'll get a PS5 release.
One thing that sets Praey For The Gods apart is the fact it's also getting a free upgrade. If you get a PS5 and have already bought/pre-ordered the game on the PS4, you'll get a free upgrade when you log in to your account on the PS5. Not all PS4 games are getting this feature, which might be an indication that Sony is courting the three folks at No Matter Studios for something special in the future.
Praey For The Gods releases on the PS4, PS5, Xbox One, and Steam in Q1 2021.
Source: Read Full Article