Carles Puyol is the latest player to receive a World Cup Icon player SBC in FIFA 23. This 91-rated CB card is relatively affordable and comes with some outstanding stats, although the market is in such a weird place at the moment that it's hard to judge how great of an SBC this really is. More on that in a minute.
This short guide covers how to complete the SBC, including squad requirements and cheapest players, plus a deep-dive into the card's stats with a closer look at a comparison with other great CB options.
How Much Is The Carles Puyol World Cup Icon SBC?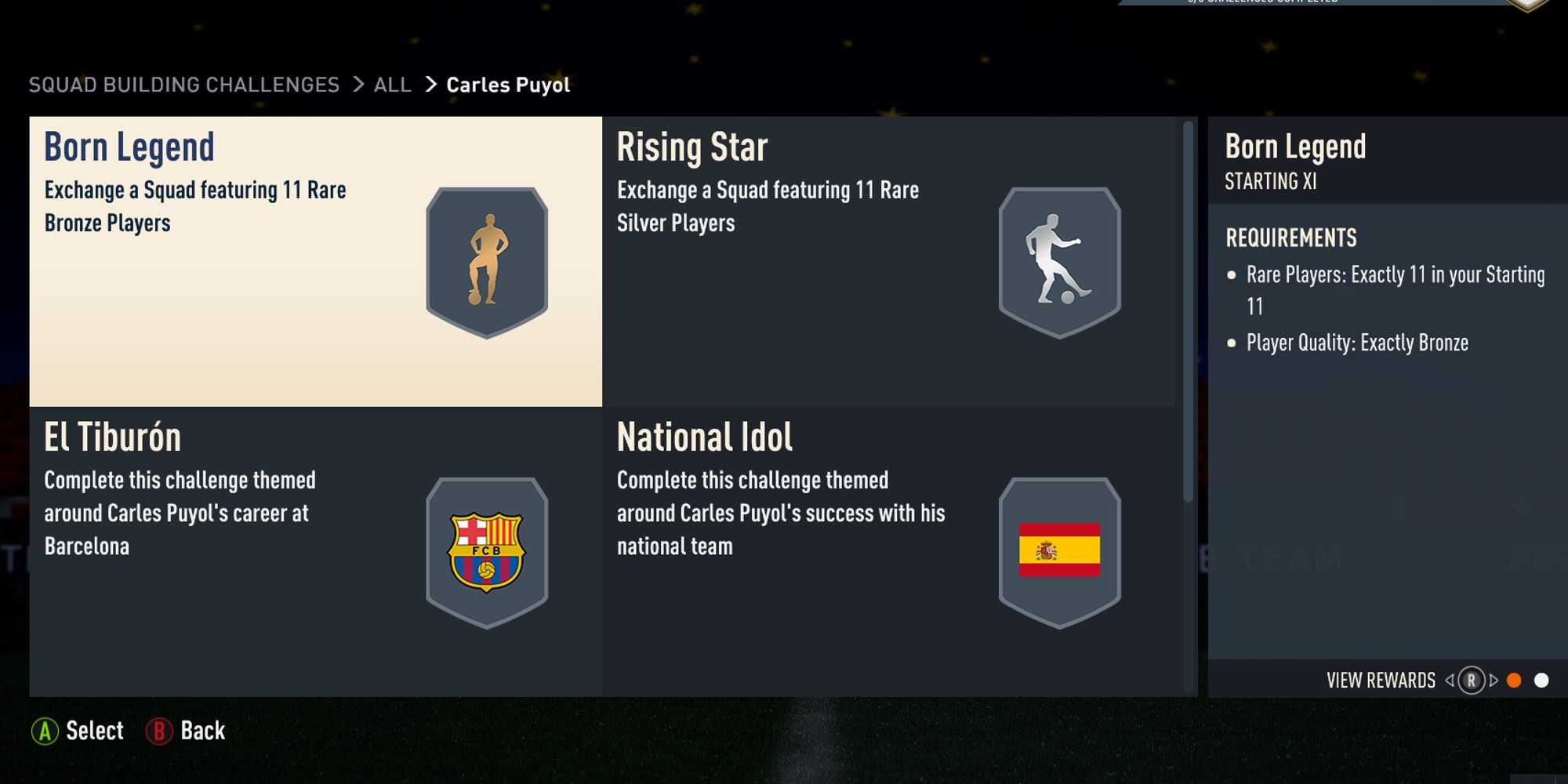 Puyol's World Cup Icon card is coming in at around 150k-170k, depending on market fluctuation and whether you've got the fodder ready to go to complete the card.
How To Complete The SBC
To complete the Puyol SBC, you'll need to put together these squads:
Born Legend: 11 Rare Gold players
Rising Star: 11 Rare Silver players
El Tiburon: 83-rated squad with one TOTW player and one Barcelona player
National Idol: 84-rated squad with one TOTW player and one Spanish player
League Legend: 86-rated squad with one La Liga Santander player

The cheapest 86-rated player currently on the market is Thiago Silva at 13.5k.

Overall, these are very straightforward requirements, and it's really only the 86-rated squad that is particularly expensive, especially if you have decent fodder for the 84-rated and 83-rated squad already in your club.

Rare golds being required for Puyol and other Icon SBCs means that the Bronze Pack Method is still a reliable way to make some coins – here's how to do it.

Should You Complete Puyol?

Here's a closer look at Puyol's stats, strengths, and weaknesses. We will also compare the card to other CBs at a similar pricing/rating. First up, Puyol.

| | |
| --- | --- |
| Pace | 75 Pace overall, which isn't super low, but it also isn't the quickest. You will notice Puyol's poor pace alongside top defenders in the game, like in-form Tomori. |
| Defending | 93 Defending is obviously outstanding, with 91 Interceptions and 94 Standing Tackle. |
| Physicality | Puyol is also a unit with 91 Physicality, including 93 Strength and 91 Aggression. |
| Passing | 67 Passing is pretty low, but Short Passing at 75 is fine – just don't expect Puyol to be spraying too many decent balls up the pitch |
| Dribbling | Puyol's dribbling is pretty poor at 58, though standout 85 Composure and 90 Reactions mean the card won't feel completely terrible |
| Traits, Weak Foot, etc | Power Header, Team Player, Two-Star Skill moves, Three-Star Weak Foot, can also play at RB |

There is a lot take in and discuss here. Puyol is obviously a class defender if you apply a Shadow Chemistry Style, and although the Lengthy meta has been nerfed for attackers, it's still a valuable asset for defensive players. Puyol is Lengthy. On top of that, this SBC is actually also cheaper than Puyol's regular 90-rated mid-Icon which costs around 190k right now.

While all that is pretty positive, there are some downsides, too. Tomori's in-form is currently selling for around 250k, but you can also pick up Gold Van Dijk for just over 100k tradeable coins, or a little more for someone like Mascherano in at CB. These are all fantastic CB options that have defined the meta in FIFA 23 so far. They are also liquid in coins, which means you aren't sinking fodder into an SBC.

Overall

Overall, Puyol's SBC is actually decent value if you compare it to the mid-Icon version of the game. However, it's not really a standout, meta-defining card, but definitely a worthwhile pick-up if you are a fan of the player. Puyol will feel very strong at the back with the right formation and Chemistry Style – it really has to be a Shadow to beef up the pace.

Source: Read Full Article