Glen Schofield, director of The Callisto Protocol, has admitted that Striking Distance Studios is working six-to-seven days a week to finish the game, noting that some days see staff working 12-to-15 hours.
Out of nowhere in a Tweet that has since been deleted, Schofield shared his thoughts on crunch in the industry, revealing that the team at Striking Distance is working on The Callisto Protocol six-to-seven days a week with close to 100 hours of work. Schofield defended it by stating that no one is forcing them to work that much and that the team "do it cause" they "luv it".
The now-deleted Tweet read, "I only talk about the game during an event. We r working 6-7 days a week, nobody's forcing us. Exhaustion, tired, Covid, but we're working. Bugs, glitches, perf fixes. 1 last pass thru audio. 12-15 hr days. This is gaming. Hard work, Lunch, dinner working. U do it cause you luv it". Schofield hasn't Tweeted since.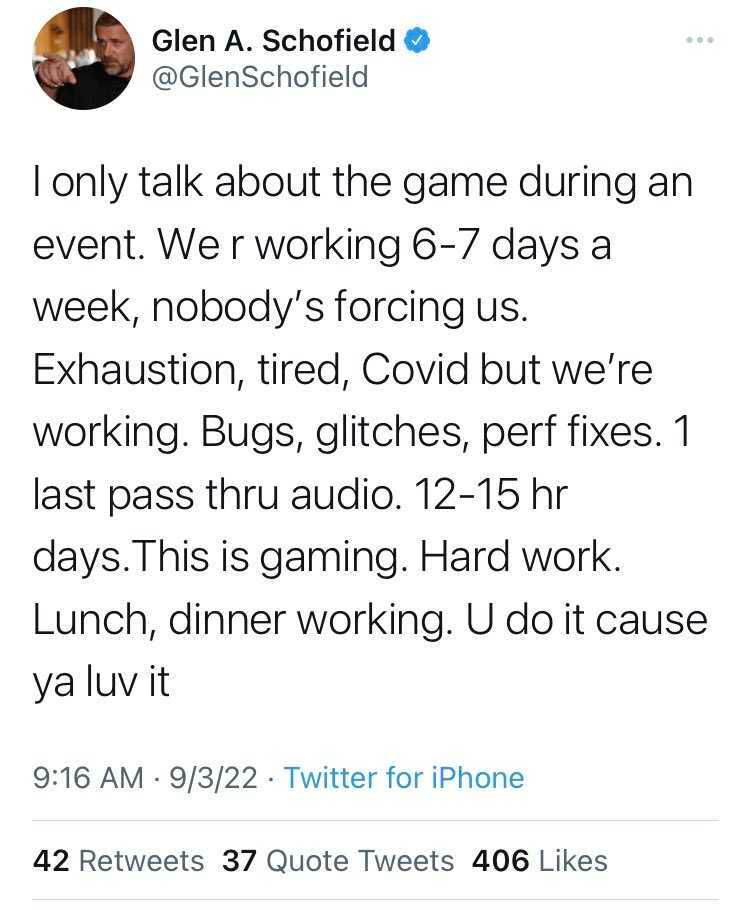 Thankfully, the reaction to Schofield's Tweet has been negative, with many developers and journalists replying to say that this isn't something that should be bragged about or defended. Bloomberg reporter Jason Schreier shared the Tweet, saying, "This, from a studio head, is crunch culture defined. Of course nobody is "forced" to work insane hours. But imagine the reduced bonuses and lack of promotion opportunities if you don't? "You do it because you love it." Weaponized passion. This is why people burn out of gaming".
Crunch is one of the most prevalent issues within the gaming industry, with many studios both high-profile and indie reporting putting in more hours than they're contracted to under pressure of keeping their jobs and living up to company expectations. In recent memory, most big studios have made an effort to express that they're avoiding crunch and take the issue seriously, but in this case, the mention of crunch is not only being defended as a good thing but coming straight from the founder of the studio.
Source: Read Full Article