Around the point when you would be hitting credits during The Last of Us, its sequel reveals itself to be significantly bigger than you would have expected.
The Last of Us Part 2 is basically two games in one, wrapped in an untidy bow by the prologue and epilogue that frame the mirrored stories of its dual protagonists. I'm replaying it right now, and at around nine hours in, I still have a solid three-to-five hours left of Ellie's half. At the same point in my recent replay of TLOU, I was two-thirds of the way done with the whole thing.
This is a big game. And two years later, the particular moment where Naughty Dog reveals just how gargantuan the thing is still feels like a gauntlet being thrown down. After swapping to Abby's perspective, you wake up, post-nightmare, in a library, where she has fallen asleep with City of Thieves open across her chest. Her friend, Manny, has come to wake her up and tell her that the WLF's leader, Isaac, has called them up to the front. As she follows Manny out of the library, you get a look at the various facets of WLF life for which the militia's massive converted stadium headquarters allow.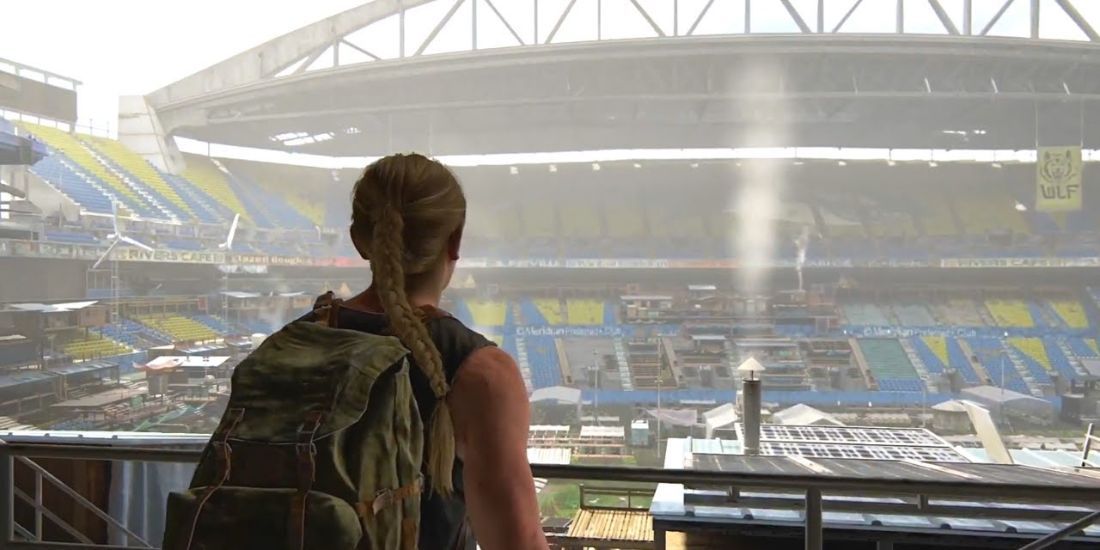 This section feels familiar, even if you can't place why. The structure — protagonist is woken up by her friend who talks with her about recent events as they walk through their home base — is the exact same one Naughty Dog uses to reintroduce us to Ellie at the beginning of the game. The slow pace with which this plays out, as Abby and Manny walk past a weight room, down a flight of stairs, past windows looking in on a pair of colorful classrooms where teachers are talking to their young students, and into the mess hall where Manny and Abby grab some food — indicates that this isn't just a one-off level. If the "Seattle Day 1" title card that comes up before Abby wakes up hasn't clued you in, it begins to become clear now: you are going to play through the same three days you just played, again, this time, from Abby's perspective.
Nothing hits this point home quite as hard as opening the door out of Abby and Manny's room and stepping out into the stadium itself. The massive span of steel that arcs across the sky, the sky itself, wide and baby blue as far as you can see, the football field below with dozens of booths set up along the grass. This place is big, and feels just as much like a town as the dirt roads of Jackson that Ellie and Joel call home.
This is the biggest environment you see at any point in the game. As much of this game does, it feels confrontational. Oh, you don't like Abby because she brutally murdered Joel? Go cry about it. The only way forward is to play as a character you hate for 15 hours. As this moment unfolds, I imagine the realization that sets in feels to some players like an anaconda slowly strangling them.
I just feel impressed because this moment completely alters what you expect from the game. The story felt like it was wrapping up, but now there's an equally long second section? What? How is that possible? Some players may come to hate the game at this moment. This is when I was sure that I loved it.
Source: Read Full Article