Gina Carano was fired from The Mandalorian and any future Disney+ Star Wars projects that she was involved in earlier this week. Her response was to move over to a Daily Wire exclusive project alongside failed screenwriter Ben Shapiro, but fans' responses have varied from #CancelDisney+ to starting a petition for Don Cheadle to take her place.
The logistics of how this would work are unclear – would Don Cheadle wear a wig, dress up in the same attire, and pretend to be Cara Dune? It could work, the two definitely look a lot alike, so there's some credence to this recast from fans.
However, you may be asking why Cheadle? Well, he's already an expert in recasts. He took over the role of James Rhode after Terrance Howard left the role, becoming War Machine in the sequel. So, he knows how to fill somebody else's shoes, and he's already at Disney with Marvel.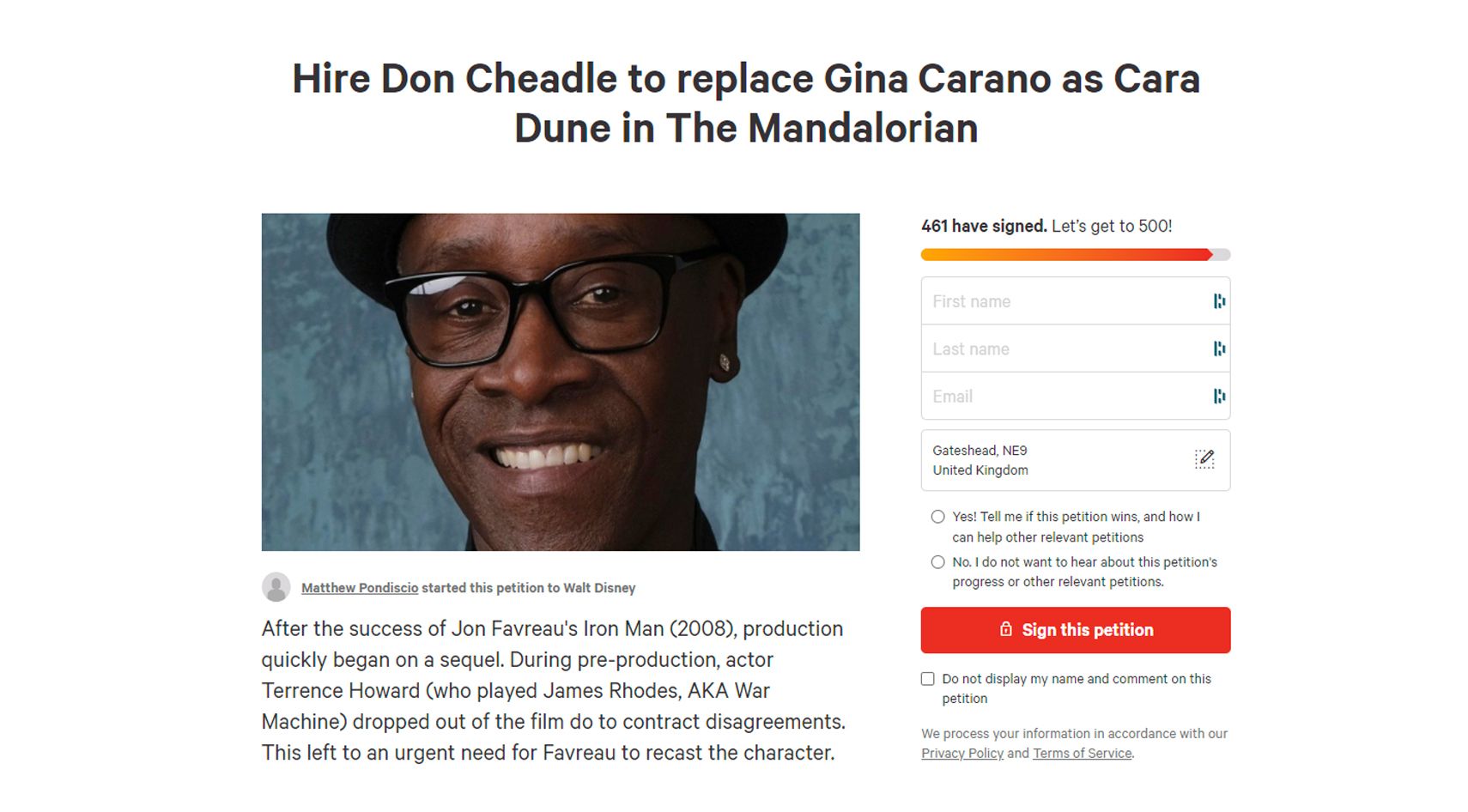 Not only that, but guess who is at the helm of The Mandalorian? None other than Iron Man and Iron Man 2 director himself, Jon Favreau. As the Change.org petition states, "Today, Favreau is the showrunner for The Mandalorian on Disney+. With the news of Gina Carano being fired from the role of Cara Dune, Jon Favreau faces the same problem he did over a decade ago.
The solution here is obvious: Bring in the expert. Don Cheadle has already proven to the world that he can not only pick up where another actor left off, but elevate a character to a place we haven't seen before. Cara Dune is an interesting, open-ended character that many Star Wars fans have come to enjoy on-screen. There are still endless opportunities to tell a story with this character, and it would be a shame to let the character disappear. We need the Cheadle."
The petition was started by Matthew Pondiscio and, as of writing this, it has 461 out of 500 signatures. Hopefully, when it hits its milestone, Disney takes note.
Source: Read Full Article