Quick Links
What Is Academic Exercise?
Academic Exercise Details
Academic Exercise Course Items And Facilities
Two Point Campus is full of fun courses for students to take, from regular science to the more outlandish Wizardry. But there's probably no subject in the game as cheesy as Academic Exercise. Academic Exercise is a course that has students train and study to compete in Cheeseball Tournaments, a fictional sport in the Two Point universe.
Academic Exercise is a great course to take advantage of your outdoor spaces, making it an attractive course to invest in. This guide will detail everything you need to know about the Academic Exercise course in Two Point Campus.
What Is Academic Exercise?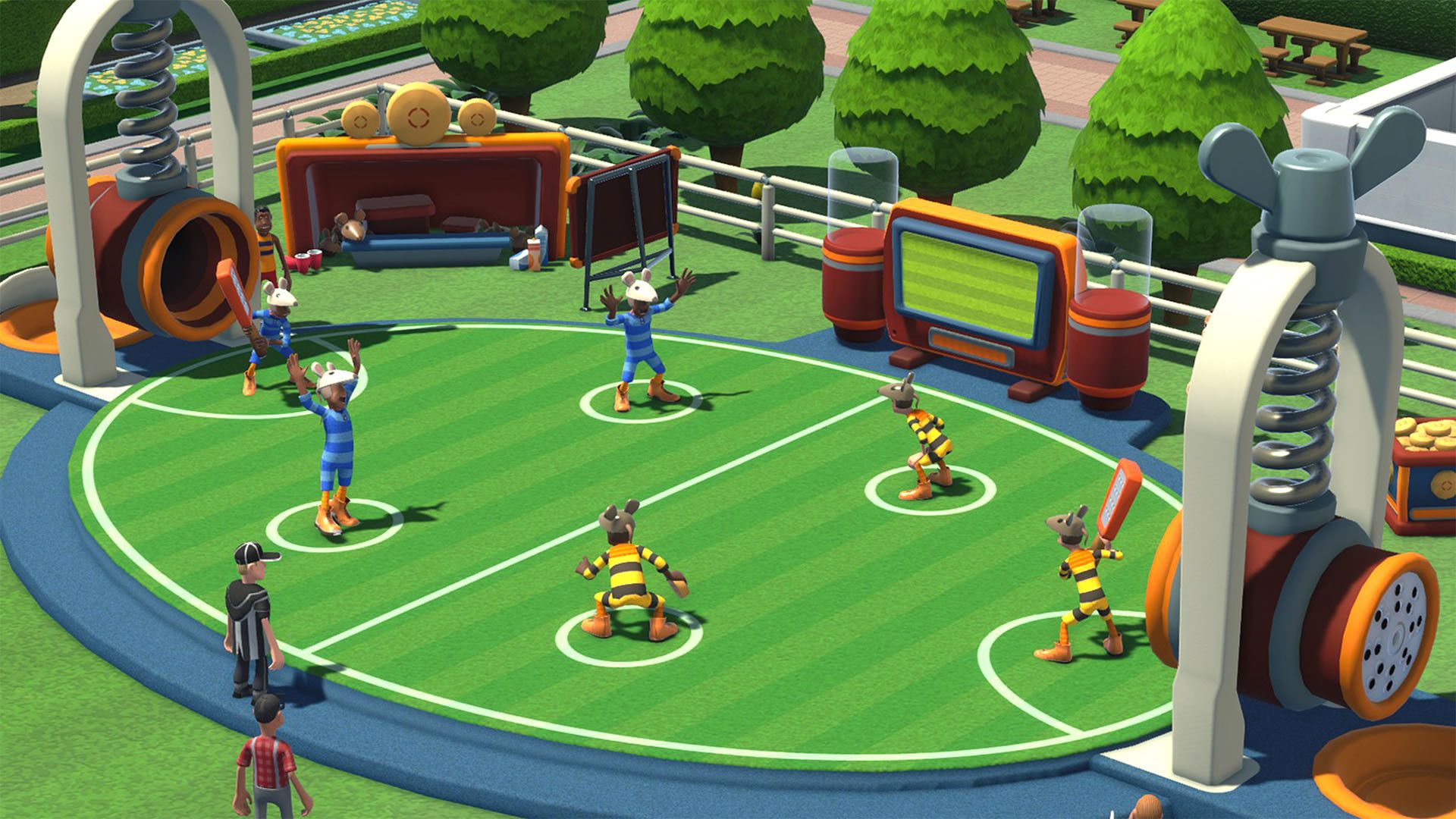 Academic Exercise is a much more practical course than some of the other subjects you may be accustomed to. As previously state, Academic Exercise has students study and train in the fictional sport of Cheeseball, which looks like a mix between football and hockey, with a bunch of cheese included. Academic Exercise students will have the end goal of competing in tournaments and winning the Cheese Goblet.
You can unlock Academic Exercise as an available course by reaching the sixth campaign level, Fluffborough Campus. If you're playing the campaign you'll need to build a Cheeseball Field, a Gym and a Lecture Theatre before you begin. If you're playing the game in sandbox mode you won't be required to build a gym. Of course, your students and staff will need other essential facilities like a bathroom, staff room and so on.
Academic Exercise Details
Students taking Academic Exercise will have their time split between lectures and training on the Cheeseball Fields. You can begin an Academic Exercise course at the start of an academic year with 30 course points. During the summer break, you'll be able to upgrade all of your courses between levels one and ten, using more course points. Upgrading courses affects the maximum qualification level that teachers can reach, improving students' academic performance. Upgrading courses also increases your student intake for that course.
Taking on more students means more money from tuition fees, but it also means you'll need to build more facilities to accommodate more students.
Here's a breakdown of all the facilities you'll need when you upgrade Academic Exercise:
| Level | Students (Default) | Max Teacher Qualification Level | Lecture Theatres | Cheeseball Fields | Academic Exercise Teachers |
| --- | --- | --- | --- | --- | --- |
| 1 | 10 | 3 | 1 | 1 | 1 |
| 2 | 15 | 4 | 1 | 1 | 1 |
| 3 | 20 | 5 | 1 | 1 | 2 |
| 4 | 25 | 6 | 1 | 2 | 2 |
| 5 | 30 | 6 | 1 | 2 | 2 |
| 6 | 35 | 7 | 1 | 2 | 3 |
| 7 | 40 | 7 | 1 | 2 | 3 |
| 8 | 45 | 8 | 1 | 2 | 3 |
| 9 | 50 | 9 | 2 | 3 | 4 |
| 10 | 55 | 10 | 2 | 3 | 4 |
Once you reach your third year on campus, you'll also need an additional Academic Exercise teacher, Cheeseball Field, and lecture theatre, since you'll have three years worth of students. This increase is not reflected in the table.
Building a gym is only really required while playing through the campaign, since you can run an Academic Exercise course without it. However, gyms drastically improve the health of your students which does affect their academic performance in this course, making it highly useful. Gyms are very useful for improving student's levels, fulfilling personal goals and keeping students happy – indirectly helping their grades.
While the game won't directly force you to build any other facilities, there are a few rooms that are essential. Training at the gym and on the Cheeseball Fields means getting dirty. You'll need to install more shower rooms than you otherwise would. Even though Academic Exercise is a more practical course, students will still need a library to study in, which will help to improve their grades. Medical offices will be needed to treat Cheeseball related injuries – you can also upgrade the Omni Cure for faster treatments. If students are at risk of failing, build a private tuition room and train your teachers in private tuition.
Running an Academic Exercise course attracts students with the 'Fun Runner' and 'Rapid' personality traits, which improves their walking speed. This means that you shouldn't invest in a Speed Walking Club until the campus is quite large.
Academic Exercise Course Items And Facilities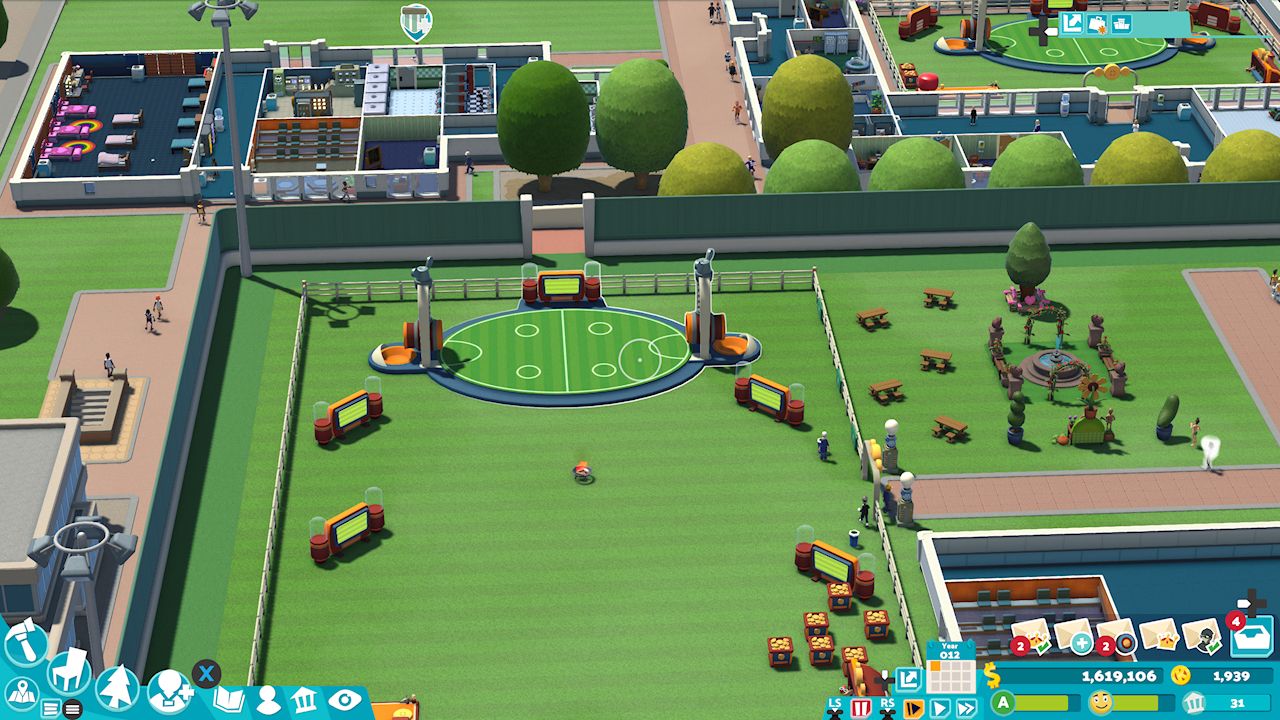 Simply building rooms and facilities isn't enough if you want to maximise the learning on your course. Buying more equipment and decorations will level up your rooms, making them more effective for student learning and improving happiness. Individual items can also have learning benefits, but there's a breakdown of all the Academic Exercise equipment below.
The size of rooms and facilities also affects their level. Bigger rooms will reach higher levels.
Cheeseball Field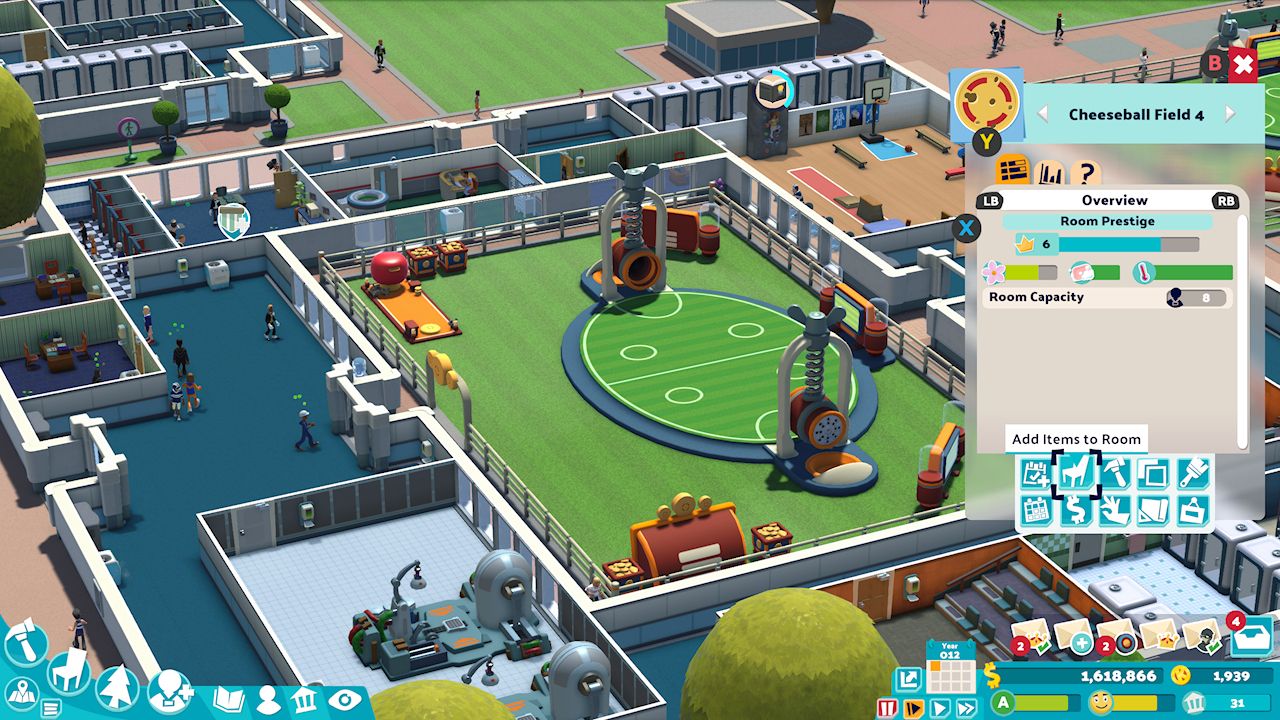 The Cheeseball Field is a facility that's unique to the Academic Exercise course – if students are playing cheeseball you can watch. In the events tab, you can even host games with other teams. These events won't cost anything, but they're essential to completing Fluffborough Campus, and they yield money and Kudosh rewards.
A Cheeseball Field costs $35,100 to build, it can only be built outside, and it has a minimum room size of 9×14. The only required items in the Cheeseball Field are the Cheese Course and Entrance. Cheese Courses can be upgraded twice, which will improve the grades of the lessons being taught there.
These are the most useful items for the Fields:
Item
Details
Cheese Course
Cheeseball Scoreboard

$200
Increases Attractiveness

Cheeseball Dugout

$1,000
Increases Attractiveness

Cheeseball Bucket

$250
Increases Attractiveness

Tactics Board

$500
Increases Attractiveness
+2% Learning Power

Cheeseball Machine
Gym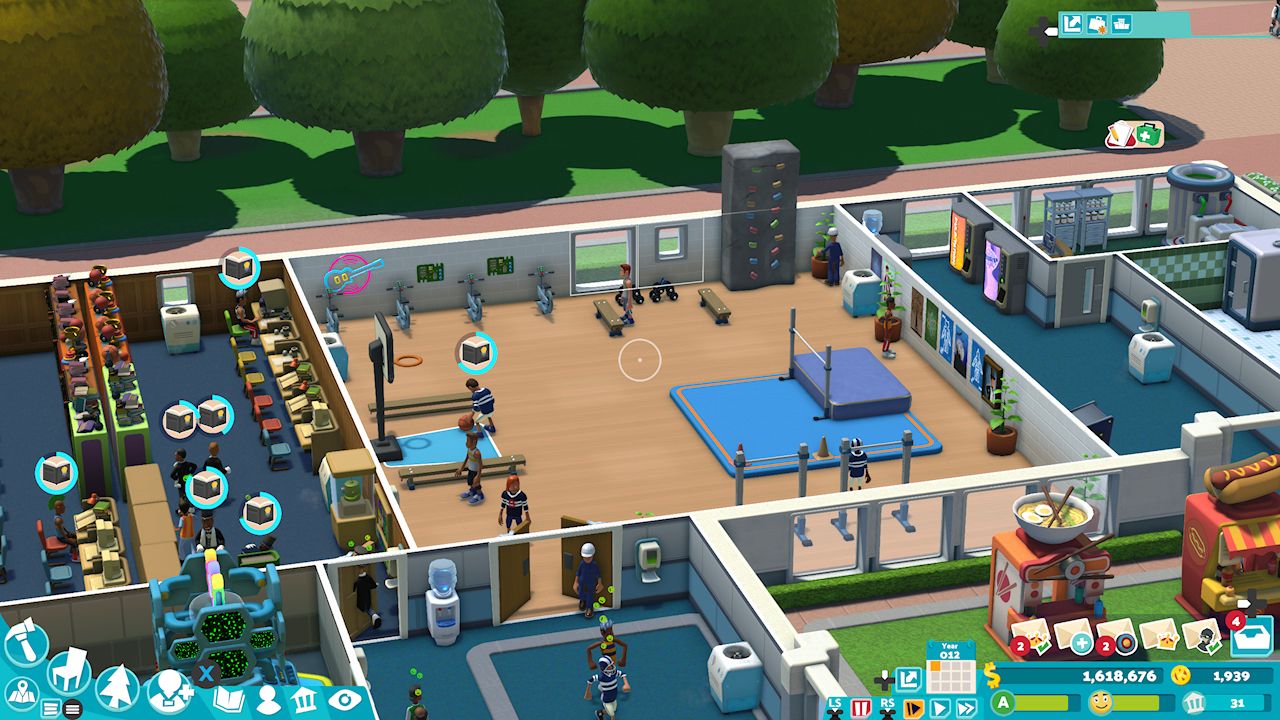 Gyms are used on a range of courses, including Academic Performance. They cost $9,100 to build, require a teacher and have a minimum room size of 4×3. Once you have enough space, your gyms should be significantly larger than the minimum requirement, since some students will require larger equipment as they progress through the course.
Here is a breakdown of the most essential gym items:
Items
Details
Basketball Hoop

$4,000
Healthiness
Required

Static Bike
Climbing Wall

$6,000
Healthiness
+3% Learning Power

High Jump

$3,000
Healthiness
+3% Learning Power

Vaulting Course

$3,000
Healthiness
+4% Learning Power

Bench Press

$850
Healthiness
Develop Student Friendships (Lv.2 – Lv.3)
Lecture Theatre Items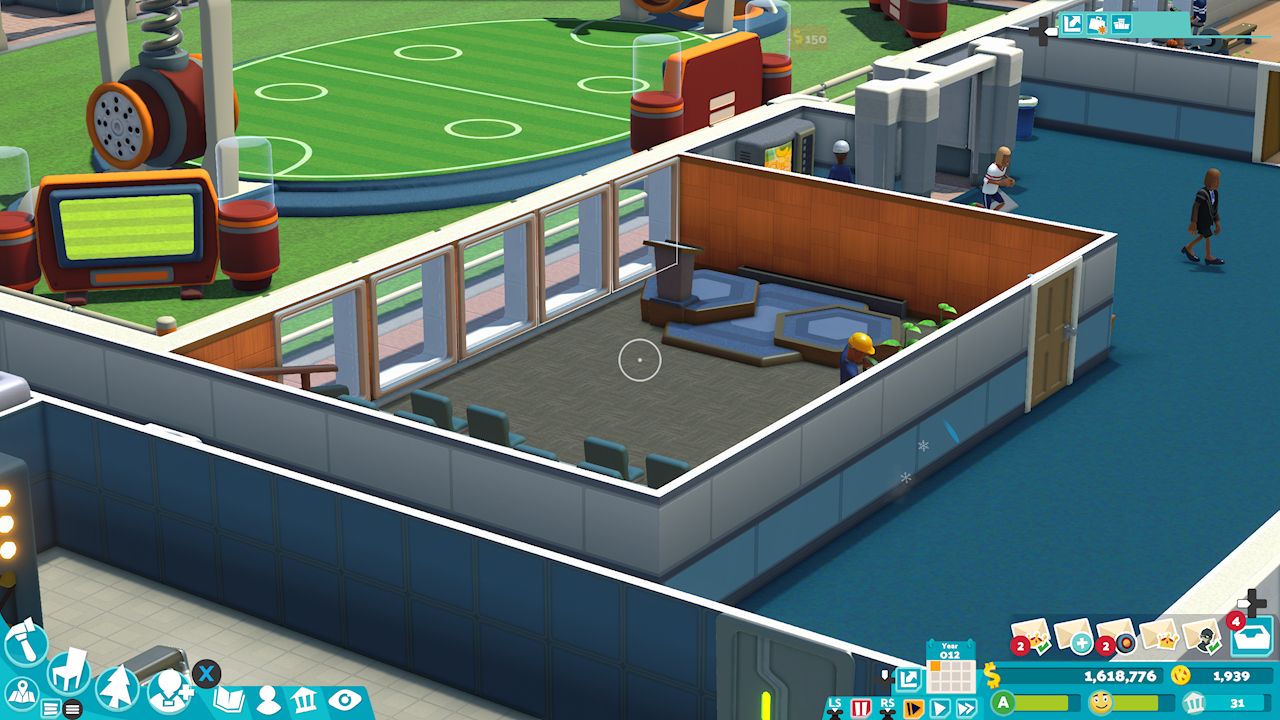 Even though Academic Exercise is a more physical course, students will still need to engage with some traditional education too. A qualified teacher is required to run a lecture where students will receive XP and level up. Teachers at higher qualification levels will give students a learning boost. Another way to boost learning in lectures is to upgrade the lectern with a janitor qualified in mechanics. The lectern can be upgraded twice for an additional learning boost.
Lecture Theatres cost $21,300 to build and have a minimum size requirement of 4×4. Here's a breakdown of all the important items in the Lecture Theatre:
| Item | Details |
| --- | --- |
| Lectern | |
| Lecture Seating | |
| Autocue | |
| Surround Sound | |
Library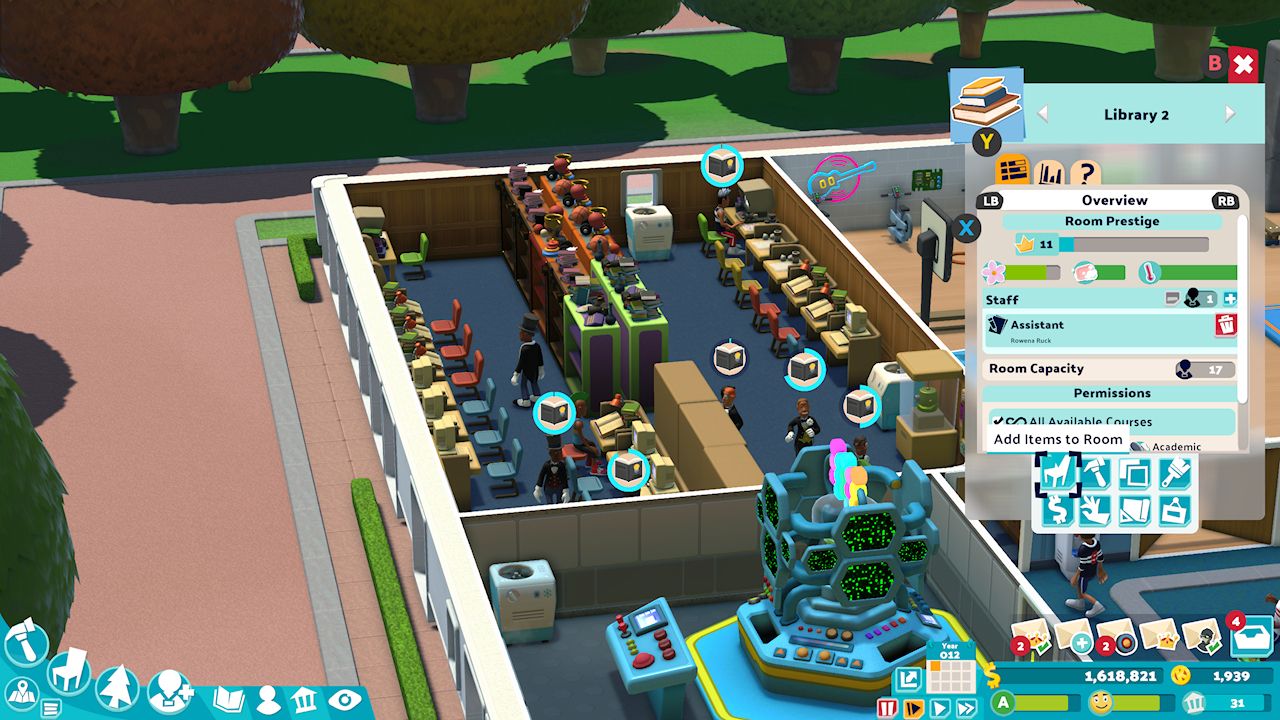 Students in any course can use a Library to study and level up. To get the most out of your Library, aim to make it much bigger than its minimum room size of 3×3, and fill it with cubicles and bookshelves that students can use to study. If there isn't enough equipment available, students will start to form queues and will be unable to study.
It costs $11,900 to build a library, which is fair, since many of the bookshelves can cost a lot. Here's every item you'll want to display in the Library:
| Item | Details |
| --- | --- |
| Textbook Cubicle | |
| Library Reception | |
| Bookcase | |
| Computer Cubicle | |
| Study Cubicle | |
| Academic Exercise Bookcase | |
| Giant Library Reception | |
Source: Read Full Article