Quick Links
Other Magic: The Gathering Products
Magic: The Gathering is one of the most popular tabletop games in the world. With millions of players, tens of thousands of cards, and new releases coming out all the time, it's a constantly evolving game that can be played in an almost endless number of ways.
However, getting into it can be a bit overwhelming. If you're buying for yourself or for a friend, knowing what the best thing to get can be a lot of information to process. Fortunately, here are the most recent releases, as well as what each one includes.
The Latest Set: Unfinity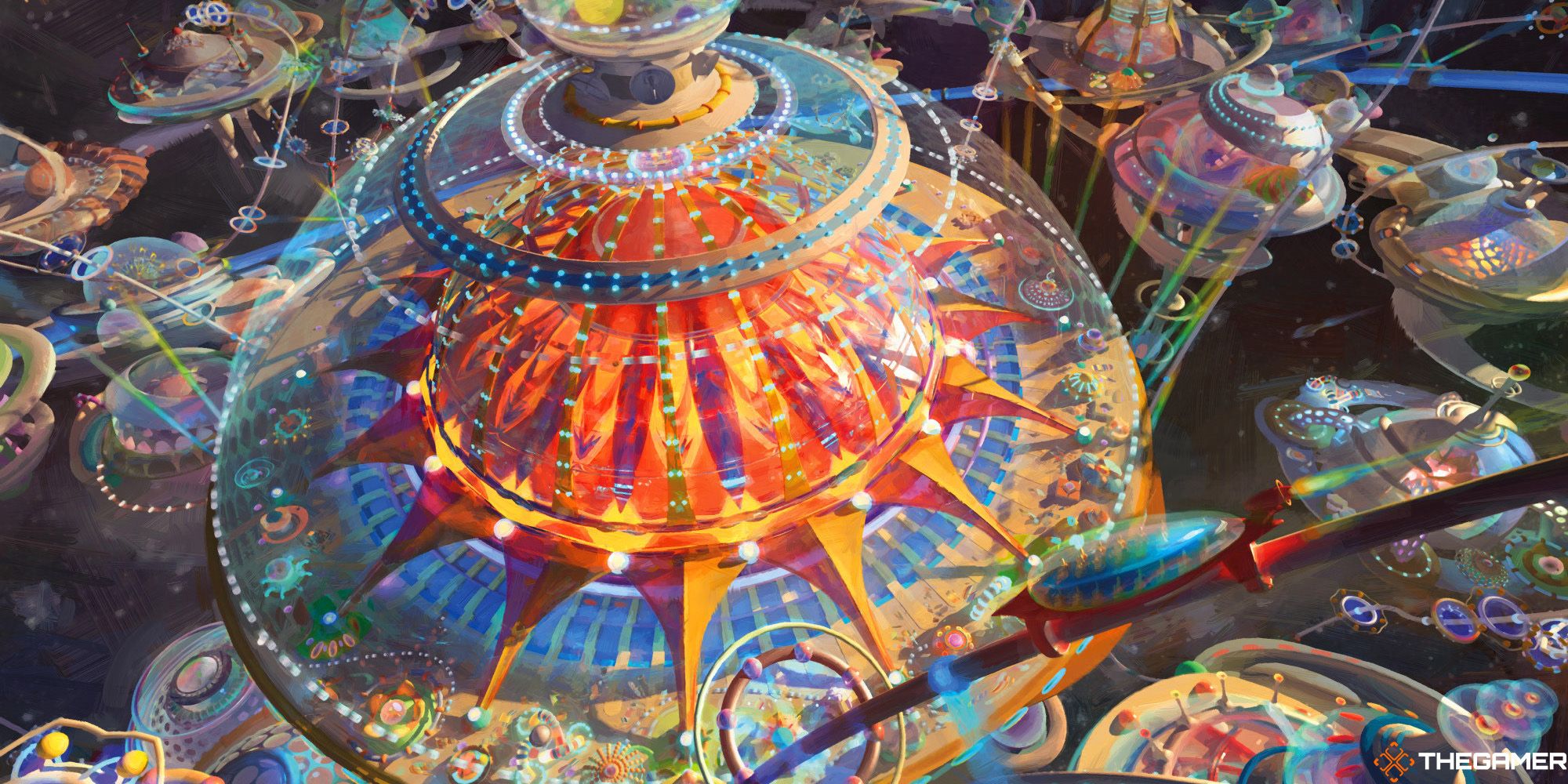 Right now is a really interesting time for Magic, as in its almost 30-year history we've only ever had a handful of 'Un-sets'; or parody releases that poke fun at the game. The latest of these parody sets is Unfinity, which takes us to the outer space funfair of Myra the Magnificent's Intergalactic Astrotorium of Fun.
Unfinity is full of cards that get your playgroup to do everything from wear hats to throwing cards across the table. It's a wacky, radically different take on the MTG we usually get to play, and, in a first for Un-sets, it even includes cards you can slot into your other decks.
Unfinity Draft Booster Box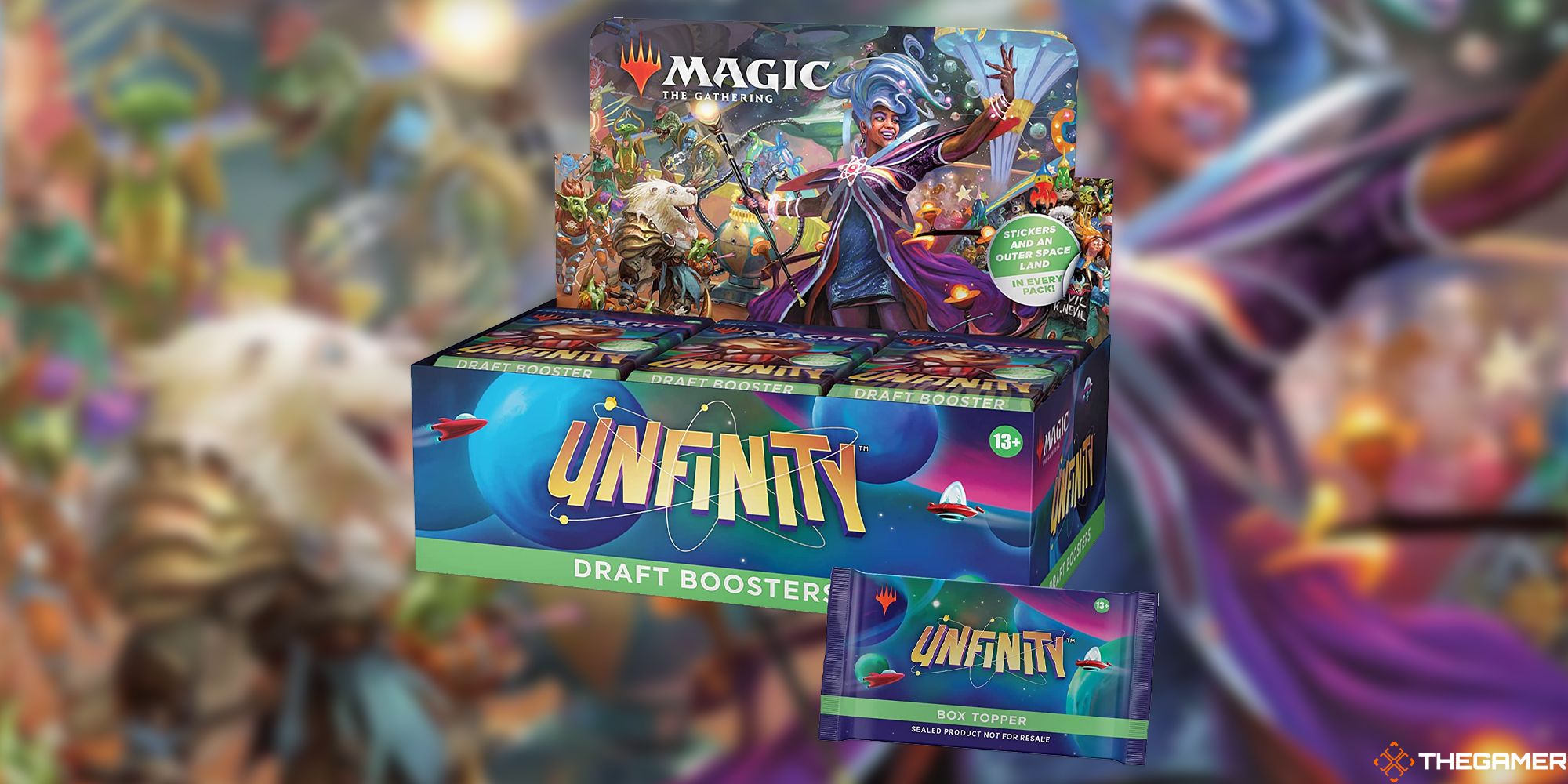 Unfinity is a smaller-scale release than major sets like Dominaria United, and so is only available in two forms. The first are Draft boosters, which are designed to be played in limited games using just what you pull from a pack. Considering Un-sets are almost always designed to be played in a limited way, this is usually the best way to experience Unfinity.
Draft boosters for Unfinity contain 14 cards, and one sticker sheet. In every pack you'll receive one guaranteed full-art "Space-ic Land" that reimagines Magic's usual Plains, Islands, Swamps, Mountains, and Forests are either alien scenes or gazing down at planets from orbit. There's a four percent chance for boosters to include a Borderless Shock Land – valuable lands that are highly playable in multiple different formats, and are definitely going to be in high demand. You'll also get one rare or mythic rare in every pack.
In every box, you'll also get a Box Topper in its own, individual wrapper. For Unfinity, these box toppers are foil Borderless Shock Lands, guaranteeing you'll get at least one when you buy a box.
Get it on Amazon here!
Unfinity Collector's Booster Box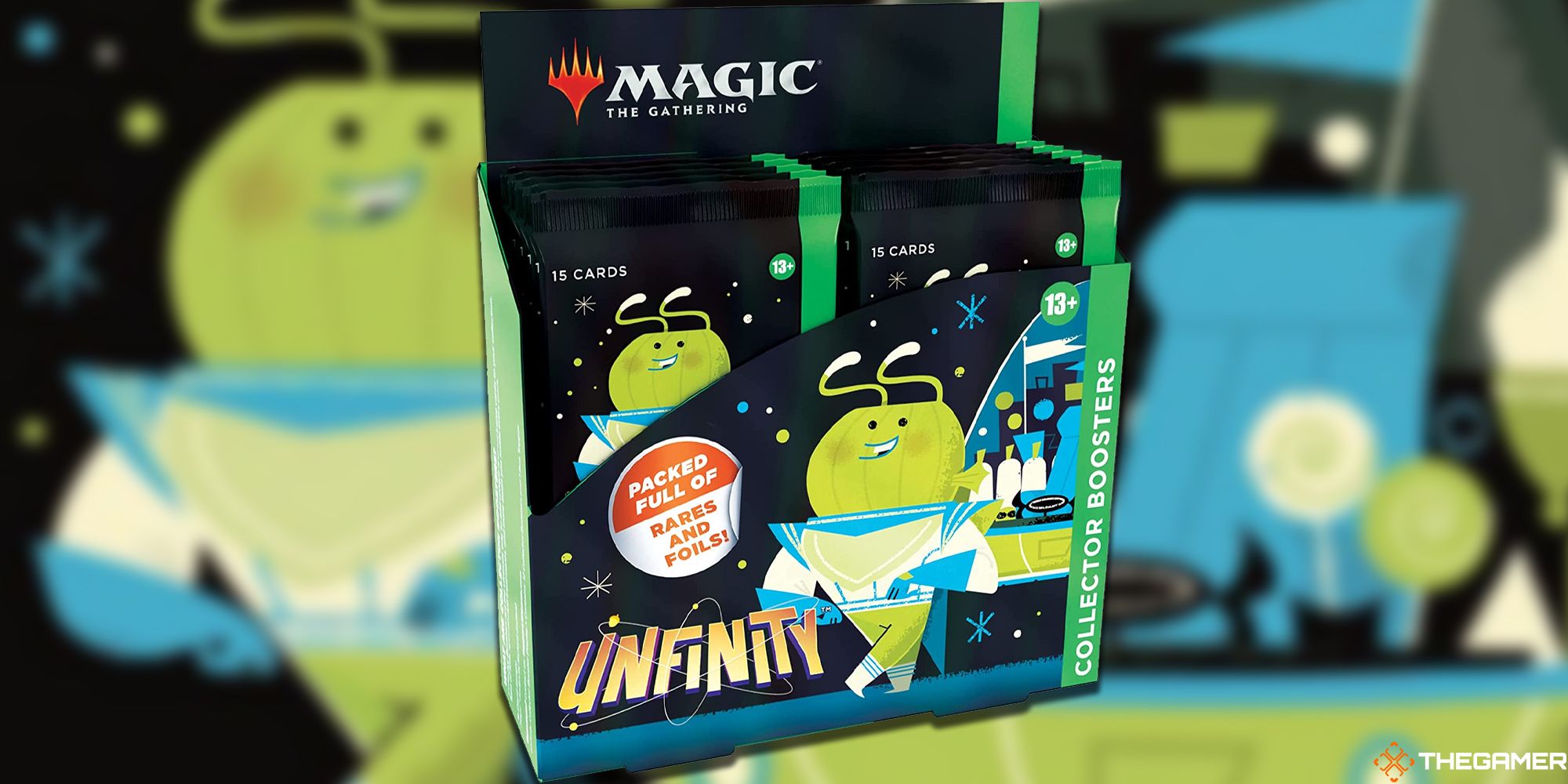 All you need to do is look at the wrapping for Unfinity's Collector's boosters to see exactly what this set is all about. Full of quirky characters and retro futuristic style, it's an artistic treat on top of a zany set to play.
For Unfinity, every single card in a Collector's booster is foil. In those 15 cards, you'll get up to five space-y "Galaxy foils", including one definite galaxy foiled land, and up to 12 traditional foils. You'll also get a guaranteed reprint of a card from an earlier Un-set, something that has never happened in a booster product like Unfinity before.
Keep in mind that you can't draft with a Collector's booster, mostly because it lacks the sticker sheets found in Draft boosters. However, it does include lots of flash and stylish cards to pull, and the chance of getting exclusive galaxy-foiled cards makes it all worthwhile.
Get it on Amazon here!
Dominaria United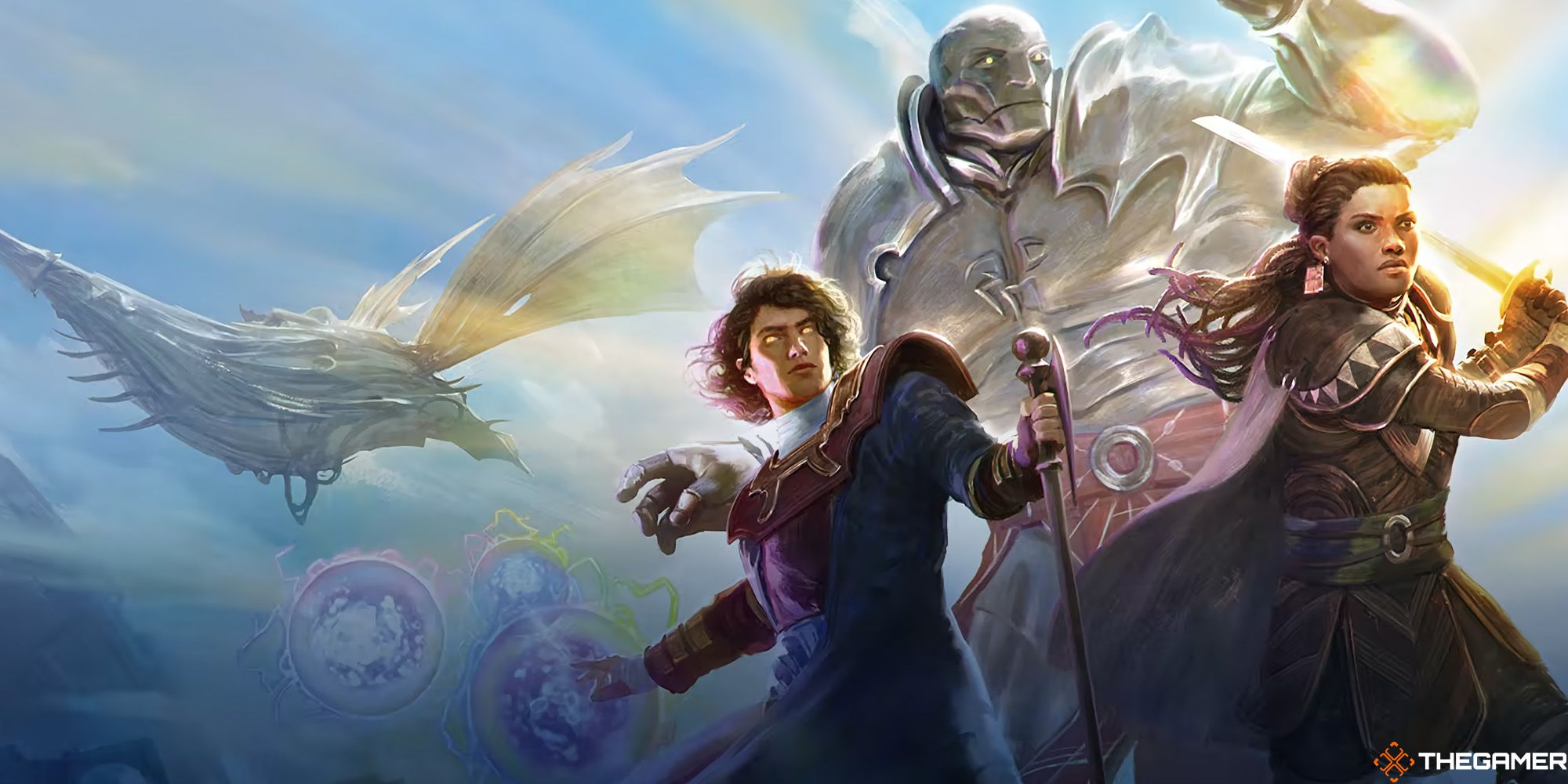 Magic: The Gathering's Dominaria United kicked off its 30th-anniversary celebrations. Returning to its original setting of Dominaria, it featured tons of legendary creatures to build new Commander decks around, as well as heralded in a whole new era for Magic's main ruleset (or 'format'), Standard.
There are lots of ways to pick up Dominaria United that suit all kinds of players. Here's everything you need to know about buying MTG's newest set, Dominaria United.
Dominaria United Draft Booster Box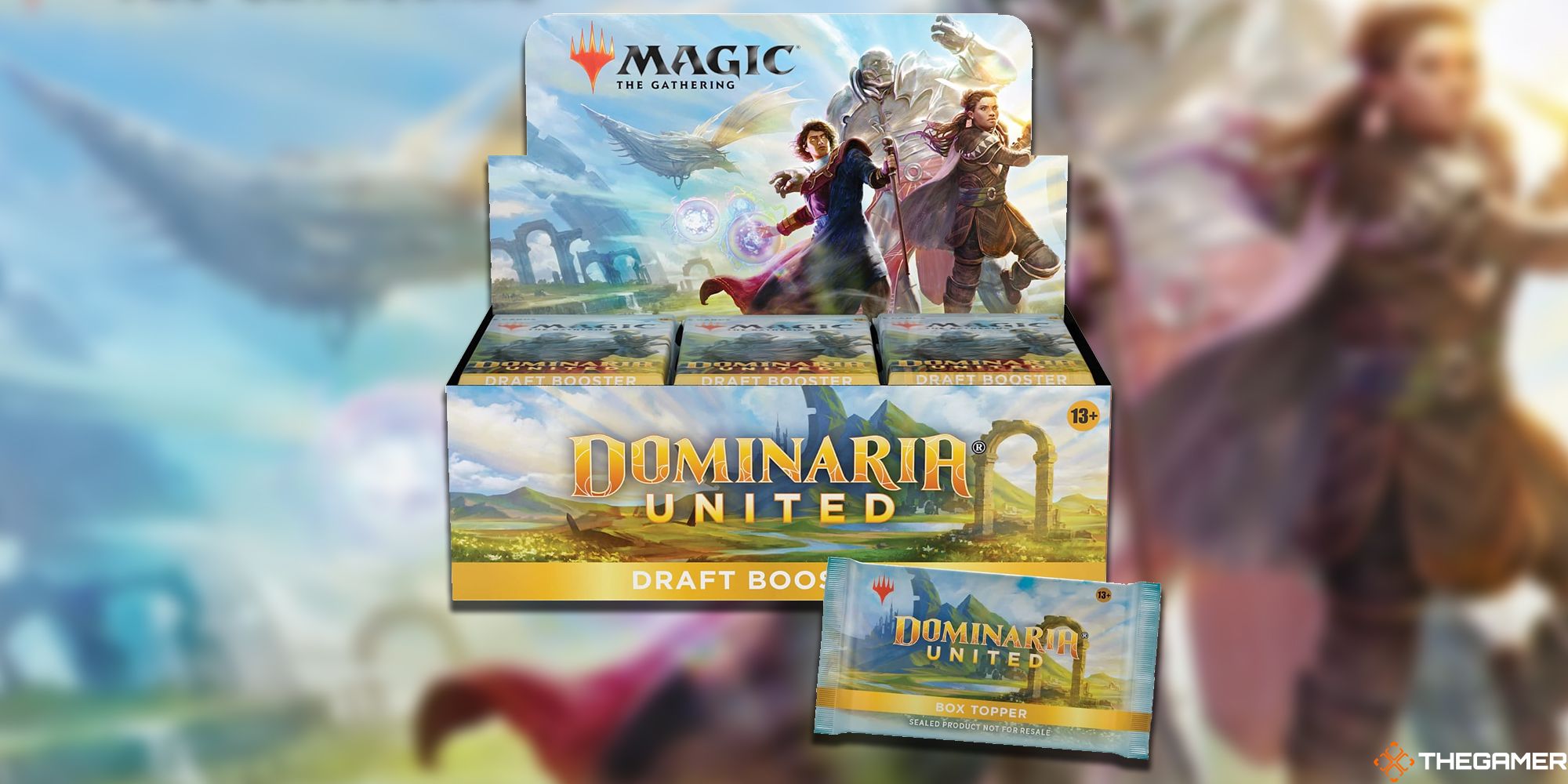 Dominaria United's draft boosters are mostly aimed at those who like playing limited formats. These are the most basic kind of booster pack, featuring 15 cards, including one guaranteed rare card, one basic land card, and one in three packs includes a shiny foil card.
While they're the most basic, they're also the most versatile if you're buying for someone else, as only draft packs can be used in draft and sealed games, but still includes the same cards, and chances of getting the fancier alternate-art "showcase" style. Each draft booster also includes one guaranteed legendary creature, which means Dominaria United is especially good for fans of the Commander format.
Draft booster boxes include 36 booster packs, for a total of 541 cards. All booster packs also include a box topper, an extra promotional card in its own packet. For Dominaria United, these are the Legends Retold series, which reimagines characters from Magic's history in new ways.
Dominaria United Set Booster Box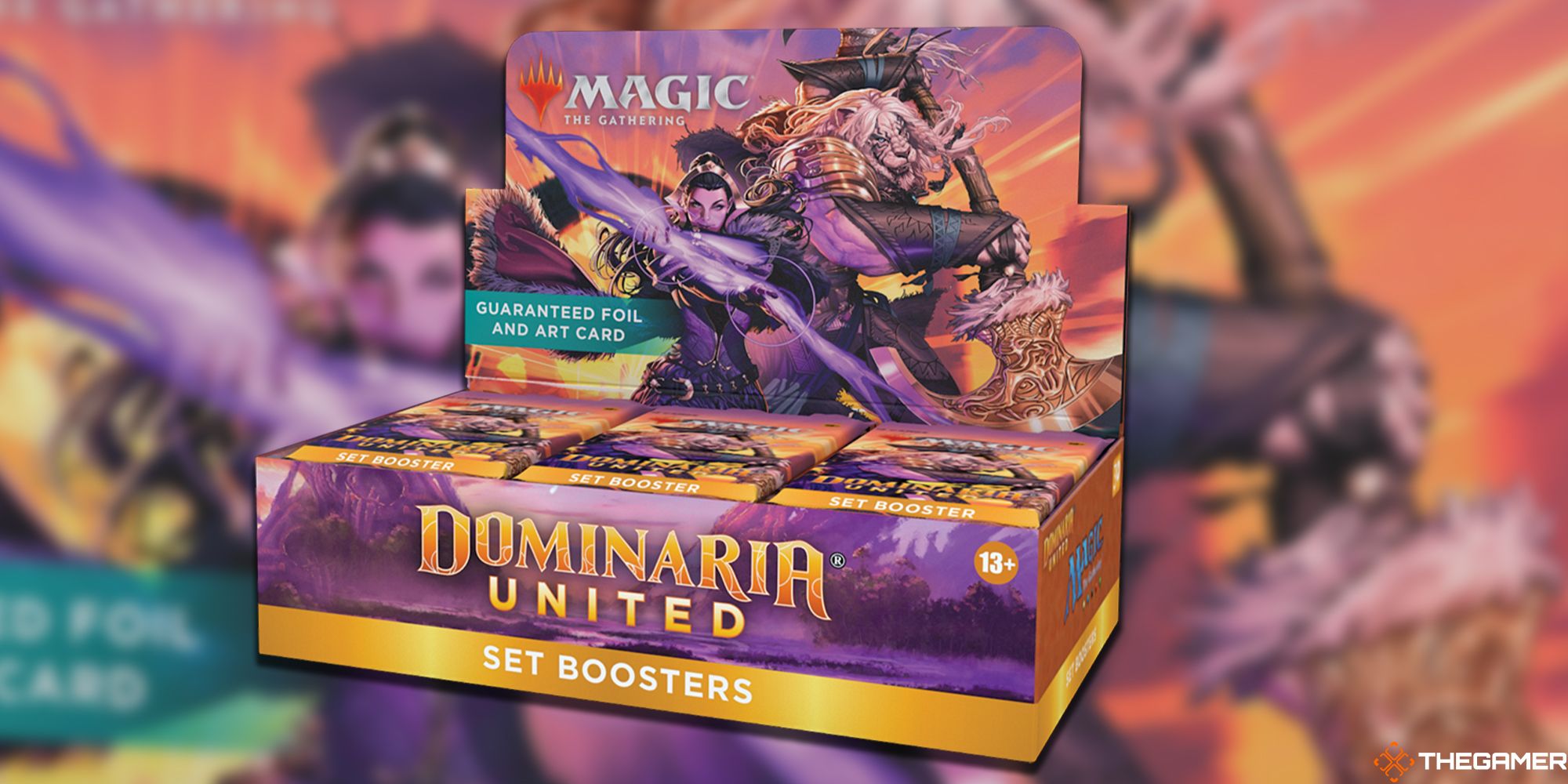 Set booster boxes are aimed at a slightly different type of player than a Draft box. Set boosters are not designed for limited play, and are instead made for the enjoyment of 'cracking packs'. While Set boosters contain fewer cards than a Draft pack (12 rather than 15), you're more likely to find alternate art, exclusive cards, and foils.
You're also more likely to find rare cards, as up to four cards in every Set booster can be rare, rather than just the one in a Draft. Of those twelve cards, at least one will be rare, one will be foil, and, for Dominaria United, one will also be a legendary creature. Set boosters also have one more thing that sets them apart: The List. The List is a collection of older cards that are chosen to be reprinted, and can include everything from obscure cards from 30 years ago to absolute powerhouses of the game today. The List cards appear in one in every four Set booster packs.
A Set booster box includes 30 packs of 12 cards each and one foil box topper from the Legends Retold collection, for a total of 361 cards. That may seem like fewer cards than a Draft box for roughly the same price, but for those who like bling or don't really bother with playing in drafts, Set boosters are a fantastic choice.
Dominaria United Set Booster Bundle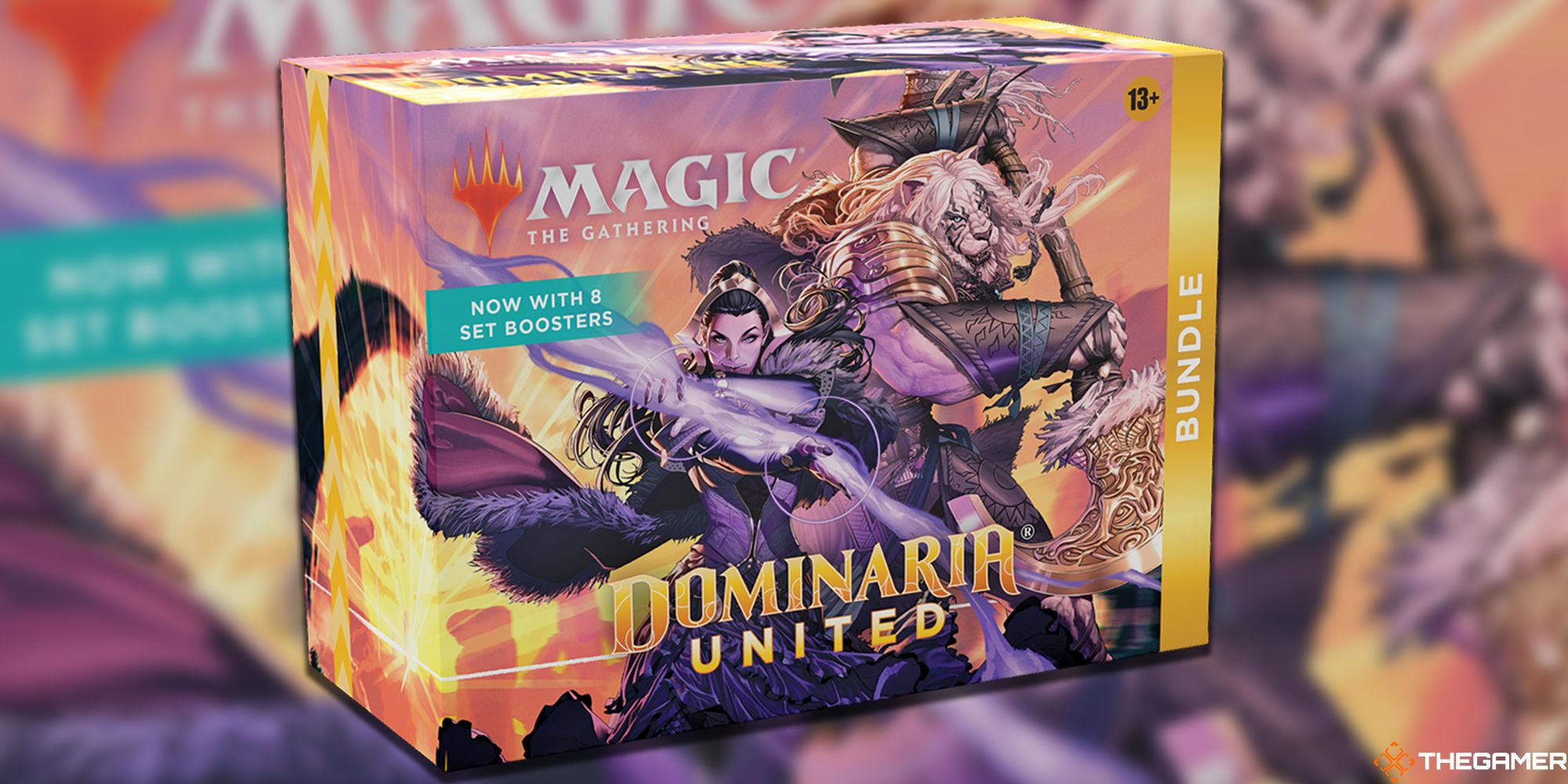 Booster boxes are a pretty hefty investment. Sometimes you don't want to buy 30+ packs for over $100, you just want a small sampling of what the set has to offer. Fortunately, that's what Booster Bundles are for.
Dominaria United's Set Booster Bundle contains eight Set booster packs, a 20-sided dice that functions as a spindown life counter, and a pack of basic lands with a free promo card. This promo is exclusive to bundles, with a foil, alt-art Herd Migration available.
A surprising upside of bundles is actually the box itself. Dominaria United's bundle box is very stylish, featuring two of the game's most popular characters, Liliana Vess and Ajani Goldmane, on either side. More than just looking good, these are excellent storage solutions, and can easily hold more cards than just the ones that come in it for those with unruly collections spilling over every surface.
Get it on Amazon here!
Dominaria United Collector's Booster Box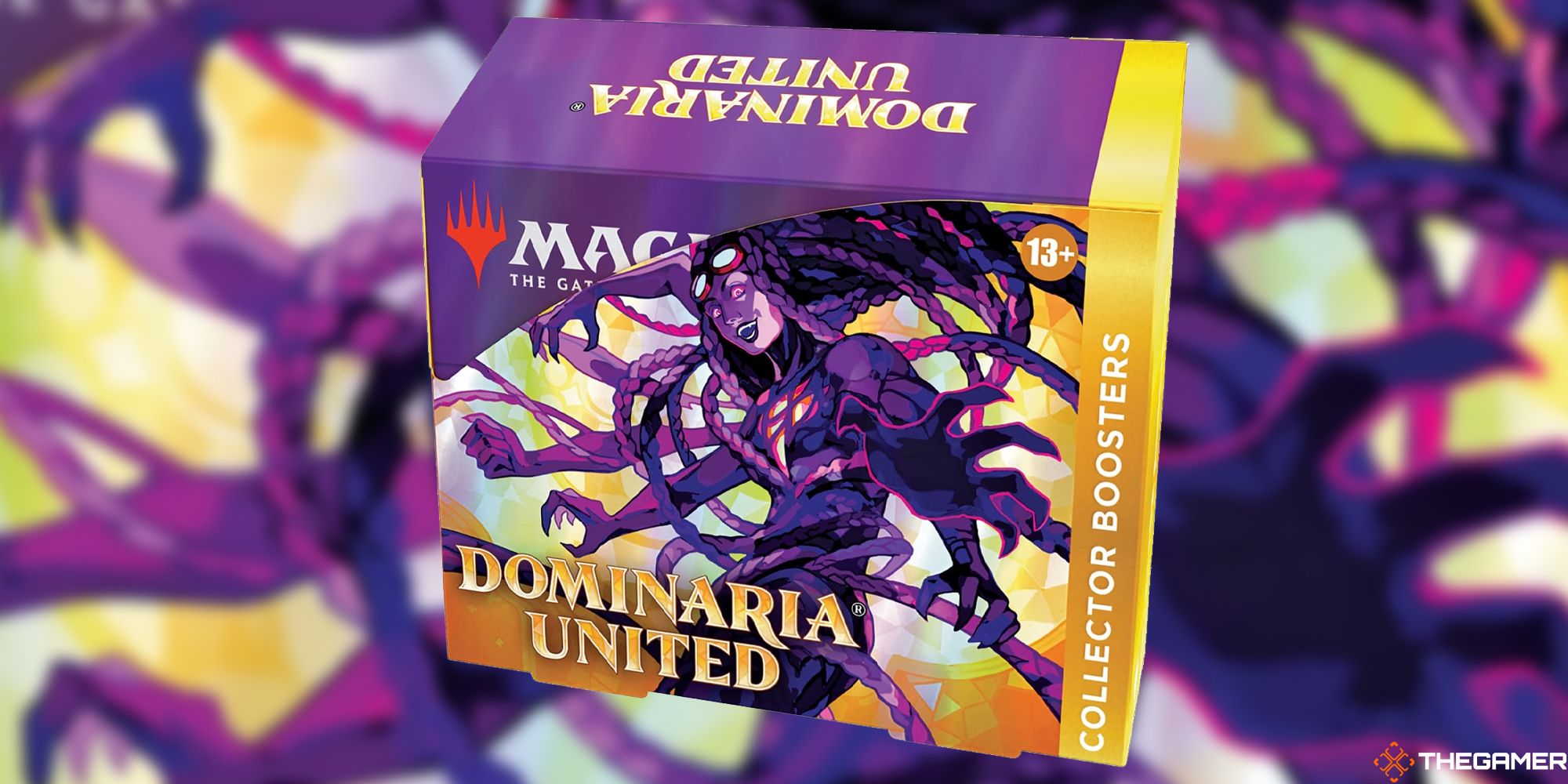 The cream of the crop of MTG booster packs are the Collector's boosters. These are a lot more expensive than their Set and Draft counterparts, but there are plenty of exclusive art treatments available only in Collector's boosters that make them a good pick for anyone wanting only the best of the best.
Each Collector's booster contains 15 cards, with up to 13 of them being foil. Five or six cards will be guaranteed rares, and in Dominaria United two foil legendary creatures are also included. Notably, Collector's boosters are also the only way to get extended art versions of exclusive cards only normally found within the Commander decks.
Dominaria United Collector's boosters also include Lost Legends, which are cards from 1994's set Legends included in three percent of packs. Not reprints; actual, physical cards taken from sealed Legends booster packs and repackaged. These are exceptionally rare, as many cards from Legends have never been reprinted, and some can also be incredibly valuable.
Each Collector's booster box contains 12 packs of 15 cards each, and one box topper, for a total of 181 cards. Though this is the most expensive product for Dominaria United, it's also by far the most eye-catching for anyone who wants to bling out their deck with fancy foils and art treatments.
Get it on Amazon here!
Dominaria United Jumpstart Booster Box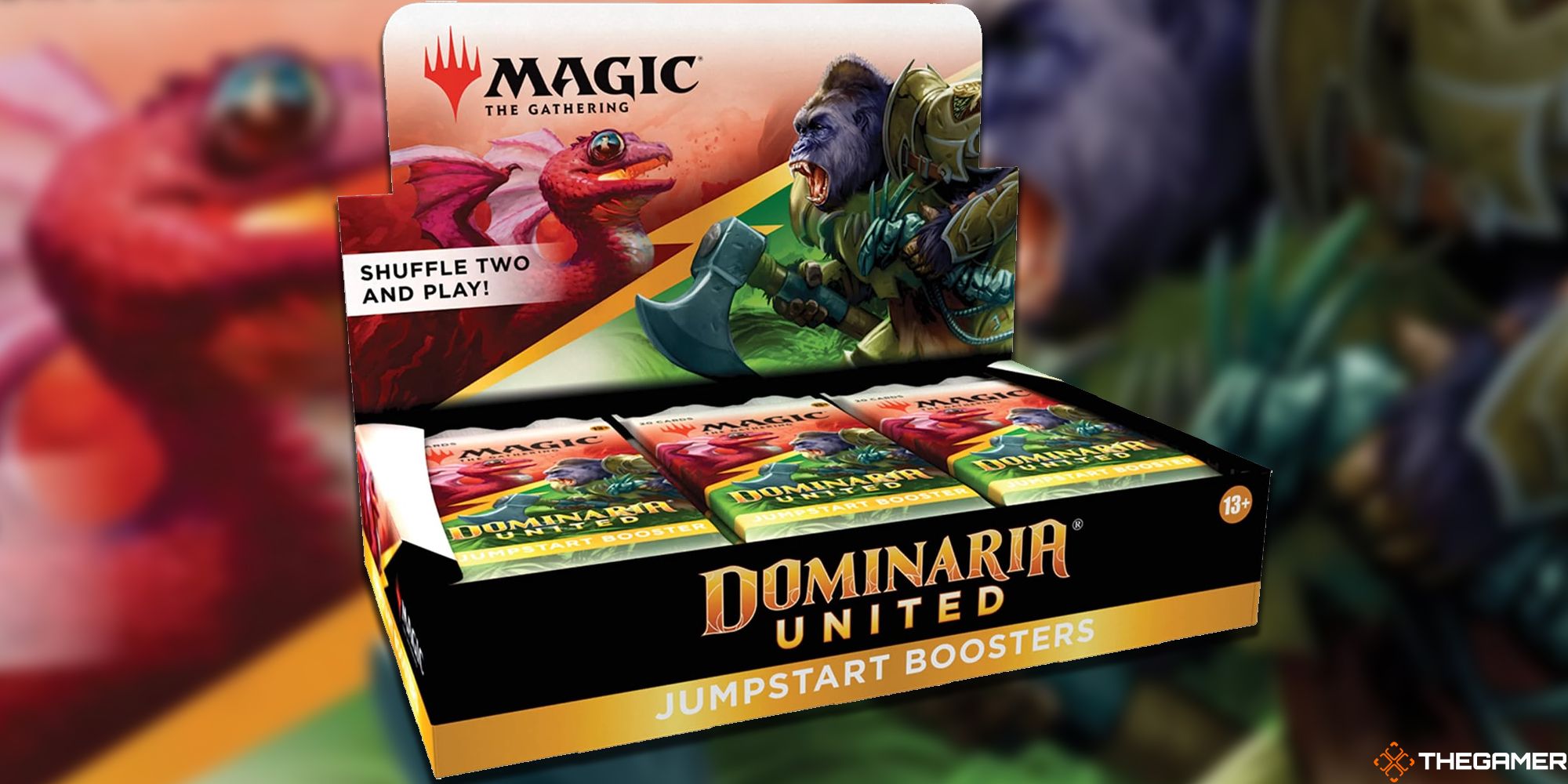 A new type of booster pack introduced in Dominaria United were set tie-in Jumpstart packs. Jumpstar was an incredibly popular release back in 2020 that challenges you to take two random themed packs and shuffle them together to make a fully playable deck.
This is limited for those who don't enjoy drafting and playing sealed. Quick to get going and easy to understand, it takes all the stressful decision-making out of playing and helps you get into games much faster. Not only that, but each Jumpstart booster pack includes an exclusive card not found in other packs.
Each Jumpstart booster box includes 18 packs, with each one having two foil lands, two rares (including those exclusives), and ten potential themes to play with. These will also be compatible with future Jumpstart packs, meaning you can mix and match Dominaria United's the upcoming Brothers' War, Phyrexia: All Will Be One, and March of the Machine's.
Get it on Amazon here!
Dominaria United Preconstructed Commander Decks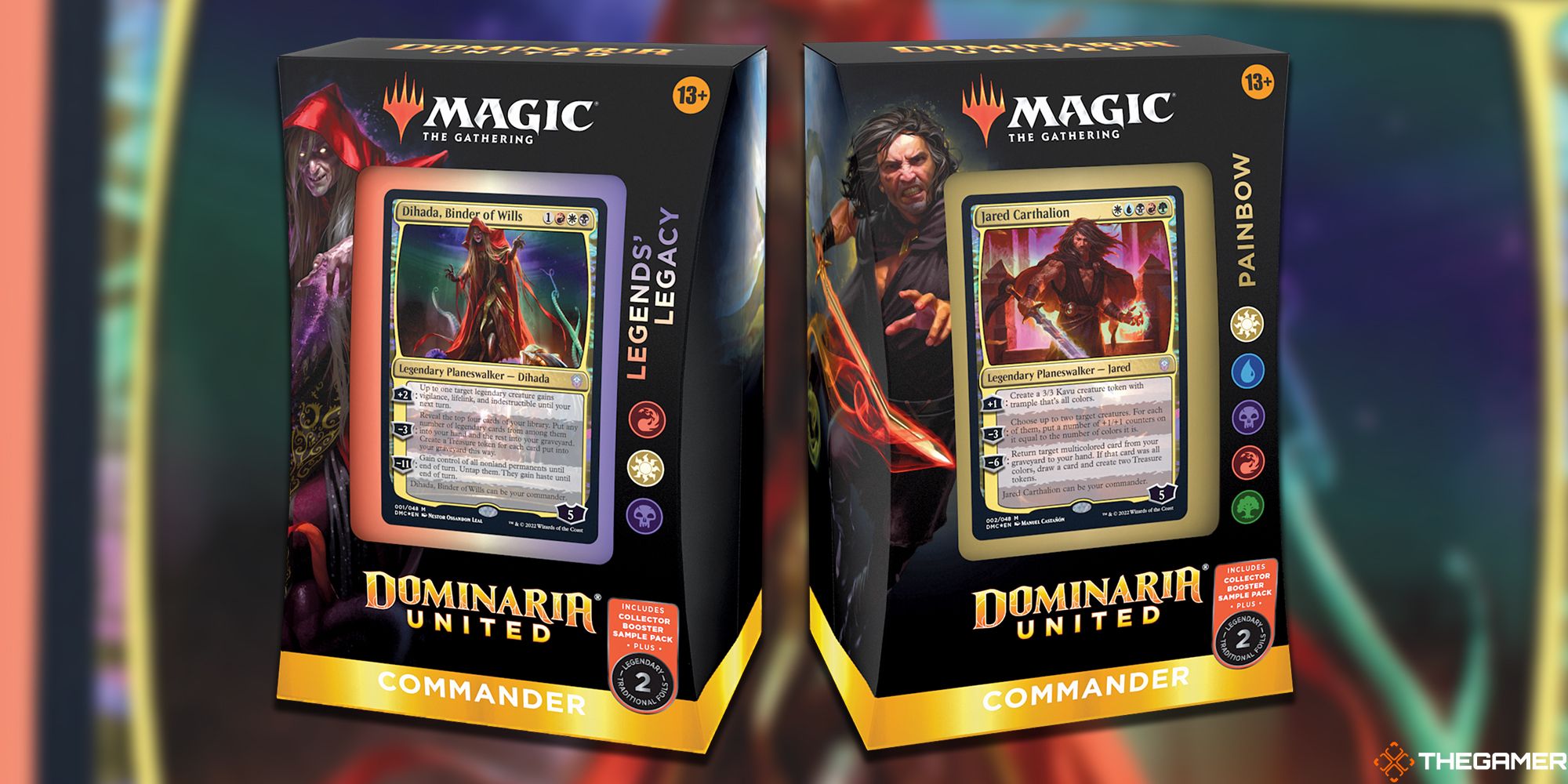 Most MTG sets include a few preconstructed decks for the game's most popular format, Commander. Preconstructed decks are a great pick if you're buying for someone else, as not only is there a high chance that they already play Commander, they also include a lot of cards you can't get elsewhere.
Painbow is one of two decks for Dominaria United, and plays with all five of the game's colours in a single deck thanks to its exclusive 'face commander', Jared Carthalion. There's loads of powerful cards in here for tearing apart and putting in your own decks, or it can be kept whole and played with other 'precons' to ensure everyone at the table has similarly powerful decks to play with.
Get it on Amazon here!
Meanwhile, Legends' Legacy is a red, white, and black deck that packs in loads of other legendary creatures into a single deck. This makes it perfect for those who like building their own Commander decks, as it's chock full of other potential commanders to play with. Of course, like Painbow, it's also a fully-playable deck balanced to ensure you'll have a good time when playing against other preconstructed decks.
Get it on Amazon here!
Each preconstructed commander deck for Dominaria United includes the 100-card deck, a life counter, a pack of double-sided token cards, a thicker, cardboard 'display card' of its Commander, and a two-card Collector's booster sample pack. Sample packs can have almost anything you'd find in a regular Collector's booster, like foils and extended art prints. The only thing you're not able to find in sample packs are the Lost Legends cards.
Other Magic: The Gathering Products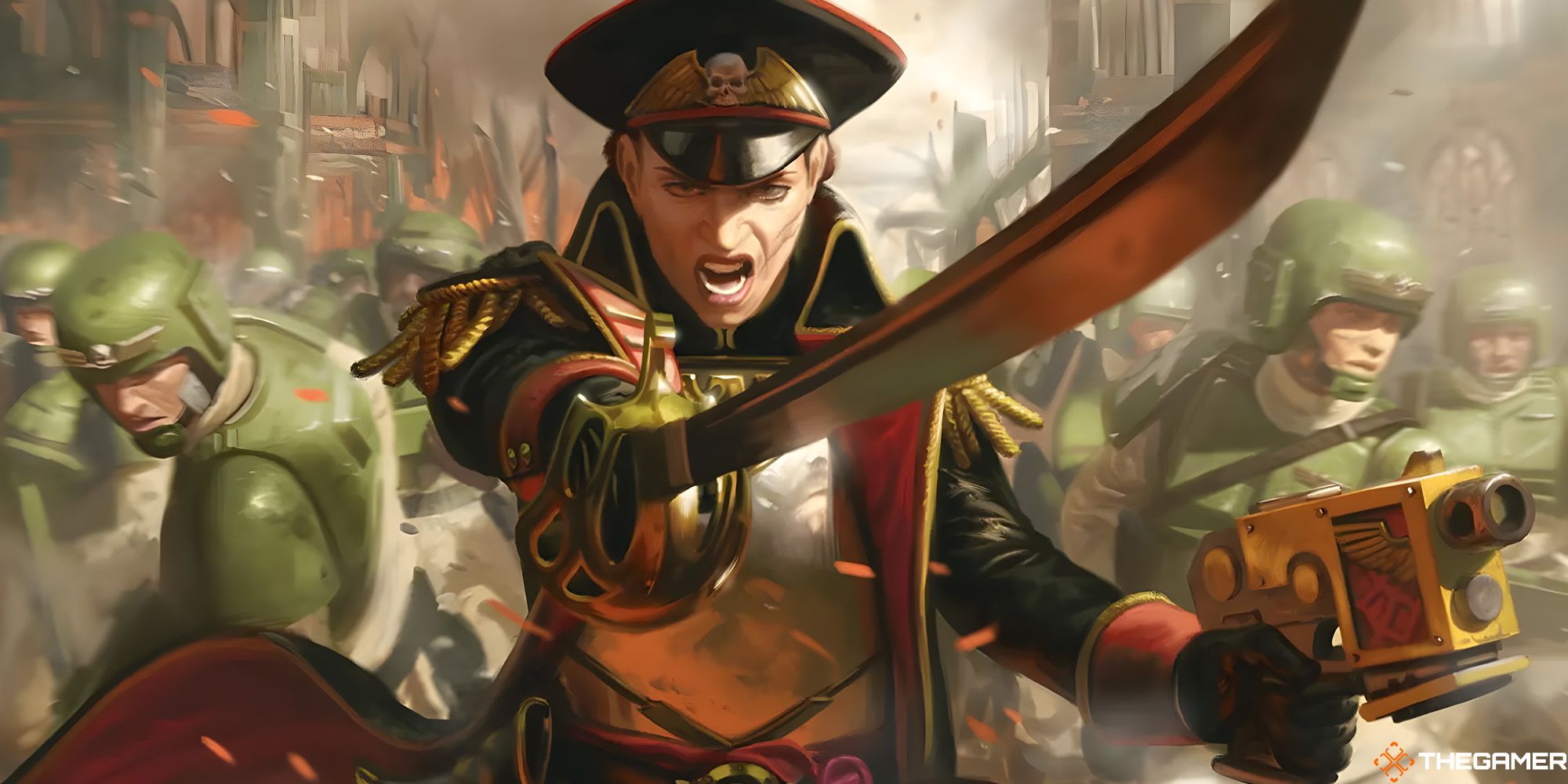 While most Magic releases come as part of wider sets, there are also standalone products worth picking up. These may include brand-new cards, much-needed reprints, or games you can play straight out the box.
Magic: The Gathering Universes Beyond – Warhammer 40,000 Commander Decks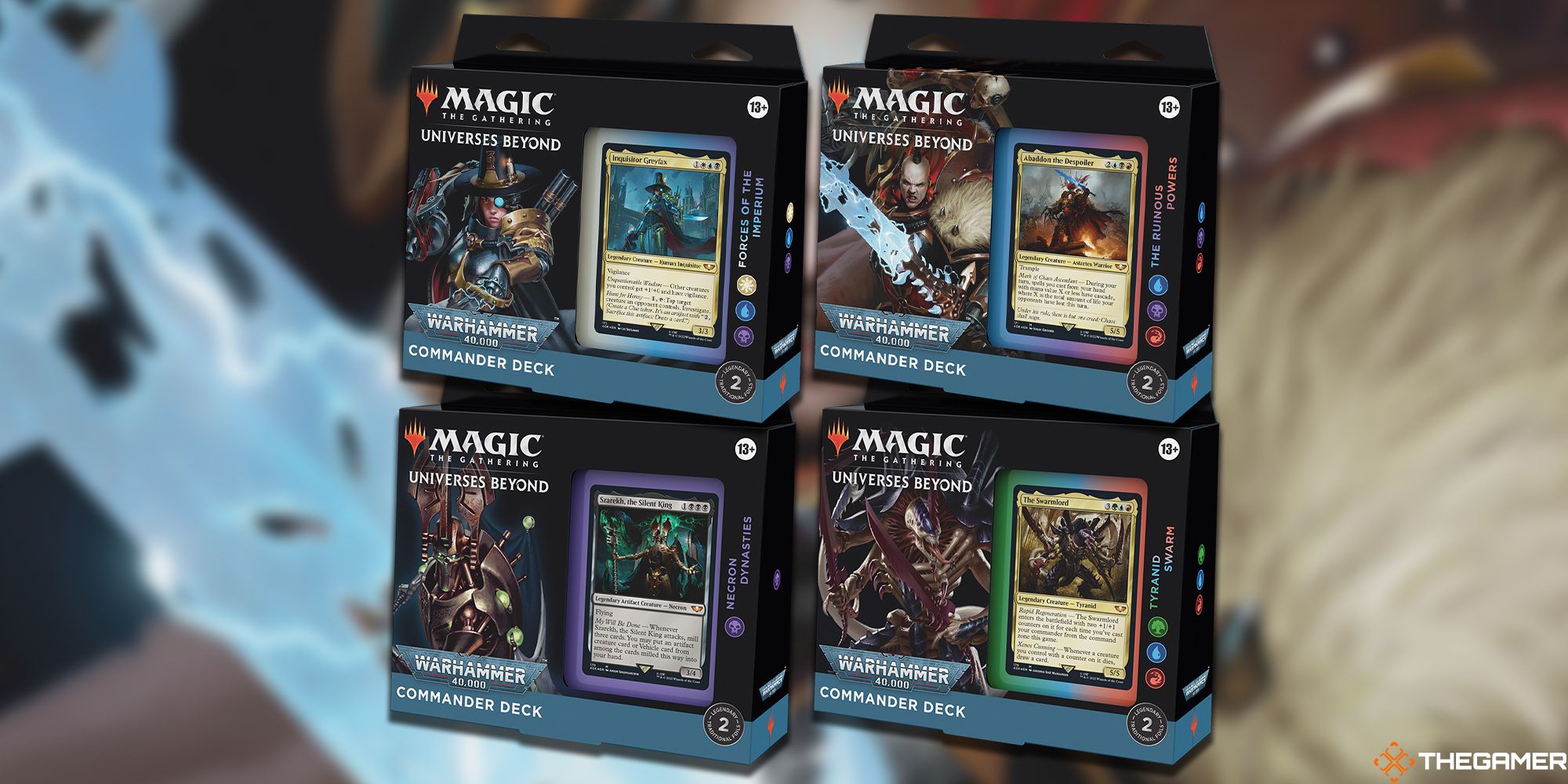 Based on the immensely popular tabletop game by Games Workshop, these four decks recreate Warhammer 40,000's various factions, such as the Imperium of Man, Necrons, Chaos, and the Tyranids. Each deck is fully legal with Magic's prolific Commander format, and has 100 cards, tokens, spindown life trackers, and a deckbox.
While most sets get preconstructed Commander decks, the Warhammer 40,000 decks go one step further by having most of their cards be brand new to the game and not available anywhere else. Each deck includes more than 40 original cards, with the remainder being reprints of popular Commander cards with new, Warhammer-themed art.
Each deck can either be bought individually (Tyranid Swarm, Forces of the Imperium, The Ruinous Powers, and Necron Dynasties), or in a bundle that includes all four together. Keep in mind that, unlike a set tie-in Commander deck, these do not include the two-card Collector's booster sample pack.
Instead, in a first for Commander decks, Warhammer 40,000 also introduces Collector's Editions, which print the entire deck in a new kind of foiling Wizards describes as "surge foil". Surge foiling differs from other styles of foiling in that it gives the cards a less uniform, almost oil-slick-like finish that looks really, really nice.
Get Tyranid Swarm on Amazon here! Get The Ruinous Powers on Amazon here! Get Necron Dynasties on Amazon here! Get Forces of the Imperium on Amazon here! Get all four on Amazon here!
We hope you like the items we recommend and discuss! TheGamer has affiliate and sponsored partnerships, so we receive a share of the revenue from some of your purchases. This won't affect the price you pay and helps us offer the best product recommendations.
Source: Read Full Article