Ever since we received a brief snippet of the feature at last week's State of Play, I've been thinking a lot about the photo mode in Ratchet & Clank: Rift Apart, and how it could end up being the best one in gaming. Obviously, as someone who loves photo mode, can't wait for Ratchet & Clank, and is currently obsessed with New Pokemon Snap, the scene is all set for my optimism to spill over into hyperbole – but there is more to it than that.
If you ask around the virtual photography community, there are two games that will be praised above all others for their photo modes: Spider-Man and Horizon Zero Dawn. A photo mode is more than just the game looking good or having interesting locations, although those do help – what makes a photo mode is the variety of features at your disposal to play around with, and the amount of control the game gives you. Cyberpunk 2077, for example, has almost endless customisation, but doesn't allow for portrait shots and it uses V as a pivot, meaning your control is constantly wrestled away from you. Meanwhile, Ghost of Tsushima – another popular photo mode – is a little too married to the idea of 'every frame a photo', and pushes you towards taking shots that look like they've been ripped from Kurosawa films.
Because photo modes are still a relatively new feature, because they're only really used by a niche section of the player base, and because you can't please all of the people all of the time, I could go on listing flaws with pretty much every photo mode in existence. But with Spidey (particularly Miles) and Horizon, those flaws feel more like nitpicking. Ratchet & Clank: Rift Apart seems to be using a mixture of the two, and will likely take this combination and do so to great success.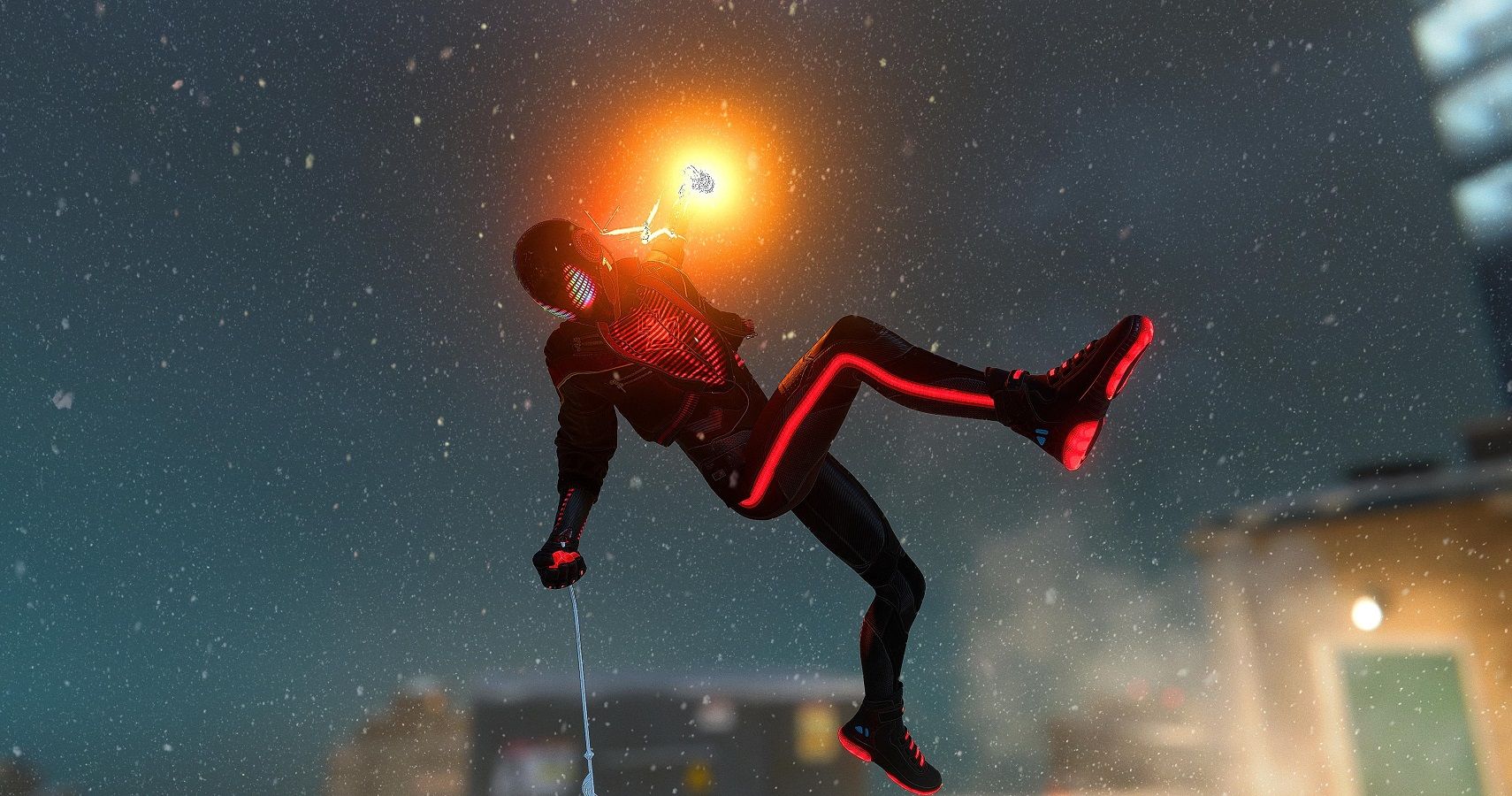 The biggest draw of Spider-Man was the lighting. Most photo modes let you tweak the brightness or contrast, but few give you control over the actual light in the way a professional photographer would. However, Spider-Man let you use three different light sources, which could be either ring or spot, in fully customisable colours, and with the size, direction, spread, and intensity of your choosing, as well as being able to position them anywhere. This is probably the biggest development in the photo mode space that changes the mode from just a pretty screenshot capturing mechanic into an art form.
Ratchet & Clank and Spider-Man share a developer in Insomniac, and because of that, the lighting mode is coming back. We saw it only very briefly in the State of Play, but it has been confirmed to return. Hopefully the outfit customisation within photo mode from the Spidey series will be making a return here too; it means you can wear the most effective armour to play, then seamlessly quick change into the most aesthetically pleasing set to snap some pics.
We also saw Rivet being posed in different ways, almost like an action figure. This feature was not available in Spider-Man, but is a hallmark of Horizon Zero Dawn, and a major reason Aloy is such a popular subject to photograph. Ratchet & Clank: Rift Apart combines the two, and that could set it up as the new photo mode titan. Added to those all-important features, the game looks absolutely gorgeous, and thanks to the variety of locations the rifting ability grants the game, every shot can tell a different story.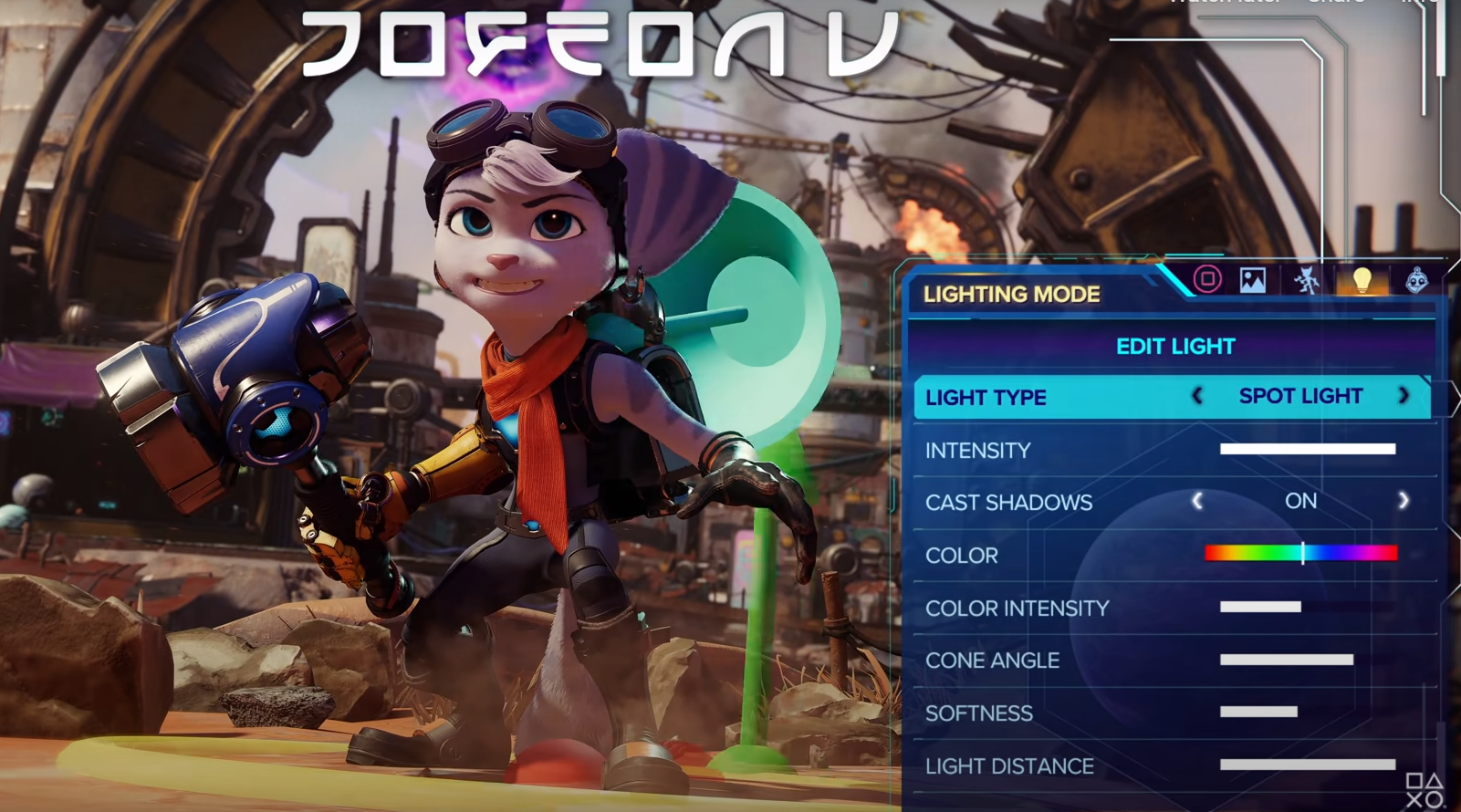 Of course, it won't be for everyone. Most of the beloved photo modes that currently exist focus on photorealistic games, where the shots painstakingly arranged within the game are akin to real life photoshoots. That's not as easy when the main characters are cuddly lombaxes – it could look like the most impressive video game ever, but Ratchet & Clank will never mimic reality, because it's based on a cartoonish version of it. That's something we haven't really been able to look at in too much depth in a photo mode, so Ratchet & Clank is breaking new ground in this regard.
That might hurt its chances of being universally lauded as the new pinnacle of photo mode, but it still feels as if it has all the ingredients to shoot right to the top. If it can assemble them well, Spidey and Horizon might be knocked off their perch.
Next: I Love That Ratchet & Clank: Rift Apart Will Be The First In The Series To Pass The Bechdel Test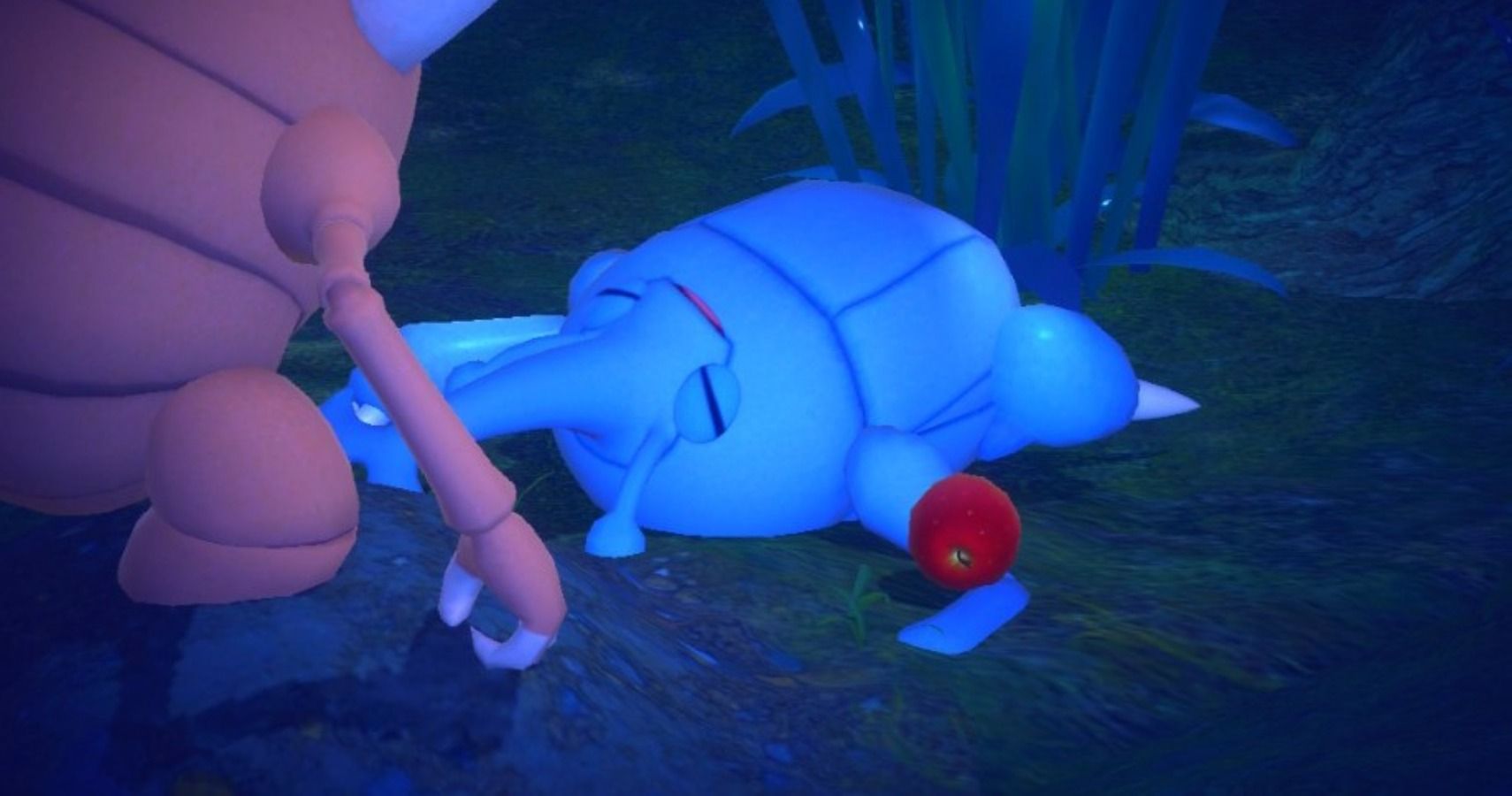 TheGamer Originals
Sony
Ps5
Ratchet & Clank
Ratchet And Clank: Rift Apart
Ratchet & Clank: Rift Apart
Stacey Henley is an editor for TheGamer, and can often be found journeying to the edge of the Earth, but only in video games. Find her on Twitter @FiveTacey
Source: Read Full Article